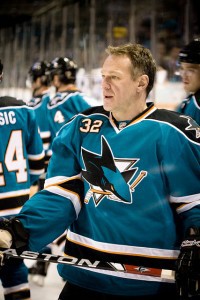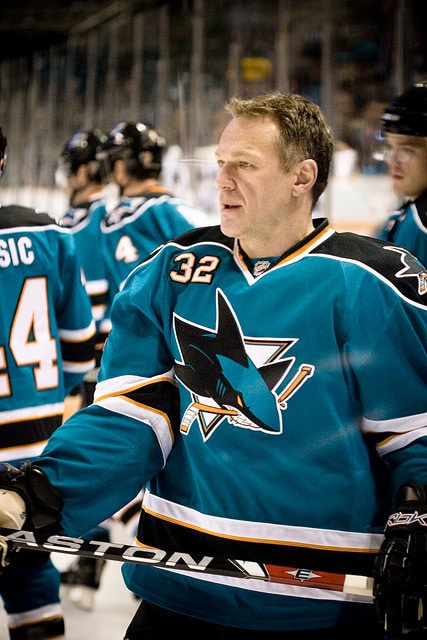 The Hockey Writers and the NHL Alumni Association have teamed up for a monthly series here at the site – Ask the Alumni. It provides us with the opportunity to shine a spotlight on the business ventures and great charitable work done by the NHL Alumni members while reminiscing about some of hockey's greatest moments. It also gives our readers the opportunity to be a part of the interviews. Each month, a different NHL Alumni member will join us here at The Hockey Writers for an interview and you provide some of the questions.
We have had a great response to the series and each of our guests – Lanny McDonald, Georges Laraque and Theo Fleury, and this month The Hockey Writers is pleased to announce that our next NHL Alumni guest is Claude Lemieux.
We cannot promise that we will be able to use every question submitted, but if you have a question for Claude Lemieux, please send it to thwnhlalumni@gmail.com by February 14th, 2011.
Claude Lemieux
He is one of the greatest playoff performers in the history of the NHL, scoring 80 goals and adding 78 assists in 234 playoff games, and he is a four-time Stanley Cup champion with the Montreal Canadiens (1986), New Jersey Devils (1995 and 2000) and the Colorado Avalanche (1996). Lemieux is one of only five players in the history of the league to win a Stanley Cup with three different teams.
Selected in the second round of the 1983 draft (26th overall), only Steve Yzerman played more NHL games then Lemieux from the players selected in the Class of '83. In 1,215 NHL games, he scored 379 goals and added 407 assists for 786 career points. The place where Lemieux's star always shined brightest was in the playoffs. During his career, he was on a playoff team 18 times – including an astounding streak of 14 seasons in a row (85-86 until 98-99). In 1985-86, Lemieux played only ten regular season games with the Canadiens, but was an integral part of the 1986 Stanley Cup victory; he scored 10 goals for the Bleu, Blanc et Rouge during his first Stanley Cup run and four of them were game-winning goals.
Adding to his reputation as a proven playoff performer, Lemieux won the Conn Smythe Trophy in 1995 as the playoff MVP in the New Jersey Devils Stanley Cup victory.
On January 19th, 2009, five years after Lemieux retired from the league, he made an incredible return to the NHL with the San Jose Sharks; adding 32 games to his career total. He is also an active member of the NHL Alumni Association's Hockey Tour, which helps to raise money for numerous charities.
During his time in the league, Lemieux played for the Montreal Canadiens (281 games), New Jersey Devils (423 games), Colorado Avalanche (297 games), Phoenix Coyotes (164 games), Dallas Stars (32 games), and the San Jose Sharks (18 games). He has also represented Canada internationally, winning a gold medal at the 1985 World Junior Championship, gold at the 1987 Canada Cup, and silver at the 1996 World Cup.
In January, it was announced that Lemieux was joining 4Sports & Entertainment, a company that provides management and sponsorship services to professional athletes. The company is expanding into North America and he will serve as president of their North American operations. They already have a strong presence in Europe with pro golfers, downhill skiers and hockey players, and Lemieux will help them grow their client base in Canada and the United States.
Have a question for 4-time Stanley Cup champion Claude Lemieux – Send it to thwnhlalumni@gmail.com by February 14th, 2011.
Image Resource: Claude Lemieux in San Jose – Jill Goodell