One of the more interesting questions as training camp opened this week for the New Jersey Devils will be whether or not Stefan Matteau can do enough to make the opening night roster or are there just too many forwards on the team that will prevent him from having a legitimate shot. The fact that he already got his feet wet last season in the NHL should give him a boost over the younger players, but other former first rounders on the roster such as 23-year-old Mattias Tedenby (2008) & 22-year-old Jacob Josefson (2009) may be ahead of him in the pecking order to make the team. But during their careers both Tedenby and Josefson have also shown an inability to be consistently productive and stay healthy at the NHL level.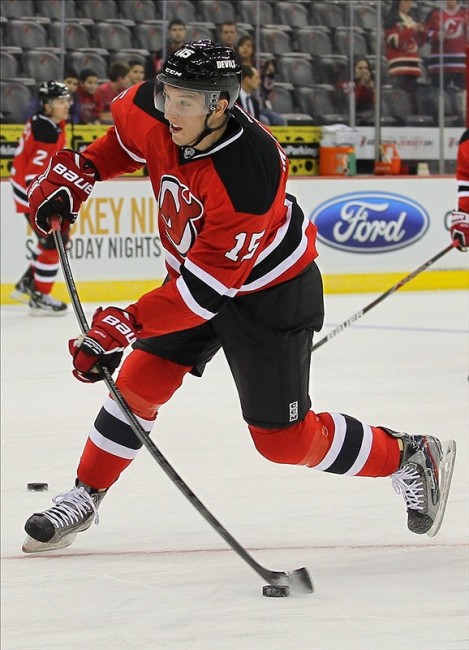 Matteau had an unusual rookie season (as he called it: "a roller coaster") appearing in only 17 games and registered just three points (1g-2a) but the experience he gained could be invaluable to the 19-year-old. In this new era of NHL hockey we are in the midst of, more and more younger players are making the jump from Junior Hockey to the pro level and you can be sure that Matteau is hoping to learn from last season and stay in New Jersey for the duration of the upcoming 2013-14 season.
His first and only goal of his rookie season against Pittsburgh on February 9:
The Devils' first round pick in the 2012 NHL Draft has a strong support system, which includes his dad — former NHLer Stephane Matteau, as well as veteran Dainius Zubrus who took the youngster under his proverbial wings since joining the organization. The younger Matteau stayed in Zubrus' home last season and also trained with the veteran of over 1,000 NHL games in Montreal this past summer.
He was the only draft pick from the Devils' 2012 class to play in the NHL last season, so he should have a slight advantage over some of the other players vying to make an impression or make the team. Even little things like knowing the coaching staff, his way around the arena, etc. should give him that edge over the other youngsters, as those are things he doesn't have to worry about, while the others may be fretting over those issues and even looking to him for advice.
Here is Matteau being interviewed during the 2013 Rookie Camp in mid-July:
"I have NHL experience and I think it helps for people who want to stay in this league," Matteau told Tom Gulitti of the Bergen Record this week. "I'm 19 years old, I played a little bit last year and for sure it helps. I know more of what it takes now. I just concentrate on myself and work on what I have to work on and try to prove to them that I can stay (here)."
Power forwards can pass too, as Matteau shows on this nifty assist to Andrei Loktionov:
The hope for the Devils and their fans is that Matteau develops into a bruising power forward that wrecks havoc on the league for years and years to come but if he doesn't make the roster to start the season, all hope isn't lost. Remember, he's just 19, and some players need more development and seasoning before becoming full-time pros. Also keep in mind that New Jersey has 34 forwards in camp and at most 14 will be on the roster on October 3 when they open the season in Pittsburgh. If he is sent to the AHL or back to his Junior team (Rimouski of the QMJHL) he is a likely candidate to be one of the first called back to the NHL should an injury occur or if a trade goes down.
Ever since he was drafted, I have imagined him to become a power forward like Keith Tkachuk was — a rugged, no-nonsense, scrappy player that will score tons of goals in the dirty areas around the net. If he does eventually become that you can be sure the team and their fans will certainly be pleased.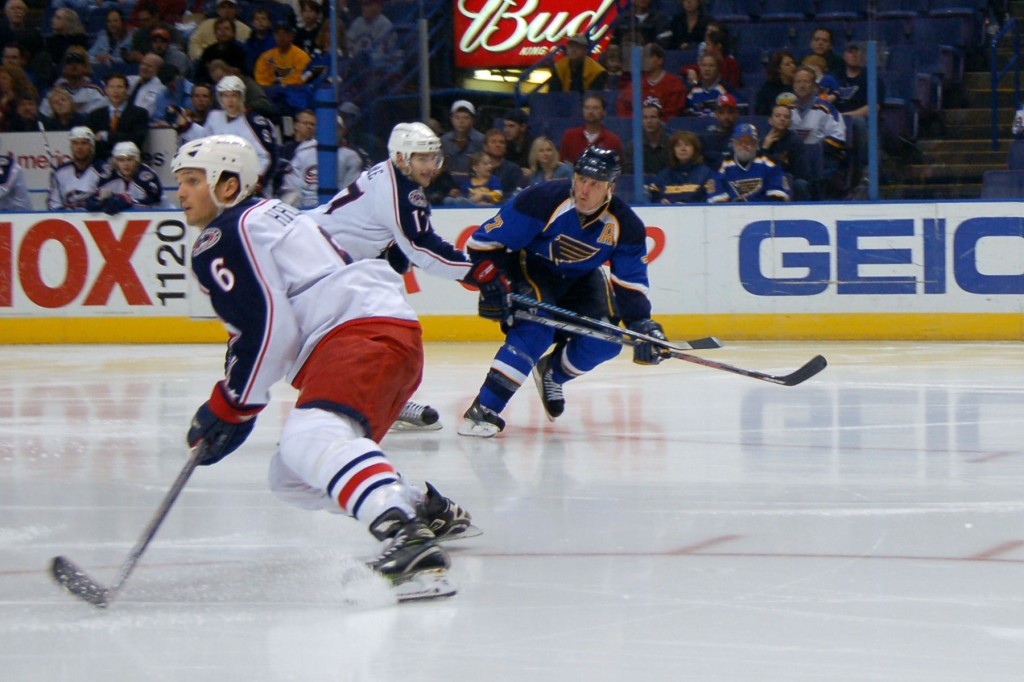 Dan Rice can be reached via Twitter: @DRdiabloTHW or via Email: drdiablo321@yahoo.com
The NHL regular season schedule was released on Friday. Check out our partners at TiqIQ for the best deals on New Jersey Devils tickets for all 2013-14 games.