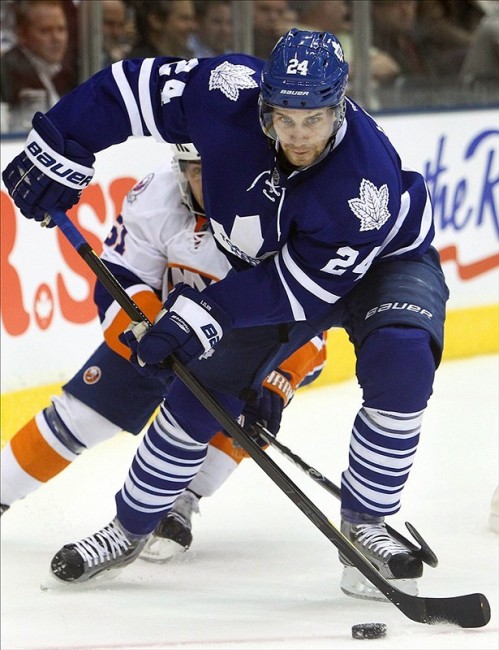 News broke out last night that top defender Joni Pitkanen's injury will keep him out for the entire upcoming season. The initial prognosis had Pitkanen returning some time in December, but unfortunately, that is no longer the case. Andrew Luistro discusses the injury further, along with the possibly of acquiring Cody Franson from the Maple Leafs.
Pitkanen's absence will put a strain on a Carolina team that is already weak on defense. Without Pitkanen, Jay Harrison or Mike Komisarek will likely be thrown into a top-6 role unless the team can find external options.
With Pitkanen done for yr, CAR's potential replacement options may include UFA Ron Hainsey or extracting unsigned RFA Cody Franson from TOR.

— Bob McKenzie (@TSNBobMcKenzie) September 11, 2013
External Options
Rumors have been swirling around about Carolina's interest in Hainsey for some time now. Franson would be a great fit for the Canes, but would cost a king's ransom, though GM Jim Rutherford could attempt to poach the defenceman with an offer sheet. Many have also speculated that Carolina could have interest in Pittsburgh's Matt Niskanen, due to the Penguins' cap issues.
Regarding JML
However, as you can probably guess from the title, I will be discussing the possibility and fit of John-Michael Liles on the Hurricanes. Liles desperately needs a change of scenery to revive his career. He is in Toronto coach Randy Carlyle's doghouse, and barely saw any ice time last season. Liles has had significant success in the past playing for the Colorado Avalanche, and is still a dangerous weapon on the powerplay. His previous stats show he is far from useless, and can thrive in the right situation.
The Leafs are in a desperate cap situation, and if they want any chance of signing Franson, they will likely need to ship someone out. Liles has been rumored to be on his way out for a while now – the only obstruction is that no one seems interested. Enter Pitkanen's injury, and there just may be a fit. Carolina has recently parted ways with blueliners Jamie McBain, Joe Corvo and Marc-Andre Bergeron. All three were noted power-play/offensive defensivemen, and without Pitkanen, Carolina is facing a deficiency of powerplay quarterback options. Besides Justin Faulk, there really isn't any other attractive options, and the powerplay happens to be John-Michael Liles' speciality.
The cost?
I think Toronto GM Dave Nonis would jump at any opportunity to rid the team of Liles' contract. With 3 years remaining at $3.875M, it is a rather hefty contract. The Canes do have enough cap space to cover that cost, but could still ask the Leafs to retain some of the salary in the deal like they did in the Jonathan Bernier trade.
The actual assets moved would likely be very similar to the Shawn Horcoff deal between Dallas and Edmonton this summer. Like Liles, Horcoff is still a very serviceable player, albeit an overpaid one. Dallas gave up defenceman Philip Larsen (often used as a 7th option) and a 6th round pick to acquire Horcoff.
I believe John-Michael Liles could be had for as little as a 5th to 7th round pick from Carolina.
Conclusion
Liles' stock may have fallen in the past 2 seasons with Toronto, but make no mistake, he is still an NHL-caliber defender. On a shallow Carolina blueline, Liles would likely immediately get top-4 minutes. His offensive skillset would complement a defenceman like Tim Gleason, who primarily is known for his play in his own end.
A trade that could benefit both teams. Do you think it could happen?