After the unfortunate–albeit unsurprising–news surfaced that Joni Pitkanen will miss the entire 2013-14 season, the Carolina Hurricanes were left with a gaping hole on their defense. The original expectation was that Pitkanen would be back for camp, no worse for wear, playing a large role near the top of the defensive depth chart. Now, the 'Canes are left wondering what to do.
General manager Jim Rutherford has options, but they are quickly running out. Ryan Murphy will almost certainly have to make the team based on his offensive skillset, something lacking among the current group of defenders, but he is still raw and largely untested. Beyond that, the remaining free agents don't provide much hope. They are all jobless as camps open for one reason or another.
But there is another route. Rutherford could look to the the trade wire, specifically, north of the border. The Toronto Maple Leafs are still engaged in a lengthy standoff with restricted free agent Cody Franson that does not appear to have an end in sight. The Leafs are strapped for cash after signing Nazem Kadri, and may not have room for Franson.
With Pitkanen done for yr, CAR's potential replacement options may include UFA Ron Hainsey or extracting unsigned RFA Cody Franson from TOR.

— Bob McKenzie (@TSNBobMcKenzie) September 11, 2013
With Pitkanen likely going on Long-Term Injured Reserve, both cash and cap space have opened in Carolina. Though Leafs' general manager Dave Nonis may be hesitant to move Franson, he may not have a choice; a holdout is no good for either side.
Franson provides everything 'Canes fans have been clamoring about for years. At 6'5'' 215lbs, he's a big-bodied defenseman who isn't afraid to hit (top 25 a year ago) and clear the crease. More importantly, he has the ability to score while not being a liability in his own zone. Franson put up 25 assists in the shortened season, something even Pitkanen hasn't done since 2010-11.
By comparison, the Hurricanes' current top-seven defenders combined for only 38.
The cost to acquire Franson, however, would not be a cheap one. Toronto isn't going to give him up without a fight. But while the 'Canes have a shallow prospect pool as it is, they have a young team–of the 48 players invited to training camp, only 5 are on the wrong side of 30, and none older than Mike Komisarek's 31 years.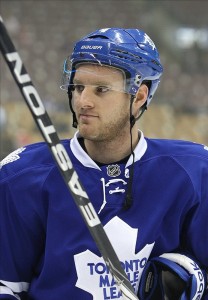 Giving up some combination of players and picks may not hurt them as much as once thought. With Rutherford's newfound fondness for handing out long-term deals, there aren't going to be many re-signings coming up after Jiri Tlusty and Justin Faulk next summer. If there is a log-jam preventing NHL debuts, then why not maximize assets?
At barely 26-years-old himself, Franson could be a big part of the future blue-line. Ironically, that's about the age at which Pitkanen first came to Carolina as a free agent.
It would take an overpayment to get Franson out of Toronto, that much appears certain. But if replacing Pitkanen is what Rutherford is after, Franson is about as good an option as there is.
The NHL regular season schedule was released on Friday. Check out our partners at TiqIQ for the best deals on Carolina Hurricanes tickets for all 2013-14 games.