Marc-Andre Fleury. Martin Brodeur. Henrik Lundqvist. Antti Niemi.
When you hear these goaltenders' names, they are generally thought of as franchise players, perennial All-Stars, and in one of those cases, a first-ballot Hall-of-Famer.
Yet, just over six weeks into the 2013-2014 NHL season, there is a goaltender that has a better save percentage than each of those stalwarts in between the pipes.
Even more surprisingly, the man who trumps these four plays for the Philadelphia Flyers, a notorious black hole where goaltenders' careers go to die (just ask Ilya Bryzgalov). Adding to the irony, it is Steve Mason, a goalie whose career has been revived upon arriving in Philly from Columbus.
His record in the current season may seem worrisome at 6-7-2, but a .932 save percentage and 2.12 goals against average has Philadelphia fans optimistic in goal for the first time since the summer of 2011, before Bryzgalov played a game.
Mason Has Been Streaking Since April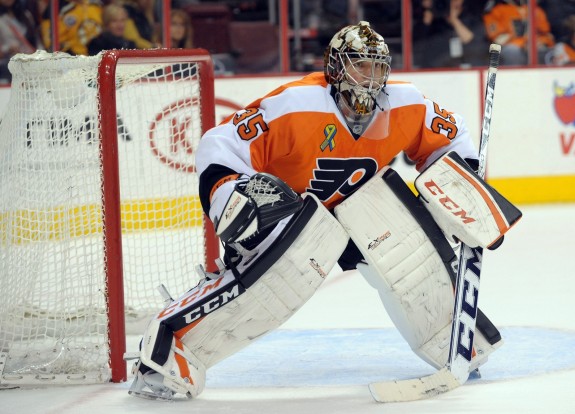 As noted in a prior post, the sample size for Mason in Philadelphia remains a bit small for pundits to become convinced his transformation is not smoke and mirrors. However, until he proves otherwise, it sure seems like more than a flash in the pan.
https://twitter.com/JohnBorukCSN/status/400646135796465664
This streak has since reached 21 starts without giving up more than three goals. That mark got severely tested on November 1 when the Washington Capitals blew the Flyers out of the building inside the Wells Fargo Center. Mason was the hard luck victim to the Caps' first three goals in the 7-0 outburst. After Ray Emery's actions in the third period brawl that is in the process of rewriting the NHL rulebook, Mason returned to the net to keep the Caps to just a touchdown.
That contest remains the only partial-game effort of his streak. Mason has completed the full 60 minutes and in some cases more each of the other 20 times.
Mason is Stopping What Shouldn't Be Stopped
Numbers are easy to get caught up in when it comes to goaltending successes and failures alike. However, Mason is passing the eye test as well. Out of countless examples since his April debut in Philadelphia, the right-glover's best effort may have come this very week.
Armed with a 2-1 lead, a luxury Mason has not been able to receive on a regular basis, the Flyer netminder was abruptly called upon following some sloppy defensive zone play in the final minute of the second period.
The Flyers had built a 2-0 lead, only to see Clarke MacArthur cut the lead in half on a perfect power play shot, one of the few kinds of goals Mason has been capable of allowing.
Suddenly, MacArthur was smelling the tie, and Bobby Ryan found him on a sensational blind pass from circle to circle. Mason, however, showed that for a big goaltender (6'4", 217 lbs), athleticism does not escape him.
While Ottawa would end up tying the game in the third, the Flyers were able to get to the all important intermission break with the lead, and more importantly, score three unanswered goals to win it, 5-2.
If Mason Had Any Good Fortune, His Good Season Could Be Even Better
It is both promising and infuriating to point out some intricacies in Mason's play that have led to a poorer record than he deserves. The raw stats show he is 10-9-2 in his 21 starts as a Flyer.
In 14 of those games, Mason has allowed two goals or less. Incredibly, the Flyers have lost five of those games due to offensive anemia.
It is also not like the Flyers have given Mason quieter evenings; out of 21 starts, the goalie has had to face 30 or more shots on 13 occasions. Ironically, Mason's record improves when the shot total rises: he is 7-4-2 in games where he faces 30 shots or higher, while he is 3-5 in the rest.
Indeed, Mason's numbers are riddled with oddities, as well as the misconceptions that can sometimes arise with a limited range of time. However, for once in Philadelphia, goaltending has taken a back seat to other drama-riddled topics, such as goal-scoring, coaching, management, and ownership.
Check out our partners at TiqIQ for the best deals on Philadelphia Flyers tickets for all 2013-14 games.
Ryan Smith is a proud graduate of Penn State University, having attained a degree in broadcast journalism. His experience in hockey is extensive, having covered PSU Men's ice hockey for USCHO.com as an Arena Reporter for its first NCAA season in 2012-2013 while also serving as Penn State Athletics' voice of women's ice hockey home games. He was also the sports director for Penn State's ComRadio, a student based radio station endorsed by the College of Communications. In that position, he broadcasted Penn State hockey since for four years. He can be followed on Twitter @RyanSmithHockey.