Jonathan Toews. Anze Kopitar. Patrice Bergeron. Sidney Crosby. Pavel Datsyuk. Ryan Getzlaf. Rod Brind'Amour. All-star team? Close. They are the number one centers of the all Stanley Cup champions since the lock-out. The center ice position is of the highest importance in hockey. Strength down the middle is the marquee of any championship caliber team. You need a top defenseman, and you need a great goalie, but you can't win the center of the ice by committee. You need talent.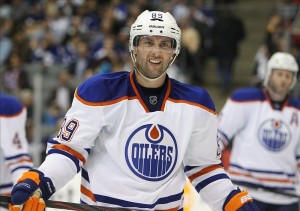 The Oilers have some really solid wingers on their roster. Taylor Hall, David Perron, Jordan Eberle and Nail Yakupov to name a few. But the trading of Shawn Horcoff and the buying out of Eric Belanger have left a little bit of a hole at the center ice position. Arguably, their top centerman is Sam Gagner, who is an RFA and filed for salary arbitration yesterday. The Oilers want to keep him. But will he end up demanding too much money?
The obvious number one guy in waiting is Ryan Nugent-Hopkins, though he is coming off shoulder surgery and won't be ready to start the season. The next guy they could go to? Newly acquired Boyd Gordon. Gordon is a good face-off guy, but he isn't a number one center in the NHL and even he knows that.
The Oilers hope that RNH is going to be their Jonathan Toews, but he showed a lot of inconsistency last season and has suffered a few injuries early in his career. There's no going around it though. Edmonton may be set for the future, but right now they are far from it. The importance of hanging on to Gagner is even higher now with the recent exit of centermen. Of course, should they not be able to keep Gagner (or even if they do) there's still a name floating out there. A guy who has something to prove. A player with a lot of experience and a lot of motivation.
Mikhail Grabovski is fast. He can put up points. He takes a beating on the ice but keeps on ticking. He is a perfect fit for the Oilers. After being bought out by the Maple Leafs, Grabovski expressed his anger at his former coach for misusing him. He wants Toronto to regret giving up on him. Maybe he won't demand as much money as he would have otherwise, since he's still getting paid by the Leafs.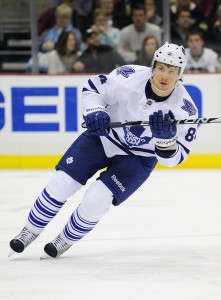 He may end up being too expensive, but he's still on the market, and it's time for the Oilers to swoop in. Now obviously, Grabovski would likely be seeking a team where he could be at least the number two guy. If Gagner walks, Grabovski would find himself on the top line. And maybe even stay there after RNH returns. A lot hinges on Gagner right now, obviously. And there's no telling how long Grabovski will still be available. It would almost be foolish for Edmonton not to at least investigate. He could be another missing piece to the Oilers puzzle.