Back in the summer of 2010, a headline on the New Jersey Devils official website read: "Done DeaIlya!"  Ilya Kovalchuk had signed a monster mega deal (a 15-year, $100 million contract) that not only cost them monetarily (an additional $3 million in fines for "circumventing" the salary cap) but with forfeiting first and third round draft picks as well.  The Devils had their franchise player.  Now in the summer of 2013, it's "done DeaIlya" once again but this time for good.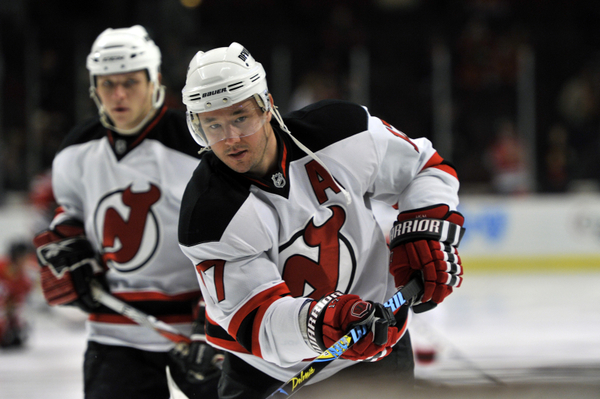 At only 30-years-old, Kovalchuk has decided to retire and leave $77 million dollars on the table, taking his talents back to Russia in the process.  Oh yes, it is the deal that just keeps on giving and oh yes the 2012-13 NHL lockout that keeps on taking as well.  If one recalls, it was rumored that Kovalchuk was going to remain in Russia after the lockout ended, to play with SKA St. Petersburg of the KHL, where he will likely return to play now.
Kovalchuk and the Lou Lamoriello released the following statements on the matter:
Statement from New Jersey Devils President/CEO/General Manager Lou Lamoriello:
"After many conversations with Ilya over the past year on his desire to retire from the National Hockey League, Ilya's decision became official today. On behalf of the entire organization, I wish Ilya and his family all the best in their future endeavors."

Statement from Ilya Kovalchuk:
"This decision was something I have thought about for a long time going back to the lockout and spending the year in Russia. Though I decided to return this past season, Lou was aware of my desire to go back home and have my family there with me. The most difficult thing for me is to leave the New Jersey Devils, a great organization that I have a lot of respect for, and our fans that have been great to me."
Say what you will about Kovalchuk and the deal he signed with New Jersey but there's no disputing that he was the face of the franchise.  Kovalchuk became a better all around player from when he first signed with the Devils.  Stating the obvious, Kovalchuk was a prolific goal scorer during his time with New Jersey and he ate up some big time minutes, even double shifting on numerous occasions as the post-Zach Parise Devils were parched for scoring.  Kovalchuk also played hurt through the Devils run to a Stanley Cup Final appearance in 2011-12, leading the team with eight tallies that postseason.
Now Kovalchuk takes the 89 goals and 112 assists he accrued with New Jersey and goes home for good.  Something that isn't good for the Devils and the NHL at large.  While I'm not saying the Devils don't have a good nucleus to make a playoff run, perhaps Kovalchuk got tired of carrying the offensive load, like he did with the Atlanta Thrashers and wanted to just go home.  Either way, it's a huge blow for New Jersey and terrible timing to say the least.
Speaking of the Devils part of this equation and what is left for them in this.  The Devils will take a hit of approximately between $250,000 –  $330,000 a season against the cap, under the CBA cap advantage recapture clause, for the next 12 years.  Another thing they have left as a "silver lining" of this drama, is the second round pick they got from Atlanta, turned out to be defenceman Jon Merrill.
As for the rest of the roster, as tempting as it may be to ponder if the Devils could've kept Parise or would've maxed out to sign David Clarkson or retained those draft choices (which the NHL should now give back in my opinion), they have to operate in the here and now.  Additionally, as has been mentioned since last summer, the Devils do have a stockpile of defencemen, which they may need now more than ever, given the Kovalchuk defection.
That being said, I'm not so sure that I'd be so quick to turn around and deal Adam Larsson, Merrill, Alexander Urbom, Eric Gelinas, Damon Severson or any of these other up and comers, out of desperation.
If you're looking at what forwards may be able to help New Jersey on the free agent market, well there's Mikhail Grabovski, Damien Brunner, Jaromir Jagr and Brenden Morrow to name a handful.  It is more likely a trade will be made somewhere, if something is to happen to make a high impact move.
Unfortunately for the Devils and the NHL, the Kovalchuk saga is a "done deaIlya."  A "Koval-punch" to the gut for sure.
.
Michael Gwizdala covers the New York Islanders for The Hockey Writers. Michael is also an Associate Producer at WNYT NewsChannel 13. Additionally, Michael was once a Media Relations intern for the AHL Albany River Rats. Michael is a graduate of The College of Saint Rose in Albany, NY.