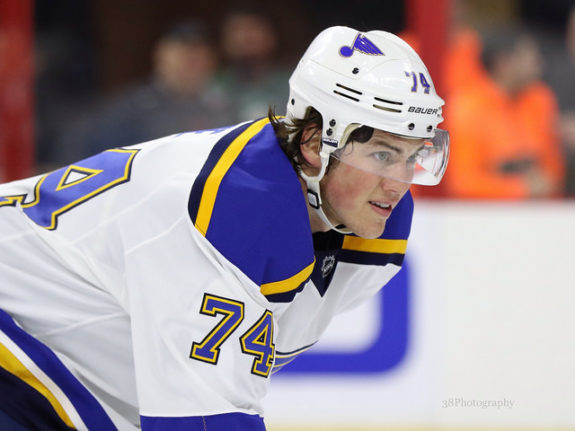 Fiesty St. Louis Blues forward T.J. Oshie has played with an edge in his last two games and that bodes well for the team's post-season success. If Oshie can continue dialing up the intensity he'll be a force to reckon with and I look for him to be one of the leading scorers for St. Louis in the playoffs this year.
Star Power
Featured for much of the season with familiar linemates David Backes and Alexander Steen, Oshie played an integral part in the monster numbers the trio has put up. Though in a bit of a scoring drought recently, he's sitting on 19 goals, just two shy of his career high of 21 (2013-14) and 36 assists for 55 points, 5th on the team in scoring. T.J. started slowly this season as he missed seven games in October-November with a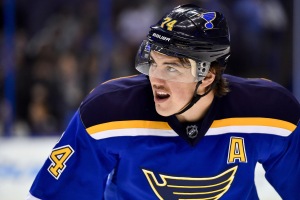 concussion and the Blues were carried by the STL Line of Jaden Schwartz, Vladimir Tarasenko and Jori Lehtera. Once reunited though, the Steen-Backes-Oshie line led the way to the top of the Central Division for the Blues, pumping in a staggering 65 points between them over a span of 18 games after Christmas break.
As one of the best stick-handling, puck-possession forwards in the league, T.J. Oshie frequently makes plays that dazzle, making no-look passes like this one in a February game against the Lightning:
https://youtu.be/yLcnP1hZghQ
Looking To Get His Groove Back
With plays like that it's easy to see why Oshie's become a fan favorite, but sometimes those no-look passes get picked off or at best, end up in empty ice, or his aggressiveness leads to poor choices like icing the puck trying for an empty netter while the Blues are up by only a goal late in the game. Oshie didn't come back playing with the fire we expect after missing a game with flu-like symptoms in late March. It's no coincidence the Blues faltered in that game and the next as he recovered his strength.
T.J. is like the catalytic-converter on the bus that is the St. Louis Blues. He plays with controlled chaos, often sprawled on the ice as much as he's on his skates because he's going full-bore into every corner, after every puck, all the time. Against Winnipeg Tuesday he finally looked like his ornery self, continually in the middle of post-whistle activity and a stuck like glue to the puck throughout the game. In the closing seconds he kept a puck in the offensive zone for the scrambling Blues by leaping 2-3 FEET off the ice to spoil a Jets' clearing attempt.
While unable to translate his inspired play into points, he really had that spark in his eye Tuesday which nearly turned to flames when he was (wrongly) charged with a 4-minute High Sticking penalty. Tempers flared again after the final buzzer and Oshie was right there in the middle of the scrum. T.J. was motoring again Thursday and led all Blues forward with 22:44 minutes as the they beat Chicago to clinch the Central Division.
Line Changes
Oshie's lack of scoring (5 points in his last 10 games) can perhaps be attributed to lineup changes due to injuries, (Tarasenko and Steen have missed five and six games respectively) though new combinations have created interesting dynamics within the Blues forward corps. Playing recently with Paul Stastny and Jaden Schwartz, Oshie appears to be back on his game, dangling, toe-dragging and crashing his way into the offensive zone and creating space for his new line-mates.
The new "SOS" line has 14 total points in the last six tilts and the other newly formed lines have been energized as well. Patrik Berglund has 3 goals and an assist playing on a line with Backes and rookie Dmitrij Jaskin. Truth be told, all four forward lines have been playing inspired hockey lately,  whether it's because of who's been in net for the Blues, the fact their penalty kill has been outstanding (killing 17 of the last 18 power-plays against,) or Oshie's infectious energy, but it's evident come Game One of Round One, T.J. will be ready to lead the charge.