by Eldon MacDonald (edited by Chris Ralph)
Lightning Has Already Struck
At first glance, the Tampa Bay Lightning Prospect Top 10 List is not overly impressive. Digging a little deeper, Lightning faithful are not that concerned. The Bolts have some of the best young talent in the league with 12 already on the big club that are 25 and under. Here are the youthful Bolts that have already arrived to the NHL:
25 year-olds
24 year-olds
23 year-olds – None
22 year-olds
21 year-olds
20 year-olds
With young talent like this, it's no wonder why Tampa Bay had an outstanding Cup run last spring. If Tyler Johnson hadn't broken his wrist (he played though the injury), the Cup could have ended up in Florida and not Illinois. As tough as it is to get to the top, it is even tougher to stay there. The two best role models GMs on how to stay at the top would be:
Stan Bowman in Chicago: Stan keeps his core impact platers intact (Toews, Kane, Keith and Seabrook) and keeps churning his other high cap-impact players into eventual new high-end prospects.
Ken Holland in Detroit: Ken also keeps his core impact players intact (Datsyuk, Zetterberg and Lidstrom). He is facing a turnover of his impact players as Lidstrom has already retired with Datsyuk and Zetterberg nearing the end of their careers. Ken keeps Detroit going by maintaining a top development system in the minors and not promoting their players to the majors until they are ready and maybe just a little overripe. He also drafts players with talent who may have dropped in the rankings because they need more development or have problems other teams may not have the aptitude to solve.
A savvy general manager would use the best of these two systems to propel the Lightning to the top now and for years to come. Steve Yzerman has done just that. For obvious reasons, Steve is probably closer to the Detroit system as he has drafted players that other teams have shied away from:
Real or perceived issues: Anthony DeAngelo (who looks more and more like a steal after his great season in Sault Ste. Marie) was one with his bad-boy episodes in his draft year. The wildly inconsistent Dennis Yan and the woefully under-performing Matthew Spencer from this year's draft would be others.
Potential signing problems (Russian Factor still a worry?): Nikita Kucherov, Nikita Nesterov, Andrei Vasilevskiy, Vladislav Namestnikov
Undrafted players: Tyler Johnson, Andrej Sustr and J.T. Brown
So while it will be tough for the Lightning to maintain or improve upon last year's success, the combination of an excellent young core group and a top General Manager bode well for the chance of success in the future.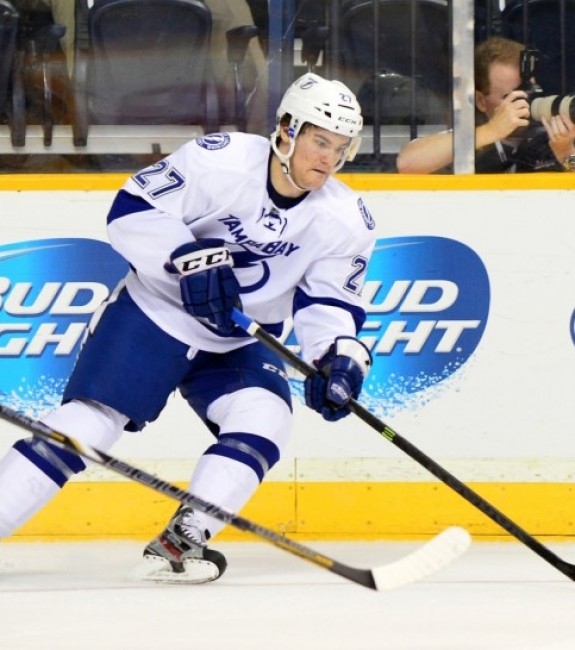 E-Mac's Impact Prospects
The top three players on the Lightning Prospect List have a strong chance of making the NHL and being impactful when they do. In addition, there will likely be some of the others who make the NHL, but they are either less likely to have an impact or less likely to make the NHL. Possessing three impact players is below average amongst NHL teams, a reflection that the Lightning already have so many young guns already in the NHL.
As for the rest of the league, the team with the most impact players is Winnipeg with 9 followed by Arizona and Detroit with 8 apiece. Los Angeles trails with just 1.
Already Arrived
21 and Under Players as of September 15, 2015 in the NHL
(to give one the big picture of young players in the organization)
Drafted: 2013-3
2014-15 |team: Tampa Bay, NHL
LW/C, L, 5'11, 186, 70-4-28-32 (+3)
*Link to rankings of all teams
Tampa Bay Lightning Top 10 Prospects – Summer of 2015
The Next Ones Summer Prospect List of the Lightning includes the top 10 prospects along with 5 honorable mentions and any other 2015 draft choices not previously listed.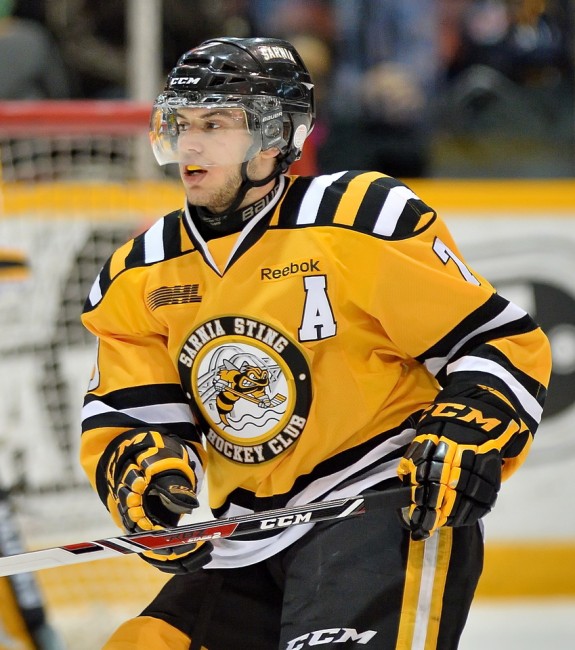 Drafted: 2014-19th
2014-15 Team: Sault Ste. Marie, OHL
D, R, 5'10, 176, 55-25-64-89 (+34)
With his stock seemingly falling, it came as a surprise last year when the Tampa Bay Lightning selected an under-sized defenseman known as much for his bad-boy episodes as for his outstanding skill. Fast forward a season later and he was rightfully named CHL defenseman of the year. Anthony DeAngelo was simply outstanding. After his trade to the Sault Ste. Marie Greygrounds, Anthony averaged almost two points a game (51 points in 26 games) and a plus minus of over +1 per game (+33). His skating, agility, and offensive prowess were simply exceptional. His defense improved enormously as well. He is still not a sure thing as 5'10, 176 lb. defensemen never are, but he is undeniably electrifying to watch. I think the bad-boy episodes are behind him and his future lies as an NHL defenseman.
Congrats @TBLightning prospect Anthony DeAngelo @TonyDee07 of @OHLHoundPower 2015 @LiftMaster #CHL Defenceman of Year pic.twitter.com/YARRTu7cT4

— Canadian Hockey League (@CHLHockey) May 30, 2015
Drafted: 2013-33rd
2014-15 Team: Quebec, QMJHL
W, L, 6'1, 218, 60-41-45-86 (+21)
Last year was a year that showed Adam Erne what a career in the NHL is really likely to be – a roller coaster ride where there will be periods of outstanding success – Adam led his team, the Quebec Remparts, to the Memorial Cup Tournament where he was a key difference maker for the Remparts in spite of having to play with an injury. There will also be periods where success will be hard to find – Adam was cut from the Team USA U20 team and was an early cut from the Bolts camp last fall. However, I really liked both the determination and skill that Adam displayed in the Memorial Cup Tournament. That experience, along with his size, physicality, skills, and willingness to be a difference maker should set him up well for the Bolts camp this year. Even if he doesn't make the team out of camp, I suspect he will be the recipient of a few call-ups. Maybe he will get to play alongside his old QMJHL nemesis, Jonathan Drouin. Adam was almost suspended for a hit from behind on Jonathan that put Jonathan on the injury list for some time.
Drafted: 2015-33rd
2014-15 Team: Saginaw, OHL
C/RW, R, 5'11, 187, 63-22-26-48 (-17)
Here are my clues about Mitchell Stevens that I gave in my Sleeper Quiz here at THW last winter:
"Who started the year off with a bang tying for the lead in plus-minus at the Ivan Hlinka Tournament and wowed the scouts?
Who had a really tough first half of the season on a really bad team and was almost forgotten about?
Who got his act together in the second half of the season and had a decent but not outstanding second half of the year but still only left scouts with only an "oh, hum" feeling?
Who shifted into high gear and was named Captain of Team Canada for the recent World U18 Tournament and played on the first line – ending 7th in overall scoring and rekindled the scouts love for his game?
Who was Corey Pronman of ESPN talking about on Twitter when he said, "Nobody's stock at the U18 moved up liked this guy (name removed). He's in a first round discussion now IMO."
ICYMI, our profile on #tblightning 2015 top pick @stephens2727, who reminds brass of Ryan Callahan http://t.co/ZLHhSs32Ck

— Joe Smith (@JoeSmithTB) July 2, 2015
Drafted: 2012-10th
2014-15 Team: Syracuse, AHL
D, L, 6'2, 187 , 72-5-21-26 (+7)
Here is what Slater Koekkoek's coach, Rob Zettler of the Syracuse Crunch, told NHL.com about him, "We're pretty happy with [his development] as an organization. He really needed to improve on his down-low defending game and he's made a lot of strides in that area. He's got a great plus/minus; he's a guy that we count on the penalty kill and in late-game situations. His speed allows him to do a lot of things defensively, not just offensively." Slater put the work in to develop as a pro this past season. The competition for a spot on the Lightning roster will be fierce so I suspect another year in Syracuse will be in order.
Drafted: 2014-79th
2014-15 Team: Regina, WHL
C, R, 5'10, 160, 60-38-49-87 (+6)
Brayden Point's impact from Team Canada's U20 training camp was highlight by Sonny Sachdeva of TodaysSlapshot.com, "Point made quite an impact. While all eyes were on recent top-five draft picks Dylan Strome and Mitchell Marner, it was Point who reigned as the offensive king, racking up eight points (three goals, five assists) in only two games. His total was twice as much as the next highest scorer at the camp, and his three goals tied Strome for the most of any participant as well — and Point played one less game than Strome." Point has high-end skill and has been a difference maker in junior. The question is can he translate that great junior game to the higher levels? The concern that I have is that under-sized players like Brayden with slender bodies times have a difficult time at the higher levels. The jury is still out on Brayden but the potential to make it is there.
Editor's Note: I've liked Brayden's game for some time. His performance at Hockey Canada's World Junior Summer Showcase just cemented it for me that he has what it takes to overcome any size concerns that some have. His play was stupendous here in Calgary, so much so that he earned my new nickname for him – Point Machine. I would make strong contention for Point being the Bolts number one prospect.
#TBLightning scouting director Al Murray discusses Brayden Point's stellar play at Canada junior showcase. READ:–> http://t.co/RK8eWxO0SU

— Bryan Burns (@BBurnsNHL) August 12, 2015
Drafted: 2015-44th
2014-15 Team: Peterborough, OHL
D, R, 6'2, 203, 67-6-24-30 (-15)
First of all, the good news:
He has potential. The Peterborough Petes drafted Matthew Spencer before Sean Day (yes, the exceptional status Sean Day) in the 2013 OHL draft.
He is a leader:

2014-15 – A (Assistant Captain) for Peterborough of the OHL
2013-14 – A for Team Ontario at the World Under 17 Challenge Tournament
2012-13 – C (Captain) for Oakville, OHL Cup winners

He possesses many NHL type skills that teams are looking for:

Size: 6'2, 203 lbs.
Physicality
Skating
Tenacity and hard work
Shutdown ability
For the not so good news, Matthew Spencer had a woefully inadequate second half of the 2014-15 OHL season. His confidence and game seemed to crumble – maybe, it was being asked to do too much on a not very good team. However, Stevie Yzerman and his team, like the Petes in 2013, thought enough of Matthew's potential that they selected him mid-second round at 44. Will the gamble pay off big time like last year when the Lightning crew selected Anthony DeAngelo at 19?
Drafted: 2015-64th
2014-15 Team: Shawinigan, QMJHL
LW, L, 6'1, 187, 59-31-33-64 (+23)
Here is what I wrote about Dennis Yan at the end of the season here at THW, "If you are going to get hot, the best time to do it is at the end of the season and in the playoffs. Dennis did just that – a fine March with 12 points in 9 games plus a goal a game in the thrilling overtime filled seven game series against Halifax. However, it was not just the quantity of goals in the playoffs that impressed me. It was the compete, the intensity, the willingness to be a difference maker plus the skills to be the difference maker that impressed even more. Central Scouting moved him up to 32, probably without the benefit of seeing some of those games. I have him at 50 which may be too low. I just didn't see the all-out game and compete level in him earlier in the year in the games I watched that I saw in the playoffs." If Stevie Y can get the playoff Dennis Yan to turn up at training camp, he will end up with a 3rd round steal of a pick.
Drafted: 2015-35th
2014-15 Team: Peterborough, OHL
D, L, 6'2, 194, 48-7-19-26 (-13)
Dominik Masin is the Bolts new Radko Gudas. Besides being a Czech, Dominik likes to play physical and is even bigger than Gudas at 6'2, 215. In addition, he has the mobility necessary to be a NHL defenseman. He is also a leader having captained Team Czech Republic to the 2013-14 IIHF U18 Worlds. Offense will never be his strong suit.
Editor's Note: Dominik's surname pronunciation sounds like "machine". If Brayden is the Point Machine, then Dominik looks to be a Bolts Defense Machine on the back end.
The Tampa Bay Lightning are next for '30 in 30.' Tony DeAngelo, Mitchell Stephens, Dominik Masin among those reviewed http://t.co/Auqxj2y8BN

— OHL Prospects (@BrockOtten) July 17, 2015
Drafted: 2014-57th
2014-15 Team: Boston University, Hockey East
D, R, 6'2, 201, 32-2-7-9 (+19)
Johnathan McLeod is a shutdown defenseman who is known for his physical play. He is not high-end in terms of skills or offense. However, he is high-end in terms of someone you want out there in the tough situations. He is built for that wear-you-down long playoff run, an excellent guy have on your side.
Drafted: 2012-202nd
2014-15 Team: Yugra Khanty-Mansiysk, KHL
LW, L, 5'10, 168, 55-21-16-37 (+1)
Nikita Gusev is a small forward with big, big skills – just watch this. Last year, he had a break out year for Khanty-Mansiysk in the KHL with 21 goals and 37 points in 55 games. To succeed in North America, he will need to add significant weight and strength to parlay his offensive skills into success on the smaller ice surface. In Khanty-Mansiysk, it can go down to -50 so I suspect that the hope that he will eventually try his game in North America is not misplaced.
Editor's Note: At the World Juniors in Calgary, before he was drafted, having seen him live several times, I dubbed Gusev: Picasso on Ice for his skill, creativity and artistry.
Five Honourable Mentions
Just outside the top 10, you will find in alphabetical order:
HM – Blujus, Dylan – (2012-40) – '14-15 – Syracuse, AHL – D, R, 6'3, 201, 67-4-18-22 (+0)
HM – Cirelli, Anthony – (2015-72) – '14-15 – Oshawa, OHL, C, L, 6'0, 165, 68-13-23-36 (+34)
HM – Peca, Matthew – (2011-201) – '14-15 – Quinnipiac, ECAC, C, L,5'9, 165, 39-7-29-36 (+0)
HM – Wilcox, Adam – (2011-178) – '14-15 – University of Minnesota, Big Ten, G, L, 6'1, 185, 38-2.42-.912
HM – Tammela, Jonne – (2015-118) – '14-15 – KalPa, FIN 1 (Liiga) – 5'11, 185, RW, R, 32-4-0-4 (+3)
In today's @TB_Times: #TBLightning prospect Anthony Cirelli goes from undrafted juniors player to #NHL 3rd-round pick http://t.co/iOFBLADCbv

— Matt Baker (@MBakerTBTimes) July 5, 2015
Other 2015 Draft Choices Not Listed Above
The other 2015 draft choices not previously listed above:
2015-120 – Joseph, Mathieu – '14-15 –  Saint John, QMJHL, RW, L, 6'0, 168, 59-21-21-42 (+18)
2015-150 – Zuhlsdorf, Ryan – '14-15 – Sioux City, USHL, D, L, 6'0, 194, 56-3-19-22 (+25)
2015-153 – Oldham, Kristian – '14-15 – Omaha, USHL, G, L, 6'3, 205, 33-2.49-.908
2015-180 – Imama, Bokondji – '14-15 – Saint John, QMJHL, LW, L, 6'1, 214, 59-13-15-28 (+2)
Have Your Say


feedback surveys
Dare to Compare
Buffalo Sabres Top 10 Prospects
Ottawa Senators Top 10 Prospects
_________________________________________