Back in November, it was announced that the Tampa Bay Lightning would have six of their prospects invited to Canada's World Junior Championship U-20 camp for the chance to compete in this year's IIHF 2017 World Junior Championship, boasting three more players than any other NHL team. Of the six to make it to camp, five made the final roster and each played a major role in Canada's success as they made it to the gold medal game, eventually dropping a 5-4 shootout loss to the United States.
The Lightning have to be thrilled with the play of each prospect who competed with Canada as they all had strong showings and could compete for roster spots with the team in the near future. Here's a closer look at the successes of each player and what they did to catch the eyes of many.
Back End
Connor Ingram – Goaltender
Goaltender Connor Ingram came into the tournament as the expected number two netminder behind Philadelphia Flyers prospect Carter Hart, a second round pick of the Flyers in last year's NHL Entry Draft. Ingram was the Lightning's third-round pick in the same draft class last season who backstopped the Kamloops Blazers of the WHL to a 14-9-0 record this season before being named to Canada's roster.
After splitting preliminary games with Hart, Ingram was given the nod to start against the Czech Republic in the Quarterfinals, a game that saw Canada walk away with a 5-3 victory to move on to the Semifinals against Sweden.
Ingram was "just okay" in the game as indicated by head coach Dominique Ducharme, although he got the start against Sweden in the Semifinals. Ingram allowed two goals on three shots just over eight minutes into the contest, forcing Ducharme to make a goaltending change and put Hart in to finish the game. Canada and Hart went on to a 5-2 victory; Hart posted a clean sheet in the process and inevitably won back the starting job.
However, Ingram wasn't too shaken up after losing the starting role to Hart as he has always been known as a gamer. After the team was selected midway through December Ingram talked about the competition between him and Hart, saying:
"Hart's a great guy, he has been supportive and that's what you have to do right now. At this point you're not playing for yourself, you're playing for your country and the goal is pretty simple. There's obviously that competitive edge to every guy but I don't think there's any unhealthy competitiveness between us."
Tampa Bay has some strong, young netminders already in Andrei Vasilevskiy and Kristers Gudlevskis, add Ingram to the mix and they have a talented young pipeline for years to come.
Forwards
Anthony Cirelli – Center
Of all the players on Canada's roster, none had a more breakthrough tournament than forward Anthony Cirelli. Cirelli, captain of the Oshawa Generals in the Ontario Hockey League (OHL), was a third-round pick of the Lightning back in 2015 and has taken great steps in his development.
Cirelli was clutch for Canada at just about every turn when the team needed to find a spark. He finished the tournament with three goals and seven points with a plus-eight rating, tying him for fourth in team production. The 19-year-old collected two assists in Canada's 5-2 over the Czech Republic during the Quarterfinals and stepped up with the tying goal and an assist in Canada's Semifinal win over Sweden.
Cirelli was deservingly named one of Canada's top three players of the tournament by the team's coaching staff, and with good reason. Tampa Bay will be paying closer attention to their latest hot prospect after this tournament, that's a guarantee.
Mathieu Joseph – Right Wing
Mathieu Joseph had a spectacular tournament for Canada which surprised a lot of people – not because he lacks the talent, but because there was so much of it on Canada's front-end and he was able to standout. Joseph brought speed and energy to Canada's lineup every night which helped the team find its competitive edge, something that took them a while to find on some nights.
Joseph finished the tournament with one goal and five points in seven games – fine offensive numbers for sure, although it was his all-around play that really complimented Canada's roster. You have to assume it won't be long before Joseph is competing for a roster spot with the big club in Tampa Bay.
Mitchell Stephens – Center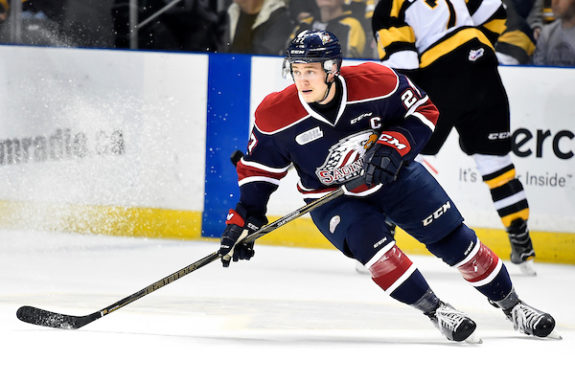 Mitchell Stephens was another player who made his breakthrough during the two-week tournament. The Saginaw Spirit center-man recorded five points in five games, with a plus-four rating during that stretch.
Stephens is a reliable two-way player who isn't afraid to battle for pucks and use his speed to his advantage. He's never been praised for his offensive talents, but he proved that he is capable of producing offensively when given the chance. A second round pick of the Lightning in the 2015 NHL Entry Draft, Stephens demonstrated that there is more to his game than offensive production and that he still has much to prove.
Taylor Raddysh
Taylor Raddysh was supposed to be one of Canada's top offensive weapons going into the tournament as he's already posted 20 goals and 50 points in just 23 games with the Erie Otters of the OHL this season. Well, I think it's safe to say that he fit the role as he finished the tournament with five goals to lead Canada's roster and six points, good for sixth on the team.
Raddysh, drafted 58th overall by Tampa Bay in last year's Entry Draft, is a big body with obvious offensive talents. He scored three of his five goals on the powerplay and managed to score all five of his goals on just 16 shots, good for a .313 shooting percentage. With Tampa expected to lose a number of players this coming offseason, Raddysh could push for a roster spot as early as next season.
The Tampa Bay Lightning have to feel a little more confident in their drafting and development abilities after watching the young Canada team filled with their prospects capture a silver medal amongst the best youngsters in the world. The Bolts have shown that they are fully capable of drafting and developing their homegrown talent, especially in recent years, and it doesn't look like they'll be breaking the trend soon. It was a great tournament from all of the Tampa prospects on Canada's roster, let's see where they go from here.