The Toronto Maple Leafs are currently in their second official year of a rebuild. Fans had heard the term used before, but management had always failed to deliver on its promise. That's why this new group, headed by Brendan Shanahan, has been a welcome anomaly.
Under Shanahan's leadership, the organization began stripping everything down, starting with the front office. Lou Lamoriello now sits in the general manager position and he's flanked by smart hockey minds like Mark Hunter and Kyle Dubas. Mike Babcock, the man who has won just about everything in hockey, is the head coach of a young and talented team.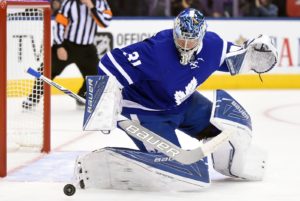 Last but not least, the product on the ice has taken a real step forward this year. Credit can be split a couple of different ways. The emergence of skilled rookies like Auston Matthews, Mitch Marner and Connor Brown is one reason for the team's success. Goaltending also deserves high praise, as Frederik Andersen has been stellar in his first year as a Maple Leaf.
At the time of this writing, the Leafs are currently sitting in a playoff spot. It was supposed to be a year of young players finding their way. The Leafs rookies have maturated at an exponential rate however and their play has helped vault the Leafs into contention.
The question that needs to be answered now is simple: Would making the playoffs be more beneficial for the team or is a high draft pick the way to go in order to continue this rebuild?
The Case For the Draft Pick
Successful teams build through the NHL Entry Draft. It goes beyond the first round, as teams that are good year after year are able to scout and effectively hit on their picks in later rounds as well. The Maple Leafs are on their way to being one of those teams.
Hunter is an expert at spotting talent. He runs the Leafs scouting and draft and under him the last two years the Leafs have been able to pick up some skilled players who are currently having massive success in Junior, the American Hockey League, overseas and in the NHL.
Everyone knows the Maple Leafs are a young team in desperate need of a perennial shutdown defenseman to help them close out games. There are some defenders who could fit the bill in the first round of this year's draft that the Leafs should consider.
https://www.youtube.com/watch?v=oAfodb8lSw4
The most likely targets are Callan Foote, Juuso Valimaki and Nicolas Hague. Foote is a two-way defenseman who currently has 30 points in 41 games for the Kelowna Rockets of the WHL. He also has NHL pedigree, as his father was the bruising and punishing force known as Adam Foote.
Valimaki is a Finnish defenseman who recently represented his nation at the World Junior Championships. The Tri-City American has 12 goals and 36 points in 33 games.  He's a fluid skater who has a high hockey IQ. He isn't flashy but does all the little things right.
Hague is a bit different from the other prospects on the list. His size immediately sets him apart, as he is listed at six feet, six inches tall and checks in at 214 pounds. He has 13 goals and 30 points this year for the Mississauga Steelheads of the OHL. He can skate and has a bit of a mean streak, which means he won't tolerate being pushed around.
The Case For the Playoffs
After last season's last place finish, no one thought the Buds would be on track to make the postseason this year. Even with the addition of Matthews, many believed it would be a rebuilding year destined to finish with a lot of growth and a top five pick.
We're now in January and I can tell you that the rebuild has taken a giant step forward. The Maple Leafs are a good team. They're not Stanley Cup contenders by any means, but they are able to compete on most nights. They've been on a hot streak lately and have been able to rack up some considerable points.
Last year no Canadian team made the playoffs. It's only halfway through the season but as of now, 6 out of 7 teams are in, including #Leafs.

— Daryl Brewer (@BrewGuy) January 7, 2017
The teams ahead in the standings have also done the Leafs a few favours by losing some key games, which has vaulted the Leafs into a playoff spot, at least temporarily. Getting the team into the playoffs would be a great achievement.
It would be excellent if the Leafs could expose their young stars to the rigours of playoff hockey. It would also provide them with the opportunity to learn and grow on hockey's biggest stage. It's all about improvement and development this year. The kids are constantly learning and trying to become better players. If that experience happens to come in the playofs, all the better.
It's going to be an exciting rest of the season. Buckle up and enjoy the ride!
My name is Anthony Fusco. Through school, I completed a joint degree involving an Honours B.A. in Journalism from Wilfrid Laurier University and a Videography and Broadcasting degree through Conestoga College.
I currently work for the University of Toronto as a Varsity Sports Announcer and for the Toronto Maple Leafs as part of their game presentation squad.
I'm also the play by play voice of the Kelowna Falcons, a baseball team located in British Columbia.
My goal is to one day be a hockey broadcaster.