Going by the old adage of "The best defense is a good offense", the Tampa Bay Lightning put on a constant offensive barrage in their 3-2 victory against the Toronto Maple Leafs.
Despite trailing 2-0 after one period, the Lightning still managed to pour on shots on Leaf's goaltender James Reimer – who started on consecutive nights – and finished the period with a 15-4 shot advantage.
With the recent struggles putting the puck in the net, Tampa's commitment to getting the puck on the net, as oppose to opting for the extra pass to set up the perfect play, is a good sign heading into their last game of the calendar year against the Buffalo Sabres.
The Lightning continued to pour on the shots in the second, getting the puck on Reimer 17-times and scoring on two of them, and finished the game with 41-overall.
Callahan Snaps Goalless Streak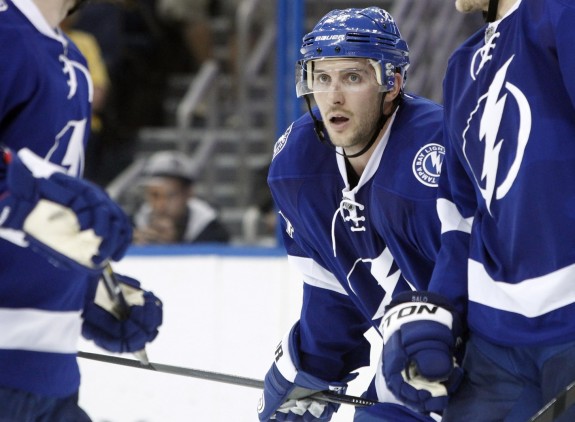 One of the biggest victims of the team's recent struggles to put the puck in the net has been Ryan Callahan, who scored for the first time in the month of December, a span of 13-games. It hasn't been for a lack of opportunity, more plain bad luck, as Callahan has fired 27-shots on net this month.
After playing the majority of the season with Steven Stamkos on the first line, Callahan has been moved down to the depth chart in order to find new line combinations that could spark the offense, playing most with Valterii Filppula and Alex Killorn
Valterri Filppula, Hot Streak?
With only seven goals now on the season, it is safe to say that Filppula isn't exactly lighting up the score boards but if you actually believe so this month has been his best month to date this season.
After scoring two goals in each of the first two months, Filppula has lit the lamp three times in the month of December.
The 30-year old Finish pivot has never been much of a goal scorer in his career, only topping 20-goals twice and never firing more than 150-shots on goal in a season. He is a little under his career 82-game pace (18-for career, currently on a 15-goal pace) but with the team struggling to score he has been able to step up in his own way (game tying goal tonight).
Anthony covers the Tampa Bay Lightning for The Hockey Writers. He is also currently a Featured Columnist for Last Word on Sports, and has held editorial positions on multiple Fansided websites and the now defunct The Farm Club.