The Kings haven't historically been a team that has done things the easy way, but this year, they're really beginning to push it.
Following Monday's 2-1 loss to the Calgary Flames, Los Angeles dropped to 4-8-5 on the road. No, that's not a misprint. The defending Stanley Cup champs, with substantially the same roster that vaulted them past the New York Rangers to claim the Cup six months ago, have now lost thirteen of the seventeen games they've played away from the Staples Center so far this season.
"We need to fix that," said defenseman Drew Doughty. "There's no excuse."
L.A. has shown Jekyll & Hyde tendencies in the past
This isn't the first time the Kings have demonstrated Jekyll & Hyde characteristics.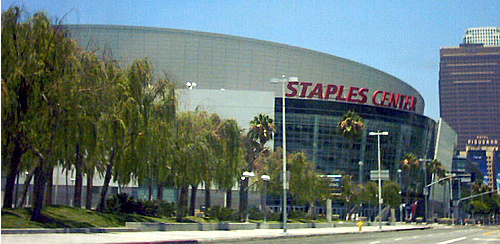 Despite having proven firepower in the form of Drew Doughty, Anze Kopitar, Dustin Brown, Jeff Carter, Mike Richards, Justin Williams and Marian Gaborik for some or all of the past three years, the Kings generally found themselves near the bottom of the league in scoring. Just last year, Los Angeles finished 26th overall in goals per game (2.42).
Fortunately for the Kings, Dr. Jekyll showed up in the nick of time, spurring an offensive bonanza (3.38) in the postseason. L.A.'s 88th and final goal of a memorable playoff run can be seen here:
great shot of the game winning goal #stanleycupfinals #lakings #nopunintended https://t.co/kFXyt4XnpY @LAKings

— Phil Faibish 🤳 (@phillyfaibs) June 14, 2014
The 2014-15 season
After Monday night's loss to the Flames, the Kings' overall record was 18-12-7 (43 points), good for eighth in the Western conference. Defensively, their home/road splits are pure Jekyll and Hyde:
Home:
Record: 14-4-2
Goals/game: 2.80
Goals allowed/game: 1.80
Power play goals: 20
Power play goals allowed: 9
Corsi For %: 54.2%
Fenwick For %: 53.7%
Road:
Record: 4-8-5
Goals/game: 2.59
Goals allowed/game: 3.00
Power play goals: 6
Power play goals allowed: 15
Corsi For %: 53.0%
Fenwick For % 51.3%
Note that the global offensive performance is relatively stable in both samples. There's a slight decrease in goals per game on the road, but that's hardly unique. In fact, it's one of the smaller differences in the league. Corsi For % and Fenwick For % are both upper-tier, showing that the Kings are still a premier puck possession team. However, the road power play is largely ineffective, with just six goals in 17 games.
But what about the defense?
If the offense is Dr. Jekyll, the defense has been Mr. Hyde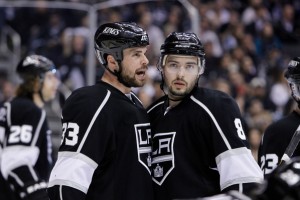 As I argued just a few days ago
, the Kings defense has taken a step backward this season. Measuring the defense based upon a formula using weighted averages in key categories, Los Angeles isn't a top-five defense this year, and arguably not even top-ten.
The home/road splits accentuate the point. L.A. gives up 1.2 more goals per game on the road than at home, the clear Achilles' heel behind their poor record away from the Staples Center. Secondarily, as good as the power play has been on the road, it's been weak on the road, with a -9 special teams scoring differential.
The Kings will fix their defense
In my previous piece, the readers generally concurred that the defense hasn't been up to par so far this season. The loss of Slava Voynov, various injuries, the defection of Willie Mitchell and other factors were cited as causal factors. There may be more subtle issues that need addressing as well.
Few make adjustments better than head coach Darryl Sutter and his coaching staff. It's very likely they will make the necessary corrections to turn things around. In fact, if tonight is any indication — L.A. dominated in shots, possession, Corsi and scoring chances — they may already have.
With road games at Edmonton (tomorrow night) and Vancouver (January 1), we'll see whether or not Dr. Jekyll or Mr. Hyde shows up for the Kings. Here's hoping it's the mad scientist, not the monster.
Walter McLaughlin is a Los Angeles Kings correspondent for The Hockey Writers. He is an avid sports fan, having followed the Kings since living in L.A. in the mid-1970's, as well as suffering through Seattle sports teams' general futility. He has a Bachelor's degree in Finance and has worked in community banking for over 25 years, specializing in SBA loans. He is married and has two daughters.