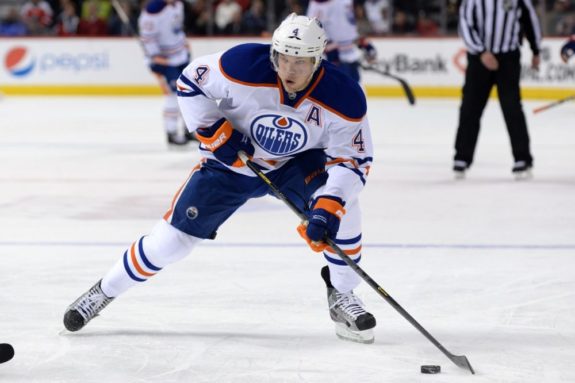 Taylor Hall has been a name known to hockey fans since he stepped on to the ice in junior with the Windsor Spitfires. He's had Memorial Cup and World Junior Championship exposure, and he's a first overall pick in the NHL.
He had his NHL coming out party in last year's shortened season and proved to be one of the games elite left wingers.
Many had him if not pencilled in as a member of Team Canada's entry to the Sochi Olympics over the summer, at least one involved in the conversation. He was one of the 47 members invited to the team's summer orientation camp in August.
Much can change within the first few months of the season, and those rosters etched in pencil get erased and rewritten countless times.
Some players who weren't thought to be in the mix make management jump up and take notice (Jamie Benn) and some who were thought to be a lock at one point, now have questions raised (Kris Letang).
Hall doesn't exactly fall into either category, but his start to the season, much like the Oilers was not as he had planned it. Starting in training camp where he was asked to play out of position at centre and then going down in late October to injury did not make for a dazzling debut in 2013-14.
That has changed recently as he's healthy, comfortable back on left wing and coach Dallas Eakins has left his top line of Hall, Ryan Nugent-Hopkins and Jordan Eberle together, and the results have been obvious.
Hall has 24 points in 23 games on the season, and exploded this week with a 3 goal, 4 point night against the Colorado Avalanche and has 12 points in his last 9 games.
Taylor Hall sure looked like a star last night. Keeps that going, could get himself into Team Canada conversation.

— Damien Cox (@DamoSpin) December 6, 2013
With the Olympics in Sochi and the bigger ice, speed will be at a premium. Of that Hall has in spades. Arguably one of the fastest and most powerful skaters in the league, Hall is a terror coming off the wing on the rush.
He has the skillset that would be a perfect complement for Steve Yzerman and Team Canada. He can play in a top six role and clearly has the offensive talents, and while he may not be an adept penalty killer, he can play a bottom six energy role and provide speed and aggressiveness in a more limited role.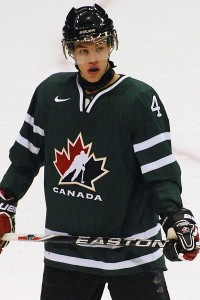 Hall also has the advantage of Kevin Lowe, one of the Team Canada decision makers, watching him every night.
There  are at least 30 forwards in the NHL currently that could warrant consideration for Canada, that's how deep the talent pool is.
Canada will likely look at taking 14 forwards to Sochi, and with only a handful of spots locked up, there is plenty of healthy competition continuing over the next month before the final decisions are made.
Many players will have to do a lot to play their way off of the team but outside of Sidney Crosby and Jonathan Toews, and Steven Stamkos if healthy, it's difficult to say anyone is a guaranteed lock for Sochi.
It's hard to go wrong with any of the players that will be named, but if Taylor Hall continues his strong play, it will be very difficult for Yzerman to tell him he's not going to Russia.
_____________________________________________________________________________
Follow Carl on twitter @maloney3383 and Google+ for more articles
Carl covers the Edmonton Oilers for THW as well as providing additional prospect coverage. Follow him on twitter @carlTHW, connect on Facebook or contact at carl.maloney@hotmail.com for questions, comments or if you're interested in him writing for you.