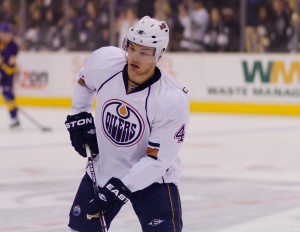 When the Edmonton Oilers Taylor Hall was a rookie last season, he looked poised to be a front runner for the Calder Trophy. But a fight late in the season produced an ankle injury that sidelined him for the rest of the year, essentially ending his run to take home the hardware for rookie of the year. This season, the injury bug struck Hall yet again. He suffered a shoulder injury in November that kept him out of the line-up for 7 games. On March 16th in a game vs. the Calgary Flames, Hall suffered a concussion and hasn't played since. Today, Oilers GM Steve Tambellini announced via the teams official Twitter feed that Hall requires shoulder surgery.
The recovery time for such a surgery is about five to six months, but the team is hopeful Hall will be 100% for the start of next season. No doubt the news is frustrating for Hall, who once again sees his season cut short due to injury. Hall spoke with the media today after the news was released:
"I've been playing with a pretty bad shoulder for most of this year and I'm excited to see what I can do after it's fixed. Four years now … I injured it in junior and it's been wearing away. It's not the way I envisioned my career starting, but I hope to stay healthy after this and be a good Oiler for a long time." (Edmonton Oilers)
Hall has showed some brilliance in his short time in the NHL, his vision, speed and ability to finish has the Oilers very excited for what he could become. Hopefully, for the sake of the team and especially Hall himself, the injury bug won't follow him around for his entire career.
In other Oiler injury news, defenceman Taylor Fedun, who has been sidelined since the preseason after enduring a brutal leg injury, skated today in full contact gear. Despite his presence with the team, it's likely that he won't see any game action this season. But it's certainly a positive that he's practicing. "What he's done is flat-out persevered. It's good for our team to see that kind of work paying off." – Renney on Fedun's road to recovery. (Edmonton Oilers)
The Oilers have picked up points in their last 7 games, including 5 wins in that stretch. But despite the surge, their playoff hopes are long gone, and the question of how high they're going to draft is once again in full focus. Edmonton has 6 games left in the season, including three against teams still fighting to get in and stay in the postseason (Dallas and Los Angeles). However the team and fans are hoping this is the last season that the all the Oilers have is the chance to play spoiler.