When the dust settled, it was Team Canada moving on to face Sweden in the gold medal game, having edged the Americans 1-0 in the highly-anticipated semifinal matchup. The score indicates a close game, but in actuality it really was not; Canada had an effective monopoly on the puck for the last 40 minutes after a fairly even first 20, and was responsible for a lopsided 58.5% of all Corsi events during the game.
The reason Canada controlled the play to such a degree may sound a tad boring and unimaginative. A previously dominant U.S. forward group that had ripped through the first four games of the tournament was utterly unable to sustain offensive pressure against the Canadians, in large part due to the latter's almost unfairly talented defensive core.
Cycling in the offensive zone, perhaps the key feature of Team USA's offensive approach, was rendered almost entirely useless; in numerous instances, the Americans were struggling even to maintain puck possession on the perimeter. Shea Weber, Duncan Keith, Drew Doughty, and Marc-Edouard Vlasic were brilliant, essentially neutering any semblance of U.S. offensive pressure whenever it seemed likely to appear. Carey Price faced a small handful of legitimate scoring chances and handled them well, but make no mistake about it — Canada's victory in this game had far, far more to do with its defensemen.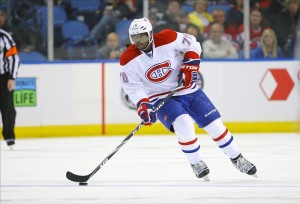 It didn't hurt matters that previous whipping boy Chris Kunitz had his best game of the Olympics and that Sidney Crosby finally looked like the best player in the world again. While Canada's defensemen were fantastic against the U.S. forwards whenever called upon, their job was made a good deal easier simply by virtue of how much possession time the Canadians had in the offensive zone. A mix of factors were responsible for this; chief among them was Canada's tenacious forecheck as well as Team USA's defensemen having significant difficulty initiating breakouts. This is where one of the more egregious roster snubs, Keith Yandle, could have been extremely useful.
At the end of the day, the Americans simply could not match up against Canada's stifling defense. Perhaps a few players that were not chosen by GM David Poile and company would have made a difference, and perhaps not… but ultimately it will be Team Canada and not Team USA playing on Sunday.
Follow Sean Sarcu on Twitter: @seansarcu
Sean covers the Chicago Blackhawks for The Hockey Writers and Rant Sports. Follow him on Twitter: @seansarcu.