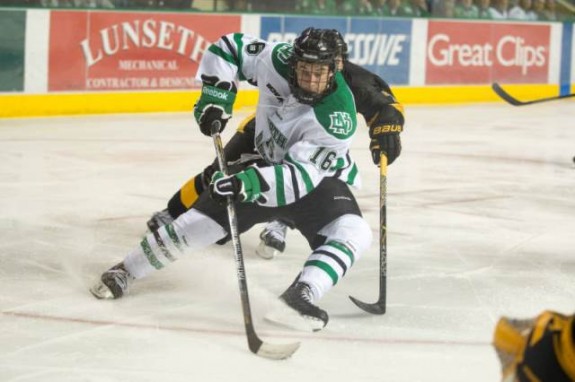 Recently, North Dakota head coach Dave Hakstol put forwards Drake Caggiula, Mark MacMillan and Michael Parks on the same forward line. They made their first appearance on February 7, 2014, against the Nebraska-Omaha Mavericks.
That move has paid dividends for the UND coaching staff.
UND Sports Information Director Jayson Hajdu has given that line the name Parks and Wreck. In the four games since their inception, they have scored a combined (6g-9a—15pts).
Parks and Wreck. RT @UNDMHockey: Since being put together three games ago, the line of MacMillan-Parks-Caggiula has combined for 6-9–15.

— Jayson Hajdu (@UNDSID) February 15, 2014
Junior forwards MacMillan and Parks were reunited on January 10, 2014, when MacMillan returned to the line-up from a lower-body injury. Coach Hakstol says their chemistry is due to their familiarity with each other. 
"They have a history of playing well together," Hakstol said.  "When they do, most of the things they're creating is a lot of speed and a little bit of chemistry. Drake Caggiula has been a big part of that as well over the last few weekends."
MacMillan seemed to agree with the head coach's assessment.
"We're getting even more comfortable (playing) with each other," Mark MacMillan said.  "We've played together a lot over our college careers. We're remembering where we are together and stuff. Confidence is a big thing in the game of hockey. When things are rolling, it's usually easier to play good hockey."
Parks' wraparound opening up space for linemates
If you've watched junior forward Mike Parks play the last two and a half seasons, you'll know he's famous for scoring wraparound goals. Parks has scored 6-of-28 career goals on the wraparound. It's also no coincidence that MacMillan has assisted on three of Parks' last four goals.
"Mike has got a lot of parts to his game that makes him a good player," MacMillan said. "Obviously, he's great skater. He's a big body. He's strong.  He's got a great ability to take the puck to the net. You see that a lot when he scored on wraparounds, cutting wide and taking it to the net.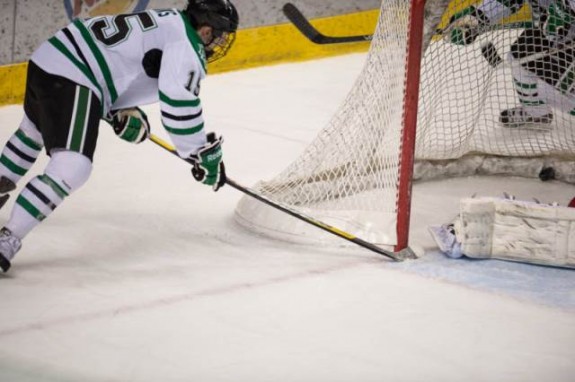 Teams are starting to focus on the wraparound
You can tell that teams are watching film on Parks. When he has the puck in the offensive zone, teams are having a defenseman cover him.  That's opening up space for the other forwards on the ice.
"Mike's a great player," MacMillan said. "He's got a great ability to take pucks to the net.   I think when you have a guy like that, he's going to open up room for you anywhere on the ice. And he's a great player too, so obviously, teams are going to key on him. When you have great guys on the ice, they're always going to key on him opening up room for the other guys."
MacMillan's return to the UND line-up seems to be the common denominator in the team's resurgence. UND has a 7-2-1 record since his return.
"They've been good of late," Hakstol said.  "But I don't know if our entire team has followed them throughout the year.  But I can tell you that having Mark healthy and having that combination going well has been important for us."
The 2013-14 UND hockey team's success could hinge on a couple of juniors that make up Parks and Wreck.
Eric is a 1996, 1999 graduate of the University of North Dakota. Eric covers the University of North Dakota Hockey and Division I college hockey. Eric is the Contributing Editor for Inside Hockey.