With Team Canada three games into the round robin, currently sporting a 3-0 record, it's once again looking like Canada will have a great chance to possibly go on a deep run in the medal round of the annual tournament. Some players have stood out, while others have done a little less than expected. With that, today we'll look at members of the 2015 World Junior Canadian team which we expect will become full-time NHLers in their career. Considering that 12 Canadian players from the 2009 World Junior team, the last to win the gold medal, now have full time NHL careers, we'll narrow our list down to 12 players as well. Below are all members most likely to go on to have a full time career.
Eric Comrie – Goaltender – Winnipeg Jets
Eric Comrie was the Winnipeg Jets 2nd round pick in 2013, 59th overall. He is a member of the WHL's Tri City Americans and has posted consistently great numbers his entire junior hockey career, with a .925 SV % this season. With good size and incredible athletic abilities, Comrie is a favourite to become Winnipeg's starter in years to come. He plays a hybrid type of game and remains calm under pressure, controlling rebounds with precision. Comrie had a 17 save shutout in his only appearance.
Josh Morrissey – Defence – Winnipeg Jets
Another Winnipeg Jets prospect, Josh Morrissey was acquired with the 13th overall pick in 2013. The captain of the Prince Albert Raiders, recently traded to the WHL's best team, Kelowna Rockets, put up 73 points in 49 games in his draft year. Known as a spectacular skater who never hesitates to transition defence into offence, he has great vision of the ice at all times. He also is a constant on his team's top power play unit. Morrissey has two assists and is a +7 in three games.
Darnell Nurse – Defence – Edmonton Oilers
The Edmonton Oilers drafted Darnell Nurse with the 7th overall pick in 2013. The lanky 6'5 back end has two games of NHL experience, and is at a point per game pace with the OHL's Sault Ste. Marie Greyhounds this year. He's extremely versatile in being able to play all parts of the game; even strength, power play, and shorthanded too. He's also adopted a great leadership role with the Greyhounds the past two seasons. Nurse has a +2 rating though three games.
Shea Theodore – Defence – Anaheim Ducks
Shea Theodore was drafted by the Anaheim Ducks in 2013 with the 26th overall pick. He's usually about a point per game player with the WHL's Seattle Thunderbirds, and had five points in five games with the AHL's Norfolk Admirals this year. His greatest upside is his offensive ability, quarterbacking the power play and having a great efficiency of getting his hard shot off, and getting it through the lanes to produce scoring opportunities for his team. Theodore has one assist in three games.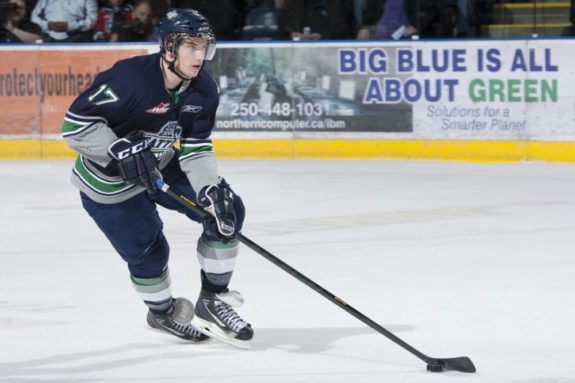 Sam Reinhart – Center – Buffalo Sabres
The Buffalo Sabres selected Sam Reinhart with the 2nd overall pick in the 2014 NHL Draft. In 9 games with the Sabres this year, he put up just one assist though. He has unbelievable offensive instinct and often carries the play. His vision and hands make him one of the best up and coming playmakers in the game. He's also defensively sound, seldom getting caught out of position. Buffalo hopes to shape their rebuild around Reinhart. He has two goals and two assists with  +6 rating in three games.
Connor McDavid – Center – 2015 Draft Eligible
Connor McDavid is eligible in the 2015 Entry Draft and will go 2nd overall at the very worst come June. He's expected to be a generational superstar which some lucky team will shape their franchise around. McDavid protects the puck well and is very strong, his skating is exceptional, and his vision and hockey IQ is through the roof. He manages to find a lane though any situation to create offence. The only place he's behind Jack Eichel is with his shot. McDavid has a goal and two assists with 10 shots on goal so far.
Curtis Lazar – Center – Ottawa Senators
Team Canada's captain, Curtis Lazar was taken 17th overall in 2013. He has already become a full-time player for the Ottawa Senators and is continuing to grow, posting 7 points in 27 games this year. As shown with Canada, he has great leadership abilities, both on and off the ice. He's always hard on the puck and goes into all puck battles. He has the potential to put up good offensive production in the NHL someday. Lazar has two goals in his three games.
Brayden Point – Center – Tampa Bay Lightning
Brayden Point was selected 79th overall in 2014 by the Tampa Bay Lightning. Known mostly for his small 5'9, 160 pound frame, Point has had to prove his critics wrong his whole life, and is continuing to do it year after year. Point is a very creative player, often finding opportunities no one else sees. He's a very competitive player and is never afraid to get into battles with much larger players. Point has a goal and an assist in the tournament so far.
Nick Ritchie – Left Wing – Anaheim Ducks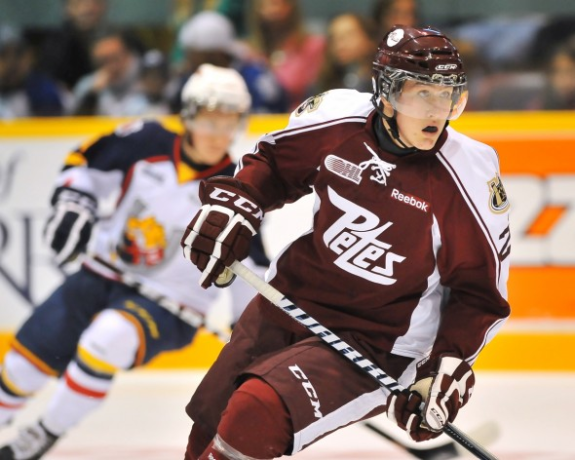 The Anaheim Ducks selected Nick Ritchie 10th overall in 2014. Ritchie is a big, strong body who uses his size well to protect the puck. He has a good shot and is more of a scorer than a playmaker. He also knows how to throw his weight around, but sometimes pays the price in penalty minutes. He will fit well into Anaheim's style of play well in a couple of years and thrive under their offensive game. Ritchie has yet to register a point and has four PIM in three games.
Nick Paul – Left Wing – Ottawa Senators
The Ottawa Senators acquired Nick Paul from the Dallas Stars in the Jason Spezza trade. He was taken 101st overall in the 2013 draft. A big body power forward who plays for the defensive minded North Bay Battalion is playing at a 1.26 points per game rate this year. His stock continues to rise as he grows and becomes even stronger. He can really throw the body and engages in battles all over the ice. Paul has one goal so far.
Anthony Duclair – Left Wing – New York Rangers
The New York Rangers drafted Duclair 80th overall in 2013. The sharpshooting winger put up 50 goals in just 59 games with the Quebec Remparts of the QMJHL in 2013-14. Already int0 the Rangers lineup this year, he has posted 7 points in 18 games in the NHL. His best assets are his skating and his great shot. He can fly down the ice and make plays at top speed. His shot is hard and incredibly accurate. Perhaps could get a little stronger still. Duclair has two goals and two assists with a +6 rating.
Jake Virtanen – Right Wing – Vancouver Canucks
The Vancouver Canucks drafted Jake Virtanen 6th overall in 2014. He is an incredible power forward with a unreal shot. He can skate with the best of them and blow by defenders. He's also exceptionally strong and can really play the physical aspect of the game. His shot may likely have been the best in the entire 2014 draft and he should become a great scorer for many years in Vancouver. Virtanen has a goal and an assist in three games.
Who else do you think will have a full-time NHL career on Team Canada?