With just one more scrimmage ahead of them before the World Cup starts in earnest, it looks like Team USA head coach John Tortorella is going to give defenseman Dustin Byfuglien a shot at right wing, according to the Boston Globe's Fluto Shinzawa.
During Tuesday's morning skate line rushes, Byfuglien lined up on the team's fourth line with center David Backes and left wing Justin Abdelkader. With the other six defensemen expected to be in the lineup, that leaves Kyle Palmieri and Brandon Dubinsky as Team USA's healthy scratches for Tuesday's exhibition game against Team Finland.
U.S. lines vs. Finland:
Wheeler-Pavelski-Parise
JvR-Stepan-Kane
Pacioretty-Kesler-Oshie
Byfuglien-Backes-Abdelkader#WCH2016

— Stephen Whyno (@SWhyno) September 13, 2016
It's a strange decision, but before the standard round of Tortorella-bashing begins, there are a couple mitigating factors worth considering. Byfuglien has played forward before and not just intermittently with the Winnipeg Jets. He was a key piece of the Chicago Blackhawks first contemporary Stanley Cup win while playing wing.
Additionally, it appears that this may just be an effort to use a pre-camp exhibition for its actual purpose: preparing for the tournament. Moving Byfuglien to wing gives Tortorella and his staff a chance to see Byfuglien play up front while simultaneously freeing up a spot on the blue line so that they have a chance to see the other six defensemen (Erik Johnson, Jack Johnson, Ryan Suter, Ryan McDonagh, Matt Niskanen, John Carlson) in a game.
---
RELATED: Three Questions Facing Team USA
---
While the Byfuglien and Suter defensive pairing looked nice on paper, they weren't a huge success early on as the U.S. went through two exhibitions against Team Canada. It is a surprising move, but ultimately it's a short tournament and if you're able to capture lightning in a bottle, that's could be enough to propel Team USA to an upset.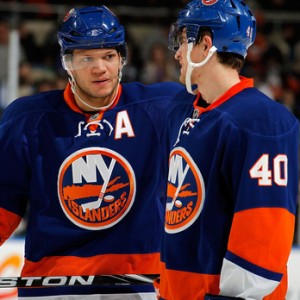 Roster Selection, Again
For a fourth-line wing, Byfuglien is a fine choice. He's more than capable of being an asset to Team USA. However, if Tortorella is unhappy enough with his forward options that he wants to move Byfuglien up, it does serve to, once again, highlight the strange roster selection process for Team USA. It was a process that put a premium on physical, gritty players at the expense of offensive talent and continues to do so.
We don't need to retread the fact that players like Phil Kessel, Justin Faulk and Tyler Johnson were left at home, or that if Tortorella needs a physical right wing with offensive upside Byfuglien is a poor man's Kyle Okposo.
Amid public criticism of Max Pacioretty and Byfuglien joining the Backes line, it's hard to see what Tortorella's options are if there are issues at forward. They've cornered themselves and are hugely dependent on the offensive production of Patrick Kane, Joe Pavelski and Pacioretty. (Those are the only three 30-goal scorers in the lineup. Palmieri is the team's fourth.)
In their first exhibition game, the U.S. surprised Canada with their physicality and stole a 4-2 win out from under the reigning Olympic champions in a meaningless game. But even though they won the game, the U.S. took just 38.06% of the even-strength shot attempts. That was an early indication that the U.S. fooled Canada once, but shame on them if they think they can do it again with the same plan of attack.
In their next match, Canada had clearly figured out the U.S.'s dump-and-chase strategy, moving the puck quickly to the weak side in the d-zone and relieving the physical pressure that helped the U.S. win the night before. The lack of speed and skill became a glaring weakness with small adjustments from the opposition. In the second game, the U.S. improved their even-strength shot attempt ratio, taking 42.86% of the total shot attempts according to Natural Stat Trick. But that's still terrible. That's 2014-15 Buffalo Sabres terrible.
Tuesday's line shuffling may make the forward group a little more well-rounded, but it doesn't address the fundamental problems Team USA has had since the word go.
Other Team USA Notes:
Tortorella had previously said that he hopes to have his goaltender rotation set by Tuesday's exhibition against Finland. The AP's Stephen Whyno reports that Jonathan Quick is likely to be the starter on Tuesday. That means — barring an unknown change of plan or a complete collapse Tuesday — Quick may be the U.S. team's starter when the tournament kicks on Saturday with a game against Team Europe.
---
The Hockey Writers coverage of the World Cup of Hockey 2016 is being brought to you by PrimeSport, the official Fan Travel & Hospitality Package Partner of the World Cup of Hockey 2016.