Thanks to a penchant for big hits and overtime goals, Islanders defenseman Thomas Hickey made the most of a 2015-16 season that at times looked doomed. Missing 20 games with an assortment of injuries, Hickey still scored a career-high six goals and was a +9 rating in 62 games. It's fair to say that if he was healthy the entire season, Hickey would have eclipsed his 22-point season high as well.
Now a part of Isles legend following the team's playoff series with the Panthers and always a fan-favorite thanks to his ability to fill a variety of roles, Hickey finds himself in a situation similar to another Islanders defenseman, Nick Leddy. After showing flashes of brilliance, is this the year everything comes together?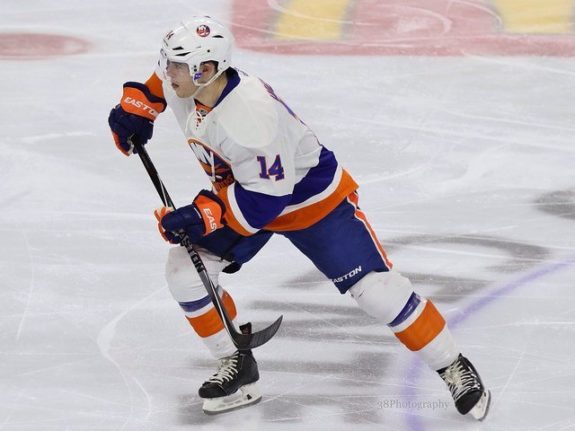 Regardless of his heroics at the end of the season and in the playoffs, it'll be interesting to see where Hickey is slotted in 2016-17. A former first round pick who can skate, shoot and hit, there's plenty of versatility in his game, but he may be out-shined by higher-paid and younger talents on the Isles defense, particularly the likes of Leddy and Ryan Pulock.
Currently the Isles' number five defenseman on the depth chart, Hickey's presence as a bottom pair defenseman gives the team a ton of depth. Simply put, with the first-round skill-set and skating ability, there are plenty of team's that would love to have him on the ice. He's also one of the few bottom pair D-men in the league that can produce on both ends of the rink. With the expansion draft looming and the Islanders so high on Pulock and having other defensemen that need to be protected, Hickey could find himself on a new team next summer.
Last Season
Missing 20 games is rough on any defenseman, but with the Isles lacking a clear number six defenseman, thanks to the ineffectiveness of Brian Strait and Marek Zidlicky, Hickey had to pick up the slack on both ends of the ice when he was on it. His +9 rating was third on the team, behind Nikolay Kulemin (+13) and Johnny Boychuk (+17), who like Hickey weren't always on the ice for sexy minutes. Sadly, Hickey's six goals were second among Islander defensemen, as Travis Harmonic, Leddy, Calvin DeHaan and Zidlicky weren't nearly as offensively-potent as the Isles needed them to be.
Projection
If healthy, Hickey, who's game is more confident than ever, will score 30-35 points and deliver anywhere from 100-150 hits. With only one-point on the power play his entire NHL career, he'll get his points the hard way at first before Islanders head coach Jack Capuano puts him on the second power-play unit. With Fran Nielsen now a Red Wing and Ryan Strome likely being moved back to center, the Isles will use two d-men with the man-advantage with much more frequency. It's here where Hickey will get a good five-10 points to cap off a career year.