Team USA is at a dilemma in their current state of goaltenders. With key prospects struggling, or hurt, it would be wise for the front office of David Poile, Ray Shero, Brian Burke, and Dan Bylsma to add rookie John Gibson to the final roster instead of looking at their mediocre options.
Gibson is currently playing in the Anaheim Ducks' farm system in the American Hockey League for the Norfolk Admirals. He's playing exceptionally well posting a stat line of: a 7-4 record, .939 save percentage and 1.98 goals against average. Gibson's save percentage is tops in the league, while his goals against average ranks fourth.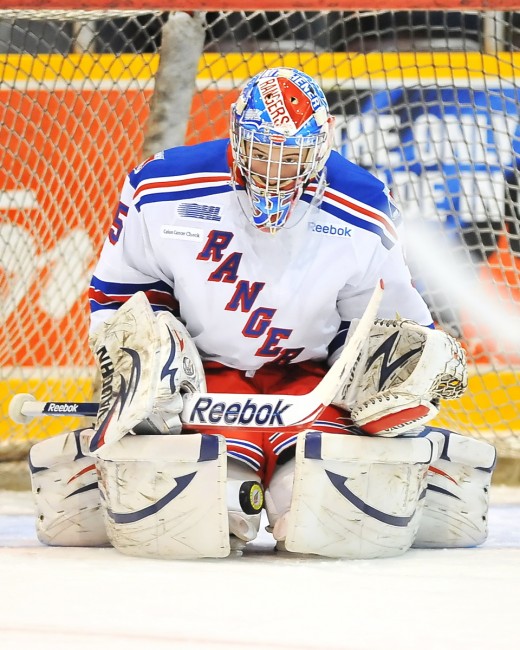 His play is getting him noticed. From Jim Matheson's blog in the Edmonton Journal, he quotes former Ducks' goaltender coach Pete Peeters saying: How good is the Anaheim Ducks' 20-year-old goalie John Gibson, who is a candidate to play for the U.S. Olympic men's hockey squad in Sochi, Russia? "He's Grant Fuhr," said former Ducks goalie coach Pete Peeters.
That is high praise, comparing the young goaltender to Fuhr who was the backbone to the Edmonton Oilers teams that won four Stanley Cups in the 1980's. Gibson, like Fhur to the Oilers, was an instrumental part to Team USA U-20's gold medal victory earlier this year. In five games, Gibson stopped 146-of-153 shots and allowed only seven goals in five games.
The projected starter when the tournament begins, Los Angles Kings Jonathan Quick, is out with a Grade-2 groin strain. Quick should be back in time for the Winter Games. However, the projected backups to Quick have been just okay through one-quarter of the season.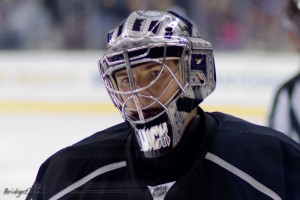 Team USA's first options of backups will more than likely be: Jimmy Howard, Ben Bishop and Cory Schneider. Howard is off to a poor start with a 2.64 goals against average and 5-6 record. Bishop and Cory Schneider have been mediocre with Bishop's 2.20 goals against and Schneider's 2-5 record in limited time behind Martin Brodeur.
Ryan Miller, Tim Thomas and Craig Anderson are all the "senior" potential goaltenders. However, Miller, who was huge for Team USA in the Vancouver Games in 2008, has a 3.17 goals against average, Thomas has a save percentage of .908 and Anderson is a combined worse of both worlds with a goals against average of 3.31 and a save percentage exactly at .900.
These goaltenders may get the first-look over Gibson on the depth chart heading into Sochi. However, these numbers of 2.50 goals against averages and sub .920 save percentages will not be good enough to lead Team USA back to the Gold Medal game.
Gibson did get a invite to Team USA's summer camp. His experience of leading a team to gold and winning, along with his phenomenal stats in the AHL this season, should be enough to land him a roster spot when the final decisions are made on New Years Day.
Follow T.J. McAloon on Twitter: @tjmcaloon
I've devoted most of my life to being a Pittsburgh sports fan. Currently, I live in Austin with my wife Sarah and our dogs Clooney and Maggie.. But, I had the pleasure of taking in all that is Austin, TX – mostly the Texas Stars American Hockey League franchise – for the past 4 years.