Team USA beat Team Germany by a score of 11-1 in the quarterfinals of the 2023 World Juniors. With this win, they advance to the semifinals and land a chance to compete for a medal. Several factors led to Team USA's win, including a great start by their goalies, and a strong offense.
Augustine Continues Great Tournament
Team USA began the game with their best goaltender in net once again. 17-year-old Michigan State commit Trey Augustine has been outstanding throughout the tournament, earning himself the starting position that was initially up for grabs when the tournament began.
Augustine made 14 saves on 14 shots throughout the first two periods. After Team USA went up 8-0, he was pulled at the start of the third and replaced by Saginaw Spirit goaltender Andrew Oke, who was in goal for the first time this tournament. Oke saw eight shots in the third period and made seven saves. He let in one goal by Team Germany's Luca Hauf, currently with the Edmonton Oil Kings, in the game's dying minutes.
Related: 3 Takeaways From USA's 6-3 Loss to Slovakia
---
Latest News & Highlights
---
While Augustine has proven to be the top goaltender for Team USA, getting to see Oke in net may add an extra layer of confidence moving forward. Though a small sample size, he played well enough that should Team USA need him, they can trust that he won't do terribly. 
Ufko and Cooley Lead The Way
While not a surprise for anyone who has been watching Team USA all this time, the offensive ability of their top players keeps shining through. In each game there is a different player who steps up and delivers results in the form of a multipoint game. In this one, the top performers were Nashville Predators prospect Ryan Ufko and Arizona Coyotes prospect Logan Cooley.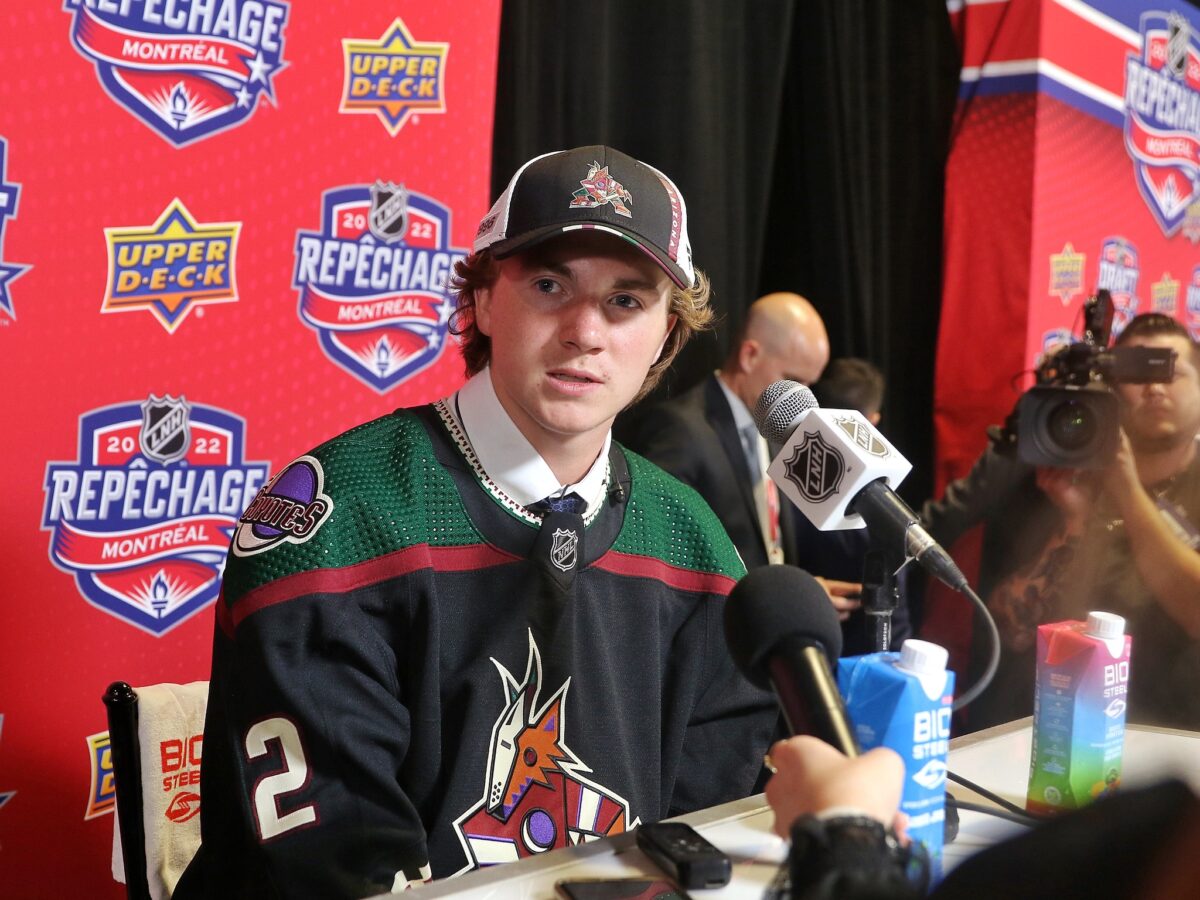 Ufko, a defenseman, finished the game with five points all in the form of primary assists. He collected three helpers in the first period on goals by Cooley, St. Louis Blues prospect Jimmy Snuggerud and Detroit Red Wings prospect Red Savage. He earned another on Cooley's goal in the second, and again at the end of the game on a goal by Tampa Bay Lightning prospect Dylan Duke. 
Cooley finished the game with four points, completing the hat trick and earning one assist. He opened the scoring just under four minutes into the game, and scored his second goal in the second period. His hat trick happened in the third, with assists from University of Minnesota defenseman Luke Mittlestadt and Philadelphia Flyers prospect Cutter Gauthier. 
Overall, Team USA had 15 players land on the scoresheet against Team Germany, continuing a trend of high offense displayed by the entire team.
Controlling the Game From the Faceoff
Team USA has been great at winning faceoffs all tournament, and this game was no exception. In the first period alone, they won 72.2 percent of faceoffs, and through two periods they were at 69.4 percent. By the end of the game, they had won 35 to Team Germany's 28.
Savage and Los Angeles Kings prospect Kenny Connors put up impressive numbers on the faceoff, winning seven and only losing three. On top of being a high-scoring group, Team USA has been improving at keeping the puck in the offensive zone and outpacing their opponents to maintain control of the game.
With this win, Team USA moves on to the semifinals at the World Juniors. Who they play depends on the result of Canada and Slovakia. If Canada wins, they'll meet in the semifinals on Jan. 5. If Slovakia wins, they will play Sweden. 
---
---