The Pittsburgh Penguins were in rare form during the 2012 NHL Draft; The team had not one, but two picks in the first round. In total, the team took nine players during that draft, five of them would play some time in Pittsburgh. Now, almost a decade later, only one of those selected in 2012 remains with the team.
That one player is second-round pick Teodors Blugers. Fans better know him as "Teddy" Blueger. The Riga, Latvia native is in the midst of his third year in the NHL, and is slowly becoming a fan favorite. Not only is he reaching high levels of popularity, he is becoming one of the most important players on the Penguins roster.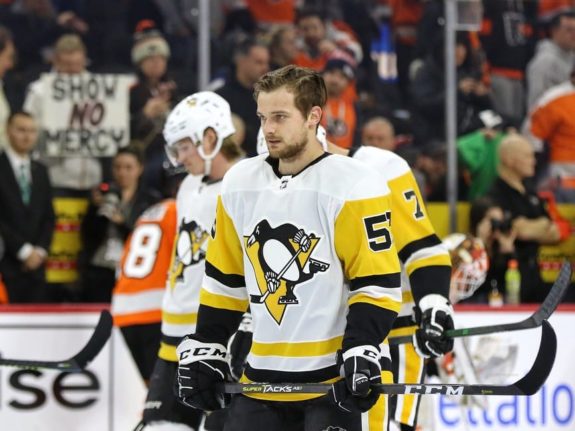 Blueger's 200-foot game and consistency in any role has provided a steady presence in the lineup. From centering one of the best shut down lines in recent Pens history, to being one of the league's best penalty killers, he is one of the team's best all-around players.
Let's take a look at some of the details of Blueger's game and how he has become one of the Penguins most important depth players.
Growing in the NHL
Since making his NHL debut on Jan. 30, 2019, Blueger has yet to miss a regular-season game with the Penguins. On a team known for their mass amount of injuries, that's an impressive marker. Though 122 consecutive games, he has scored 19 goals and 26 assists for 45 points. In 25 games so far in 2020-21, he has posted four goals and nine assists for 13 points.
Though Blueger has been showing growth as an offensive threat, scoring statistics aren't the most important part of his game. His main focus when anchoring a shutdown bottom-six line is defense. Controlling the puck and making sure it stays out of the back of his net is a highlight of his play. That is evident by his plus-six rating on a team that has struggled to have a positive goal differential.
The Penguins penalty kill during the 2020-21 season has been spotty at points, sitting at 73.7%, 24th in the league. Blueger as a penalty killer, however, has been stellar. Not just defensively but he has found ways to score while a man down. He is one of only six players across the NHL with multiple short-handed goals.
Third Line Center?
One of the Penguins' biggest question marks since winning back-to-back Stanley Cups in 2016 and 2017 is who is going to take the third line center role? The team has tried to bring in names like Derick Brassard, Nick Bjugstad, and most recently Mark Jankowski. None of those names panned out as hoped. Blueger, so far, is being utilized as the next man up to take the reigns as the 3C.
Despite his size and being a defensive-minded forward, Blueger has outplayed Jankowski for the spot this year. Jankowski played well in the first two games of the season, but hasn't been able to collect a single point since. Meanwhile, Blueger is having himself a coming-out year in terms of offensive production. The numbers previously mentioned (4-9—13) have him on track to have the best year of his young career. If these numbers continue, then his great all-around play makes him a perfect candidate for the third line center.
Blueger's progress as a depth offensive threat has earned him and his linemates some third-line minutes. The trio of Blueger, Zach Aston-Reese, and Brandon Tanev became one of the best bottom lines in the NHL last season. Due to some poor play from other bottom-six options, these three have been promoted to the third line. They have been solid so far, as the Penguins as a whole are finding their stride and the third line are regular contributors.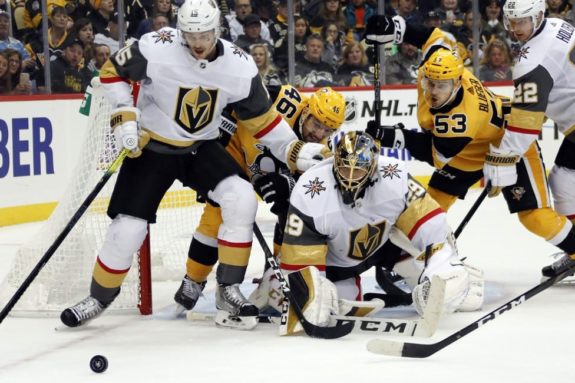 Aston-Reese since returning from injury has five goals and an assist in 14 games. Tanev, who has been moved on to just about every line on the team, has five goals and six assists in 25 games.
Protect From Seattle
Once this truncated 2020-21 NHL season draws to a close, a new team will be joining the fray. The Seattle Kraken will have their shot at selecting a player from each team in the upcoming Expansion Draft. As every other team starts to finalize their protected list, new Penguins general manager Ron Hextall should consider protecting Blueger.
It might sound strange to protect a player who is a regular in the bottom-six of the lineup, but given Blueger's development and being one of the better all-around players on the team, it makes sense to keep him around. Any team would be lucky to have a young player like him who plays a great 200-foot game, there isn't much reason to let it leave for nothing.
When the season and Expansion Draft is all said and done, Blueger is due for a new contract and he has a bright future ahead of him. As a defensive-minded shutdown player, he is an important piece for the Penguins in the near (and possibly far) future.
---
---