There are those who downplay the intangible benefits of chemistry, whether it be team-wide or in the case of the Kings' celebrated 'That 70s Line,' a trio of forwards. Frankly, I was once one of them.
That doesn't mean the skeptics didn't put any credence on it. We just felt the tangible factors of systems, structure, and skill were of greater importance. To illustrate: no matter how well grinders play together, they aren't going to lead a team to victory.
But that's an overly simplistic interpretation that fails to account for the varying impacts and differences between skilled players and role players. A pair of defensemen or a trio of forwards can exhibit either good or bad chemistry, even if the players are of similar profile. For the Los Angeles Kings, no better example among the forwards can be made than Tanner Pearson, Jeff Carter and Tyler Toffoli: L.A.'s acclaimed 'That 70s Line.'
'That 70s Line' Plays Well Together
Initially put together near the end of the 2013-14 regular season and after torching opponents with a combined 51 points over 26 playoff games, 'That 70s Line' gained instant fame once they became attached at the hip. The following season saw them pick up right where they left off, tallying a combined 16 points in their first five games.
Eventually, the fanfare diminished and the team's lines — as head coach Darryl Sutter is known to do — were disassembled and put back together again. Although it still takes the ice occasionally, 'That 70s Line' has not become the fixture many Kings fans expected.
The Line is Beginning to Skate Together Again
Tinkering like a mad scientist, Sutter has gone back to a familiar formula in the last couple of months, sending 'That 70s Line' out more and more frequently. Whenever it occurs, it prompts joy on social media:
No Kopi, no Gabby…. Time to get #That70sLine together again!! #LAKings

— SeattleKings (@SeattleKingsNHL) February 21, 2016
@LAKings Toffoli to tie, and Carter with the GWG because long live #That70sLine

— Alli (@AlliTheKat) February 14, 2016
I love #that70sline so much… Keep shooting #LAKings 🙏🏼🙏🏼🙏🏼

— Cynthia cut the qis (@CynthiaInCali) February 13, 2016
The goal wasn't to get more out of Tyler Toffoli (24G, 19A) or Jeff Carter (14G, 26A), who are both having strong seasons. Instead, it's Tanner Pearson that needed a jolt of electricity after putting up just three points in 18 games during the 2016 calendar year before scoring the overtime winner in last Saturday's 2-1 win over the Nashville Predators. Pearson, who has been linked to trade rumors (far-fetched as they may be), could fetch a very nice forward at the trade deadline. On the other hand, he could step it up and be the consistent performer the Kings hoped he'd be when drafted back in 2012.
How good is Pearson's chemistry with Jeff Carter and Tyler Toffoli? Jon Rosen of LA Kings Insider explains:
Alongside Carter, the Kings' on-ice rate read 3.70 goals for and 1.09 goals against per 60 minutes. Alongside Toffoli, the on-ice goals for and goals-against rate per 60 minutes was 4.02 and 2.02.
Clearly, chemistry matters.
'That 70s Line' is On the Ice About 11% of the Time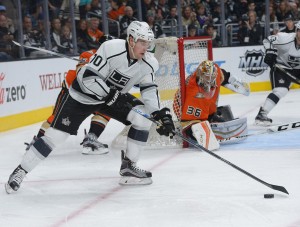 Per Left Wing Lock, Pearson played most often with Anze Kopitar and Marian Gaborik (24%), followed by Nick Shore and Trevor Lewis (11.6%). The Pearson/Carter/Toffoli line skates together 10.9% of the time, an average of just a handful of shifts per game.
Is it enough? My coaching experience may have peaked at EA's NHL '11, but I think I speak for Kings fans everywhere when I say heck no.
Put 'em in, Coach
It's time to see if 'That 70s Line' can rekindle the magic they showed just a couple of years ago. Put the line back together, coach, and roll them out there on a consistent basis.
Chemistry matters. Count me as a true believer.