The architect of the current Minnesota Wild roster in general manger Chuck Fletcher hired on May 21, 2009 by owner Craig Leipold. This is the most talented Wild team in franchise history in my opinion. The combination of skillful drafting, savvy trades, and major free agent signings has built the Wild into a contender. I believe a great deal of credit for the Wild stockpiling young talent through the draft should go to assistant general manager Brent Flahr. Fletcher and Flahr inherited a near bare prospect cupboard from the Doug Risebrough/Jacques Lemaire regime.
The Wild currently features their youngest roster in history with a talented group of forwards 23 years old and younger (Coyle, Granlund, Niederreiter, Zucker, Haula, and Fontaine) that has leaned on heavily to contribute in their first full season at the NHL level. Jonas Brodin was the youngest defensemen in the NHL last season while also playing near 30 minutes a game paired with Ryan Suter. The Pairing of Jared Spurgeon and Marco Scandella has collectively played the best hockey of their NHL careers this season and both are under 23 years old as well.
The Wild's core is set for years to come with captain Mikko Koivu, Zach Parise, Jason Pomiville, and Suter all locked up with long term contracts. The Wild will have near $23 Million dollars in cap room this summer to supplement their young players and core. The rumor that impending free agent superstar winger Thomas Vanek will return to Minnesota is very realistic given the needs of this team and his individual motivating factors.
Players that I believe to be available in trade right now include Dany Heatley, Niklas Backstrom, Keith Ballard, Torrey Mitchell, Kyle Brodziak, Justin Fontaine, and Jason Zucker. Impending free agents are Heatley, Clayton Stoner, Josh Harding, Nate Prosser, and Mike Rupp. Backstrom is the most problematic player of those I believe could get moved at or around the trade deadline because he has struggled to stay healthy and his performance this year has looked as if his age (35 years old) has caught up to him.
The 2013-14 Minnesota Wild Roster:
Forwards
Mikko Koivu
Position: C ▪ Shoots: Left
Height: 6-3 ▪ Weight: 217 lbs.
Born: March 12, 1983 (Age 30) in Turku, Finland
Drafted: by Minnesota in first round (6th overall) of 2001 NHL Entry Draft
Contract: 7 years/$47,250,000
Role: Top Line Center/2 Way Center Captain of the Minnesota Wild PP/PK
Strength: SizeSkillCombo/Playmaker/DefensiveStopper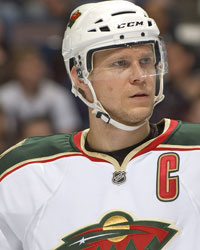 Zach Parise
Position: LW ▪ Shoots: Left
Height: 5-11 ▪ Weight: 195 lbs.
Born: July 28, 1984 (Age 29) in Minneapolis, Minnesota
Contract: 13 years/$98,000,000
Drafted: New Jersey's 1st choice, 17th overall, in 2003 NHL Entry Draft
Acquired: Signed as free agent by Minnesota (7/4/12)
Role: Top Line Winger/Grinder Assistant Captain PP/PK
Strength: Energy&Effort/Speed/NetFrontPresence
Nino Niederreiter
Position: RW ▪ Shoots: Left
Height: 6-2 ▪ Weight: 208 lbs.
Born: September 8, 1992 (Age 21) in Chur, Switzerland
Drafted: by the New York Islanders in first round (5th overall) of 2010 NHL Entry Draft
Acquired: from the New York Islanders in exchange for Cal Clutterbuck and a 2013
third-round draft pick (Eamon McAam) on June 30, 2013
Contract: 3 years/$8,475,000
Role: Top 6 Winger/Power Forward PP
Strength: SizeSkillCombo/Playmaking/Creativity
Mikael Granlund
Position: C ▪ Shoots: Left
Height: 5-10 ▪ Weight: 186 lbs.
Born: February 26, 1992 (Age 21) in Oulu, Finland
Drafted: by Minnesota in first round (9th overall) of 2010 NHL Entry Draft
Contract: 3 years/$6,300,000
Role: Top 6 Center/Playmaking Center PP/PK
Strength: PuckPossession/Creativity/Vison
Charlie Coyle
Position: C/RW ▪ Shoots: Right
Height: 6-3 ▪ Weight: 222 lbs.
Born: March 2, 1992 (Age 21) in E. Weymouth, Massachusetts
Drafted: by San Jose in first round (28th overall) of 2010 NHL Entry Draft
Acquired: from San Jose with Devin Setoguchi and a 2011 first round pick (Zack
Phillips) in exchange for Brent Burns and a 2012 second round pick on June 24, 2011
Contract: 3 years/$2,925,000
Role: Top 6 Winger/Center/Power Forward PP/PK
Strength: SizeSkillCombo/Versatility/GoalScorerMentality
Jason Pominville
Position: RW ▪ Shoots: Right
Height: 6-0 ▪ Weight: 185 lbs.
Born: November 30, 1982 (Age 31) in Repentigny, Quebec
Drafted: Selected by Buffalo in second round (55th overall) of 2001 Entry Draft.
Acquired: from Buffalo (4/3/13) along with 2014 4th-round pick in exchange for Matt
Hackett, Johan Larsson, a 2013 1st-ound pick and 2014 2nd-round pick
Contract: 5 years/$26,500,000
Role: Top 6 Winger/Playmaking Winger PP/PK
Strength: GoalScorerMentality/Playmaking/BigShot
Jason Zucker
Position: LW ▪ Shoots: Left
Height: 5-11 ▪ Weight: 186 lbs.
Born: January 16, 1992 (Age 22) in Las Vegas, Nevada
Drafted: by Minnesota in second round (59th overall) of 2010 NHL Entry Draft
Contract: 3 years/$2,500,000
Role: Top 6 Winger/Sniper PP
Strength: Speed/GoalScorerMentality/BigShot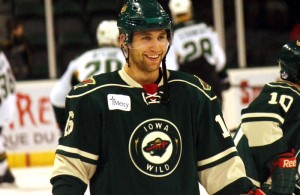 Dany Heatley
Position: LW ▪ Shoots: Left
Height: 6-4 ▪ Weight: 220 lbs.
Born: January 21, 1981 (Age 33) in Freiburg, Germany
Drafted: by Atlanta in first round (2nd overall) of 2000 NHL Entry Draft
Acquired: from San Jose in exchange for Martin Havlat (7/3/11)
Contract: 6 years/$45,000,000
Role: Top 6 Winger/Power Forward PP
Strength: GoalScorerMentality/BigBody
Justin Fontaine
Position: RW ▪ Shoots: Right
Height: 5-10 ▪ Weight: 177 lbs.
Born: November 6, 1987 (Age 26) in Bonnyville, Alberta
Drafted: not drafted
Acquired: Signed as a free agent by Minnesota (4/9/11)
Contract: 1 year/$600,000
Role: Top 9 Winger/Playmaking Winger
Strength: GoalScorerMentality/Versatility/Playmaking
Kyle Brodziak
Position: C ▪ Shoots: Right
Height: 6-2 ▪ Weight: 209 lbs.
Born: May 25, 1984 (Age 29) in St. Paul, Alberta
Drafted: by Edmonton in the seventh round (214th overall) of 2003 Entry Draft
Acquired: from Edmonton along with a 6th round pick in 2009 Entry Draft in exchange
for a 4th and 5th round pick in 2009 Entry Draft
Contract: 3 years/$8,500,000
Role: Top 9 Center/ 2 Way Center PK
Strength: DefensiveSpecialist/BigBody/Versatility
Matt Cooke
Position: LW ▪ Shoots: Left
Height: 5-11 ▪ Weight: 205 lbs.
Born: September 7, 1978 (Age 35) in Belleville, Ontario
Drafted: by Vancouver in sixth road (144th overall) of 1997 NHL Entry Draft
Acquired: Signed as a free agent by Minnesota (7/5/13)
Contract: 3 years/$7,500,000
Role: Top 9 Winger/Grinder PK
Strength: PuckPossesion/Agitator/Awareness
Erik Haula
Position: LW ▪ Shoots: Left
Height: 5-11 ▪ Weight: 190 lbs.
Born: March 23, 1991 (Age 22) in Pori, Finland
Drafted: by Minnesota in seventh round (No. 182 overall) of 2009 NHL Entry Draft
Contract: 2 years/$3,500,000
Role: Top 9 Center/Winger/2 Way Forward
Strength: Scorer Mentality/Playmaking/Versatility
Torrey Mitchell
Position: C ▪ Shoots: Right
Height: 5-11 ▪ Weight: 190 lbs.
Born: January 30, 1985 (Age 28) in Montreal, Quebec
Drafted: Selected by San Jose in the 2004 NHL Entry Draft (4th round, 126th overall).
Acquired: Signed by Minnesota as free agent (7/1/12)
Contract: 3 years/$5,700,000
Role: Bottom 6 Winger/Center/Grinder
Strength: Versatility/Energy&Effort
Stephane Veilleux
Position: LW ▪ Shoots: Left
Height: 6-1 ▪ Weight: 200 lbs.
Born: November 16, 1981 (Age 32) in Beauceville, Quebec
Drafted: Minnesota's 4th choice (3rd round), 93rd overall, in 2001 Entry Draft.
Acquired: from New Jersey along with D Kurtis Foster, RW Nick Palmieri, 2012
second round pick and conditional third round pick in 2013 in exchange for Marek
Zidicky (2/24/12)
Contract: 2 years/$1,175,000
Role: 4th Line Winger/Grinder
Strength: Energy&Effort
Mike Rupp
Position: LW ▪ Shoots: Left
Height: 6-5 ▪ Weight: 243 lbs.
Born: January 13, 1980 (Age 34) in Cleveland, Ohio
Drafted: by New Jersey Devils in third round (76th overall) of 2000 NHL Entry Draft
Acquired: From NY Rangers (2/4/13) in exchange for Darroll Powe and Nick Palmieri
Contract: 3 years/$4,500,000
Role: 4th Line Winger/Power Forward
Strength: Enforcer
Defensemen
Ryan Suter
Position: D ▪ Shoots: Left
Height: 6-1 ▪ Weight: 198 lbs.
Born: January 21, 1985 (Age 29) in Madison, Wisconsin
Drafted: Nashville's first round pick (7th overall) in 2003 NHL Entry Draft
Acquired: Signed by Minnesota as free agent (7/4/12)
Contract: 13 years/$98,000,000
Role: Top Pairing Defensemen Assistant Captain PP/PK
Strength: 2 Way Defender NHL leader in Ice Time
Jonas Brodin
Position: D ▪ Shoots: Left
Height: 6-1 ▪ Weight: 180 lbs.
Born: July 12, 1993 (Age 20) in Karlstad, Sweden
Drafted: by Minnesota in first round (10th overall) of 2011 Entry Draft
Contract: 3 years/$4,425,000
Role: Top Pairing Defensemen PP/PK
Strength: 2 Way Defender Elite Level Skater
Jared Spurgeon
Position: D ▪ Shoots: Right
Height: 5-9 ▪ Weight: 185 lbs.
Born: November 29, 1989 (Age 24) in Edmonton, Alberta
Drafted: by NYI in sixth round (156th overall) of 2008 NHL Entry Draft
Acquired: Signed as free agent by Minnesota (9/22/10)
Contract: 3 years/$8,000,000
Role: Top 4 Pairing Defensemen/ Offensive Defensemen PP/PK
Strength: GoalScorerMentality/Playmaking/Skating
Marco Scandella
Position: D ▪ Shoots: Left
Height: 6-3 ▪ Weight: 210 lbs.
Born: February 23, 1990 (Age 23) in Montreal, Quebec
Drafted: by Minnesota in second round (55th overall) of 2008 NHL Entry Draft
Contract: 2 years/$2,050,000
Role: Top 4 Pairing Defensemen/2 Way Defensemen PK
Strength: PuckCarryingAbility/Big Frame/Skating
Keith Ballard
Position: D ▪ Shoots: Left
Height: 5-11 ▪ Weight: 208 lbs.
Born: November 26, 1982 (Age 31) in Baudette, Minnesota
Drafted: Selected 11th overall by Buffalo in 2002 NHL Entry Draft
Acquired: Signed as a free agent by Minnesota (7/5/13)
Contract: 2 years/$3,000,000
Role: Bottom 2 Pairing Defensemen/ 2 Way Defensemen
Strength: Playmaking/PhysicalPlay
Clayton Stoner
Position: D ▪ Shoots: Left
Height: 6-4 ▪ Weight: 213 lbs.
Born: February 19, 1985 (Age 28) in Port McNeill, British Columbia
Drafted: by Minnesota in third round (79th overall) of 2004 NHL Entry Draft
Contract: 2 years/$2,100,000
Role: Bottom 2 Pairing Defensemen/ Defensive Defensemen
Strength: PhysicalPlay/Enforcer
Nate Prosser
Position: D ▪ Shoots: Right
Height: 6-2 ▪ Weight: 207 lbs.
Born: May 7, 1986 (Age 27) in Elk River, Minnesota
Drafted: not drafted
Acquired: signed as a free agent by Minnesota (3/18/10)
Contract: 2 years/$1,650,000
Role: Bottom 2 Pairing Defensemen/ 2 Way Defensemen
Strength: PhysicalPlay/Versatility
Goaltenders
Josh Harding
Position: G ▪ Catches: Right
Height: 6-2 ▪ Weight: 202 lbs.
Born: June 18, 1984 (Age 29) in Regina, Saskatchewan
Drafted: by Minnesota in second round (38th overall) of 2002 NHL Entry Draft
Contract: 3 years/$5,700,000
Role: Starting Goaltender
Strength: Athleticism/Positioning/Glove
Niklas Backstrom
Position: G ▪ Catches: Left
Height: 6-2 ▪ Weight: 194 lbs.
Born: February 13, 1978 (Age 35) in Helsinki, Finland
Drafted: not drafted
Acquired: Signed by Minnesota as a free agent (6/1/06)
Contract: 3 years/$10,250,000
Role: Backup Goaltender
Strength: Experience/Technique/Positioning
Darcy Kuemper
Position: G ▪ Catches: Left
Height: 6-5 ▪ Weight: 205 lbs.
Born: May 5, 1990 (Age 23) in Saskatoon, Saskatchewan
Drafted: by Minnesota in sixth round (161st overall) of 2009 NHL Draft
Contract: 3 years/$2,700,000
Role: Starting Goaltender at AHL Level
Strength: Reflexs/HugeFrame/PuckHandling