Hockey and baseball have a lot of similarities and that's probably part of the reason why they top my list of favorite sports.  In both sports, one can appreciate a 2-1 duel just as much as an 8-6 scoring fest.  On January 26, 2014, the New Jersey Devils will play host to the New York Rangers at Yankee Stadium.  As you may or may not know, Devils President and General Manager Lou Lamoriello also has a World Series ring from the New York Yankees, to go along with his three Stanley Cup rings.  That connection also made me wonder what other connections the Devils and Yankees have.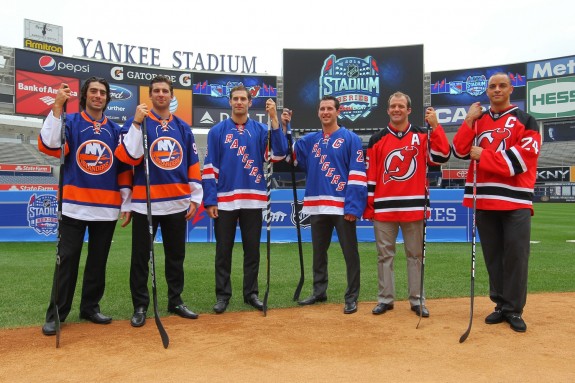 Going by the numbers, the Devils retired the number 4 of Scott Stevens, number 3 of Ken Daneyko and number 27 of Scott Niedermayer.  The first numbers retired by the Yankees were the number 4 of Lou Gehrig, number 3 of Babe Ruth and the franchise has won 27 World Series titles.  The Yankees play on the same network (YES) as the Brooklyn Nets and the Devils played in the same building (twice) with the New Jersey Nets.  The Devils and Yankees also were part of the same ownership group for a time.
So what other connections are there between New Jersey and the Yankees?  What players could Martin Brodeur add to his Stadium Series mask, to one-up Henrik Lundqvist's homage to Ruth, Gehrig and Joe DiMaggio?  How about Pequannock, New Jersey native Derek Jeter?  Phil Rizzuto passed away in West Orange, New Jersey, in 2007.  Perhaps Yogi Berra, who also donned a mask and whose Yogi Berra Museum is located at Montclair State University, in Little Falls, New Jersey.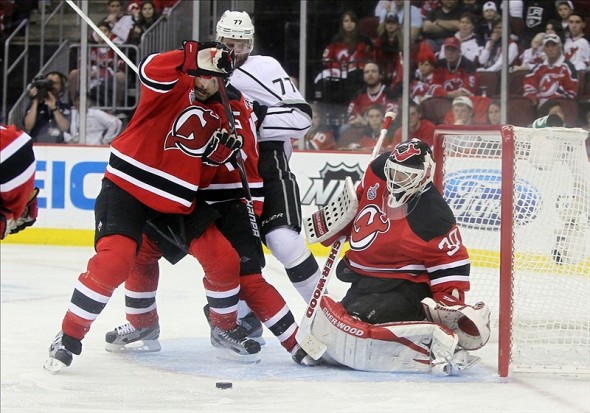 The other part of that goaltending tandem, Cory Schneider, could pass for the Devils version of Jacoby Ellsbury.  While Ellsbury is from the state of Oregon, he played his entire career with the Boston Red Sox, before joining up with the Yanks.  Schneider meanwhile is a Marblehead, Massachusetts native and like teammate Stephen Gionta, played his college hockey at Boston College.  Although Ellsbury plays center-field (and no offense to Schneider or Brodeur) a lot of goalies are out in left-field, if you know what I mean.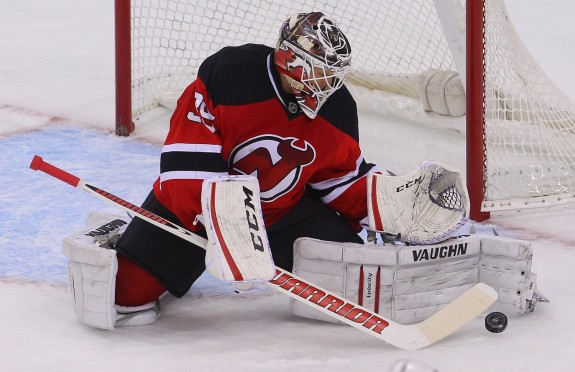 Speaking of Gionta, a good comparison for him might be with Yankees outfielder Brett Gardner, who is also speedy, also wears number 11 and is also under six feet tall.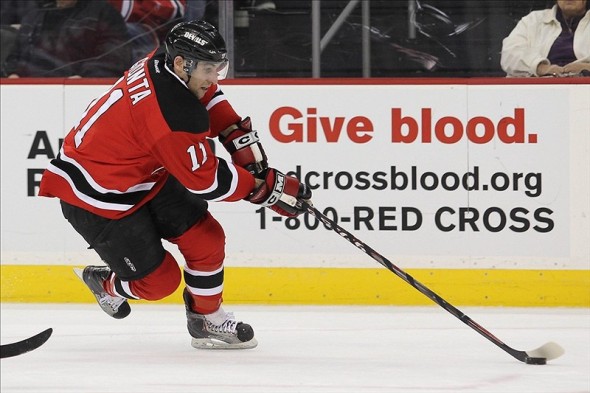 Looking over at the "hot corner" at third base, with Alex Rodriguez suspended for 2014, the Yanks need someone who can knock it down at third.  Well, Devils defenceman Andy Greene leads the club with 71 blocked shots.  If Yankees pitchers are looking for a big target at catcher, who can also block the ball, Devils defenceman Anton Volchenkov has 64 blocked shots on the season.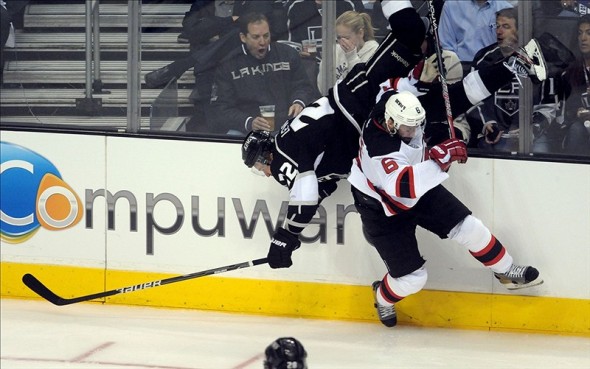 If you're looking for a big power forward who can hold down the fort at first base, why not 6'2 power forward Ryane Clowe?
Searching for some pitching depth at the back end of the rotation?  Brodeur and Schneider both have three shutouts apiece this season.  While some may make the comparison of Brodeur and Mariano Rivera, as the ultimate closers in their respective sports, Brodeur does wear the same uniform number 30, as the Yankees presumptive successor to Rivera at closer, in David Robertson.
Jaromir Jagr could be the Don Mattingly of the Devils, because, well, long hair in the early 90's and a great left-handed swing.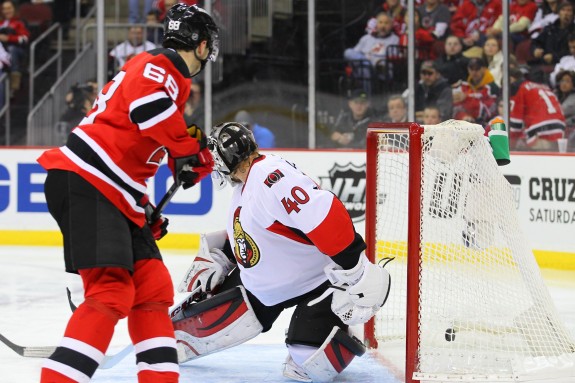 How about Eric Gelinas for a cleanup hitter?  After all, his father Marc Paul and brother Karl, both played professional baseball, so he has to have some skills there right?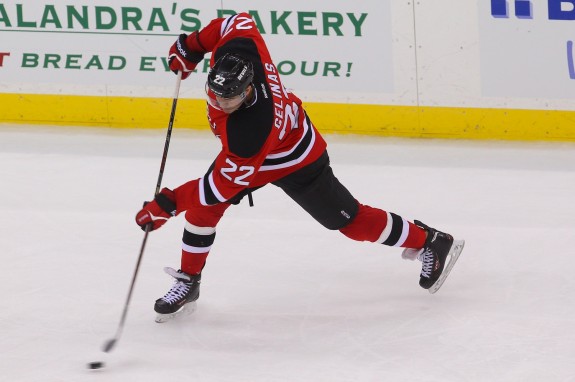 Patrik Elias and Jeter both came up in 1995 and both played in the minor-leagues for Albany.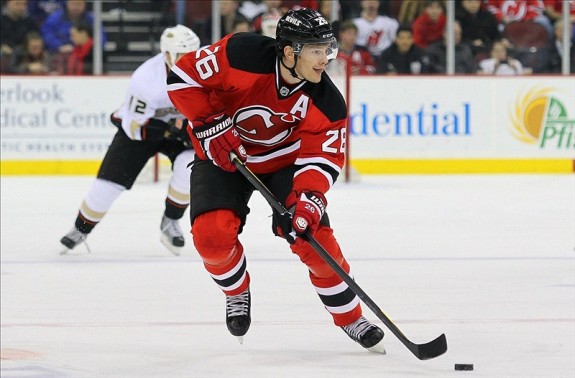 Additionally, while he was just sent through waivers to Albany, Cam Janssen is the Alfonso Soriano of the Devils, in that if you're a homegrown Devil or Yankee, you can go home again and get a second act off Broadway.
All of these of course are done in good fun and while New Jersey never became home to the Yankees, it will be interesting to see Yankee Stadium play home to a team from New Jersey.