The NHL season is over, and the champagne bubbles in Pittsburgh have finally subsided. As is always the case after a sensational dose of playoff hockey, one item remains on the league's to-do list. It's time to take another trip to Las Vegas, and dish out this year's NHL awards.
Before we do that, let's talk about the location of this event. Las Vegas. There's going to be a hockey team in Las freaking Vegas.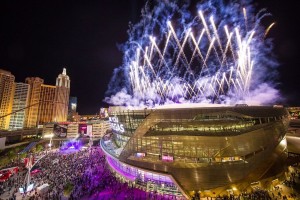 I for one needed time to process this information, and to try to understand how the Blackjack capital of the world is going to make this work. There is still the minor issue about raising half a billion dollars, but will people actually support the newly elected Black Knights franchise? Las Vegas residents are the key to this whole plan, because transient sports fans are not going to leave a heater at the Craps table to see the Canucks or Maple Leafs try to get ten shots on goal. I'll have more thoughts on this later.
But be that as it may, Las Vegas certainly knows how to host an event. Just ask the Billboard Music Awards, the UFC, or Jarrett Stoll. I've had my fair share of gripes with NHL decision-makers, but they got this one right. They wanted their year-end event to be a celebration of excellence, to promote the sport on a national stage and to be a party. As we all know, hockey players love to party. So Vegas it is.
In addition to recognizing the individual milestones certain players have achieved this season, the NHL will announce the winners of several accolades that have been voted on by the Professional Hockey Writers Association (I guess my ballot got lost in the mail). In the interest of time, here's a breakdown of the six major categories, each with three finalists. In a loaded field of star-studded hockey players, let's give out some hardware.
Calder Trophy (Finalists are Shayne Gostisbehere, Connor McDavid, and Artemi Panarin)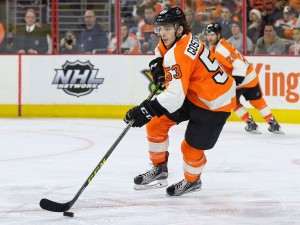 Selecting the NHL's top rookie is never an easy gig, but I don't think there has ever been a year where picking three finalists were as brutally difficult. Colton Parayko played a pivotal role on the St. Louis blue line. Dylan Larkin electrified in the Motor City. Max Domi registered 54 points for the Coyotes. Jack Eichel finished second in rookie scoring, notching 24 goals at the tender age of 19.
And none of those guys could get an invite to the Las Vegas strip.
There's nothing wrong with this year's final trio, but it is fair to wonder if somebody else may have gotten snubbed. That being said, we are looking at three uniquely different, yet equally dominant finalists. Shayne Gostisbehere led all rookie defensemen in points (46) despite being called up several weeks into the season. He became a power play weapon and arguably the best 3-on-3 blue liner in overtime hockey.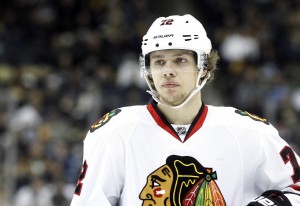 Artemi Panarin signed with Chicago last off-season, coming over from the KHL with little fanfare. All he did was compliment Patrick Kane to a tee, and pace the rookie scoring race (30 goals, 47 assists). You'd be hard pressed to find someone that honestly saw this kind of explosion coming from the Russian dynamo, who became everything for a Blackhawks team in need of some scoring adrenaline.
The third finalist shocked a few people, which isn't surprising considering he shocks a lot of people in this line of work. Connor McDavid was a shoe-in for the Calder at the beginning of the year, until a broken Collarbone derailed everything. No way he could come back and make up the ground he lost, let alone play at that same dazzling level after spending significant time on the shelf. Right?
Well….
McDavid played 45 games as a rookie. He scored 48 points. His 1.07 points per game average puts him third in the entire league, above the likes of Evgeni Malkin Alex Ovechkin, and even Sidney Crosby. Pay damn good attention hockey fans. Talent like this doesn't come around often.
I'd go with Panarin, because of the sheer consistency at which he produced. Gostisbehere has a few things to work on in the defensive zone. McDavid gave it an unheralded effort, but ultimately missed too much time to catch up to the rookie gold standard in Chicago. At least #97 will have more motivation to terrorize the league again this fall.
Selke Trophy (Finalists are Patrice Bergeron, Ryan Kesler, and Anze Kopitar)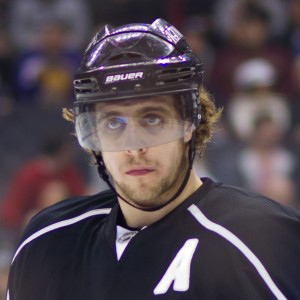 The game's best defensive forward is awarded this trophy, but there is one catch. This is not given to the offensive player who has the most talent in the defensive zone, it goes to the forward with the most skill in the defensive "component" of hockey. In other words, no true grinders allowed. You have to be able to score, create scoring chances, and play with precision while you are defending your bag off.
Ryan Kesler's case is a clear one for the Selke; stopping skilled forwards is what he was born to do. The guy defends elite centers individually as good as anybody, and was the driving force on the NHL's top penalty killing squad (Anaheim killed 87.2% of penalties in the regular season).
As far as Anze Kopitar goes, there are two ways to appreciate his candidacy for this award. L.A.'s leading point getter also kills penalties, and makes a conscientious effort to play defense at every turn. Everybody can see that. But in addition, Kopitar has one key stat at his disposal. His plus minus was +34, second only to teammate Tyler Toffoli. For a premiere offensive player (with tons of power play time, where plus/minus is void) to register that high of a number is truly remarkable, and deserving of a Selke trophy.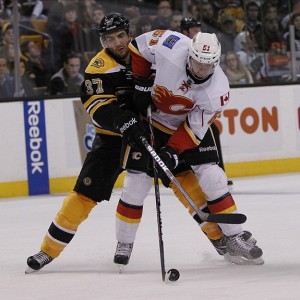 Unfortunately for those previously mentioned beasts, they live in a world where Patrice Bergeron plays the same role as them. Bergeron does it all for the Bruins, who've had their roster gutted by injuries and poor personnel moves. He scores goals, wins face offs, and never gets out of position in his own zone. But most importantly, Bergeron backchecks. He always hustles back into the play, refusing to quit regardless of the score or the ice team he has accumulated. I mean, the guy even backchecked in an all-star game! Other than Pete Rose recklessly barreling through Ray Fosse, has there ever been a scene in any all-star game that seemed more out of place?
Bergeron plays hockey the way it was designed to be taught, and with one more award he will match Bob Gainey's record of 4 Selke trophies. He'll get it this year, and at just 30 years of age he could very well be the best two-way forward the NHL has ever seen.
Jack Adams Trophy (Finalists Gerard Gallant Lindy Ruff, and Barry Trotz)
Any coach of the year award has multiple layers of subjectivity. Hockey's version is no different. How much of an organization's success really was caused by coaching? You could point to a variety of factors, such as the natural talent of the players, smart moves by the front office, or lack of injuries when giving credit to an NHL franchise But it's clear with these three men that coaching does matter.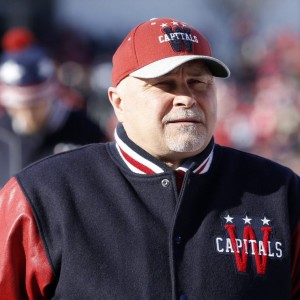 There is no big reveal here. Barry Trotz will win this award. His Capitals registered a staggering 120 points, mastering the grind of an 82 game season with ease (just not that pesky 4 round playoff tournament that follows). Gallant and Ruff deserve immense praise for taking two young organizations (the Panthers and Stars), and quickly moving them to the top of their divisions. Yet what Trotz did was take proven commodities in Alex Ovechkin, Nicklas Backstrom, and T.J. Oshie, and make them play his game. The entire roster of highly skilled players bought into his approach, and the Capitals flourished.
This, along with a couple of Will Arnett jokes and a few drink coupons at the Hard Rock will be a nice consolation prize for their annual postseason misfortune.
Vezina Trophy (Finalists are Ben Bishop, Braden Holtby, and Jonathan Quick)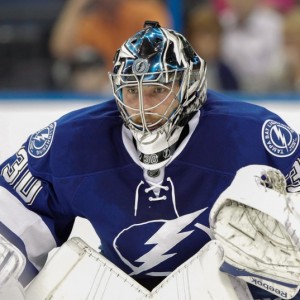 Ah, now we may have something here. The award for best goalie is a tricky one, because of the sheer importance this one position has on the outcome of a game. It's easy for a forward on a bad team to produce good numbers, but how would that work for a goalie? Chances are, if the goalie plays well, the team should be mediocre at worst. That very reason is why the finalists for this award are almost always from good teams, and why this year that was emphatically the case.
Let's move right along with Jonathan Quick. I follow the Kings regularly, and understand as much as anyone how valuable he is to their team. And I am willing to understand the logic of the L.A. goaltending octopus being a finalist, given that wins matter and he accumulated the second most for his position (40). However, his save percentage is a pedestrian .918, tied for 19th in the NHL. This year was marred by inconsistency for the Kings' netminder, who did not play at the raised standards set by the other finalists. It just wasn't Quickie's year.
This is clearly a two-horse race, and closer than you might think. Do you know who the only goalie is who ranked in the top two in both goals against average and save percentage this past season? That would be Ben Bishop, who's .926 save percentage trailed only Brian Elliott, who had twenty fewer games to his resume. Bishop was tremendous this season, has steadily improved each outing, and no has nowhere else to go. He can go up no longer, he is among the very best at his position.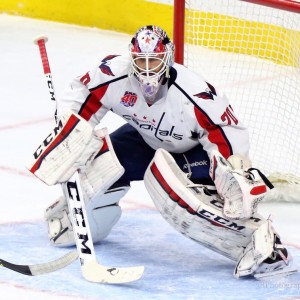 Most years, Bishop would have had this award signed, sealed, and delivered faster than you could say "I'm yours!" But most years don't involve NHL goaltending records being equalized. Braden Holtby won 48 games this season. 48. That is an absurd stat in any era, but especially in today's goalie platoon heavy environment. Holtby played 66 games, which is not as many as you'd be inclined to guess given his iconic win total. His 2.2 goals against average was 5th best in the league, and his save percentage (.922) trailed only Bishop, the Blackhawks' Corey Crawford (who hockey moms in Chicago refuse to let me crack jokes about), and the Devils' Corey Schneider among full-time starters. Holtby's year was one for the ages.
If Bishop wins, I'll be mildly shocked. That's not to say he doesn't deserve it, or that the Capitals team dominance could actually hurt their goalie's chances. Las Vegas loves the smart money, and that has to be Holtby. I keep coming back to those 48 wins.
Norris Trophy (Finalists are Brent Burns, Drew Doughty, and Erik Karlsson)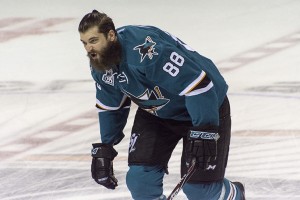 Hello, again, hello. I knew I'd be revisiting the issue of best NHL defenseman at least one more time before the Rio Olympics, so I'm not at all surprised. When I wrote my Norris Trophy standings piece last winter, I did the unthinkable. I didn't even mention Brent Burns. Not once. There's no excuse for being that stupid, and honestly I just lost him in the shuffle of many good defensemen on inconsistence teams.
But a funny thing happened. The Sharks got hot, started playing better at home, and went on a Jaws-like attack all the way to the Stanley Cup Final. Burns was a big reason why, scoring a position leading 27 goals as a blue-liner, and taking an innovative approach that the world has never really seen before. There's just no way to explain what, why, or how Burns does the things he does, both as a defenseman and to his beard.
Yet at the end of the day, Burns is a respectable third choice. This was always going to come down to that Canadian blue line locomotive and that Swedish sauce flailing defender. Doughty vs. Karlsson.
I really don't like writing columns where I list two winners for an award, one that I would pick and one that I believe will be recognized by my esteemed fake colleagues in the Professional Hockey Writers' Association. That said, Erik Karlsson is going to win the Norris Trophy, and there's nothing any of us can do about it. He led the NHL in assists (66), which hadn't been done by a defenseman since a fellow by the name of Bobby Orr was revolutionizing the sport. Karlsson logged an NHL best in ice time at 28 minutes and 58 seconds per game, and improved mightily in the defensive zone. He's won this award twice before, with worse resumes to boot.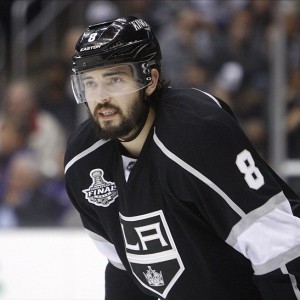 Drew Doughty would be my vote, and not because I live in L.A. or desire to have a Damon and Affleck style bromance with the guy. I just value the little things about the defenseman position, like you know, playing defense. Burns and Karlsson both failed to break zero in their respective plus minuses this year. Doughty was plus 24. Doughty kills all penalties, plays 28 minutes a game, and is asked to be much more than the offensive facilitator or point guard on the power play. No defenseman had a more complete game than Drew Doughty in 2015-16. Not Karlsson. Not Burns. Not anybody.
Why am I screaming? I'll stop now.
Hart Memorial Trophy (Finalists are Jamie Benn, Sidney Crosby, and Patrick Kane)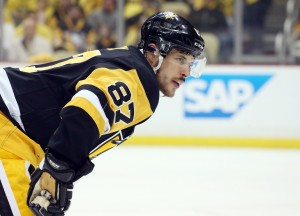 I usually disagree with one of the NHL's MVP finalists every year, and it's understandable. There are so many important players to their team's wellbeing, and sometimes tough decisions need to be made when trimming the final group to three. The Hart finalists for the 2015-16 season are unmistakably the right candidates for this trophy. Each carried their team and elevated their own play during the crucial stretches of the season. The top three-point getters in the NHL don't always deserve to be the MVP finalists, but in this year's case they most certainly do.
Sidney Crosby finished third in scoring with 85 points, but this tweet always stops me in my tracks:
When Mike Sullivan took over on Dec. 12, Sidney Crosby was tied for 79th in scoring. He's now alone in 3rd place with 75. @NHLonNBCSports

— Liam McHugh (@liam_mchugh) March 20, 2016
Do you understand the magnitude of the leap he made? In four months, Crosby hurdled the cream of the NHL crop, and vaulted his team on their eventual Stanley Cup path (I know, this is a regular season award, but it's worth noting for the context). This award does not recognize the game's best player, just the game's best season. And that's a good thing for Jamie Benn and Patrick Kane, because Crosby remains at the throne.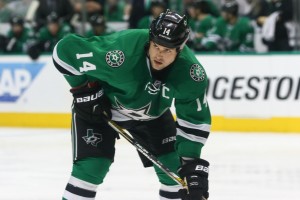 The Benn evaluation is intriguing because in many ways he plays the game a lot like his counterpart in Pittsburgh. Both are tremendous leaders by example, and are willing to do the little and dirty things to achieve team success. If Crosby is the most talented player in this regard, Benn is the second best. In 2015-16, Benn elevated a Stars team that had been bogged down by injuries, inconsistent play, and goaltending inspired by the first 30 minutes of the movie "Slap Shot." None of that mattered to the Dallas captain, who kept chugging along. He wouldn't allow his team to quit, and led the Stars to a surprising division title.
Benn's 89 points were actually two more than his total from a season ago, when he won the NHL's scoring title. Which is kind of crazy, considering he was never really in contention this year. He finished second, seventeen points behind this man:
I could tell you how good Patrick Kane is at scoring goals, but you already get the idea. 46 goals and 60 assists are mammoth numbers, but I was more impressed with two things. First off, Kane definitely continues to shine in the big moments. He is the league's most clutch player, and oozes confidence every time he's on the ice. It's not an exaggeration that Kane believes he's gonna score every time he shoots the puck.
Even more eye-opening than his aversion to pressure was his ability to gel with new linemates. The Blackhawks lost the supremely talented Brandon Saad, and were mixing in a bunch of fresh faces to rebuild on the fly. A large reason for their continued success has been Kane's willingness to play with whoever is slotted with him, and his ability to make each linemate better in their own right. Panarin might want to thank Kane first in his Calder acceptance speech.
In a loaded field, with three of best offensive wizards this generation has produced, Kane is the pick, narrowly edging out Benn. Had the scoring race been tighter, Benn or Crosby could have leapfrogged Kane by virtue of their defensive and physical skills. But 17 points isn't a narrow margin, and #88 was spectacular from start to finish.
What a wonderful season 2015-16 was. And now the NHL heads to Las Vegas, for good.
Just a hockey loving American. I grew up in Cleveland, Ohio, and attended Saint Louis University where I skated for the Billikens. From 2013-14 I covered the St. Louis Blues for ESPN Radio St. Louis. I currently work in sports video production in Los Angeles, and will always show solidarity for stay-at-home defenseman.