Another NHL season, and the same difficult task presents itself for the hockey community. How do we decide who should be in the running for the Norris Trophy, and ultimately recognized as the game's top defenseman? What are the qualifications? And is there any consistency with this award (don't answer that)?
This year's messy Norris Trophy race has its potential candidates looking more congested than the 2003 California Governor election, which culminated in an action movie star making statewide financial decisions. Thankfully, I don't think that's an option for the NHL, but you can never be too sure.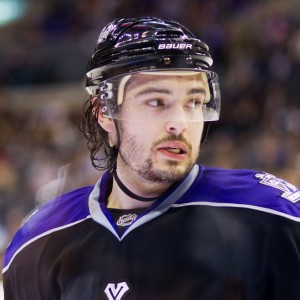 The most talented and accomplished NHL defenseman without a Norris Trophy is Drew Doughty, the Los Angeles Kings' workhorse who has evolved into a dominant threat on both ends of the ice. But just as is the case in other professional sports, it only takes one superior player in a single season to thwart your award aspirations. And similarly, the Norris is not a lifetime achievement honor. It goes to the best defenseman in that particular season, and it does not reward players who may have been slighted over the course of their careers (or at least, it shouldn't). Paul Newman has my vote for the greatest actor who ever lived, but his Oscar for "The Color of Money" was a sympathy gift. The NHL doesn't work that way.
So how does Doughty compare to his counterparts on the blue line? Let's just assume for the sack of my sanity that he's a surefire top six defensemen this year. Because he is, and no argument can talk me out of that. The best defensemen in the NHL are separated by a razor-thin margin, and Doughty's Norris Trophy resume will be put to test against the best this league has to offer.
First, some brief recognition for those blueliners that just missed being in the final six:
John Carlson – Washington Capitals – Enormous leap from a season ago, firmly entrenched as the top dog in D.C..
Oliver Ekman-Larsson – Phoenix Coyotes – Still  underrated, and a pillar of consistency. They still have a team with uniforms and everything in Phoenix. It's really great!
Aaron Ekblad – Florida Panthers – So close to making it as a finalist. A well-rounded beast with no real flaws. Still just 20 years old.
Viktor Hedman – Tampa Bay Lightning – A preseason Norris favorite that stumbled out of the gate. Still a dynamic two-way player, and gaining ground by the shift. I wouldn't bet against him winning one eventually.
Roman Josi – Nashville Predators – The Swiss phenom that keeps getting better. The National stage is just realizing how riveting this guy can be, as the Predators elected to keep him instead of Seth Jones.
Brent Seabrook – Chicago Blackhawks – Deserves tons of credit for keeping the Blackhawks afloat on a thin blue line while Duncan Keith was out with an injury. This guy never gets proper praise.
Shea Weber – Nashville Predators– Sad to admit he may be slowing down. Weber is still a punishing defenseman with a rocket that only Mike Fisher can compete with (a little Nashville humor).
I have the following five names as the most serious contenders to foil Doughty's Norris trophy dreams. Starting in reverse order with the least likely to win it, and ending with the odds on favorite. Shall we begin?
5. Ryan Suter – Minnesota Wild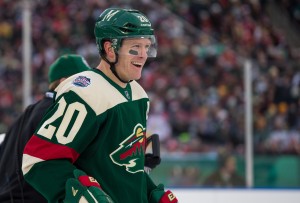 Ryan Suter is the gift that keeps on giving. He's the new-age NHL workhorse and continues to play 28 plus minutes a game for a team that sorely needs his production on the point. For all the struggles Minnesota has had this year (and there's too many to count), consider this. Suter has equaled his points total (38) for all of last season, has a higher plus/minus rating (+11), and has taken exactly half has many penalties as he did in 2014-15. The man just plays defense like the true pro that he is.
And while he might not have the dynamic scoring ability that the other members on this list possess, Suter is no slouch when the puck is on his stick. Here's an example of his expert decision-making in an overtime win against Carolina:
Suter didn't exactly have an endless supply of options, but he made a precise cut the middle of the ice and fired a "shass (shot/pass)" right into the slot. His teammate Jason Zucker took care of the rest, but this is yet another example of Suter being able to read the defense and make something out of nothing. With that said, I really like Doughty's season when compared to the Minnesota stopper. Doughty's plus/minus is slightly higher (+15), he's definitively more dangerous in the offensive zone, and his team has done considerably better in 2015-16. But let's appreciate the Wild's shutdown defenseman.
4. Duncan Keith – Chicago Blackhawks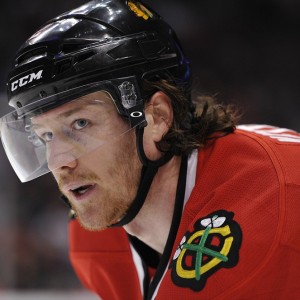 I really didn't think I'd be including him. Not that I didn't want to, because let's face it, anybody who watched the 2015 Stanley Cup Playoffs knows damn well what Duncan Keith can do on defense. But Keith was sidelined with a knee injury in October, missing a month before struggling to find his game when he first returned. The Blackhawks were very inconsistent early.
But then they flipped the switch, and Chicago went berserk like Gronk on your grandparents' favorite cruise ship. Patrick Kane certainly deserves a lion's share of the credit with his scoring rampage, but let's not overlook who was wreaking havoc on the other end of the ice. Yep, Duncan Keith. He can defend, he can score, and he will definitely can slash. Keith is the hockey villain that the game needs.
It's hard to see Keith winning the Norris trophy, with essentially two months of inactivity surrounding his outstanding play. Doughty's youth is finally starting to gain the upper hand on his fellow Canadian defenseman, most noticeably as their respective games go on. One minor flaw with Keith is his propensity for extra stick-work and subsequent penalties as the action wind downs, while Doughty (at age 26), continues to play high-motor hockey late into the third period. Part of it might be because Keith doesn't like anybody, but I also think his age is showing a tad. Still, you can't count this man out. Otherwise, something like this will happen:
You cannot kill the Blackhawks, they'll simple return every year like Jason Voorhees and a bunch of dimwitted coeds (yeah go ahead, the woods are definitely going to be safe this year).
3. P.K. Subban – Montreal Canadiens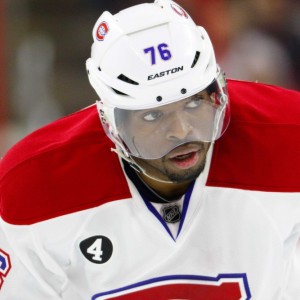 We can pretty much all agree on one portion of this list, which is that nobody agrees about P.K. Subban. Despite his team's dreadful play, I still think Subban is having a pretty good year. Is he pressing at times? Sure. But that's to be expected when your team's in a free fall that would make Lindsay Lohan feel sympathetic. Moreover, you could argue that Subban is having a better a season than in 2012-13, when he won his lone Norris Trophy. Does he deserve it this season? Not necessarily. But players on worse teams, with worse defensive statistics have won the award.
Again, it's hard to justify Doughty being slotted behind another Canadian Olympic teammate this season. Subban has an edge in points (46 to 37), but not goals (just five this season). And defensively, while Subban has shown tremendous progress at times, it just isn't that close. Doughty is head and shoulders the better option in the D-zone, where Subban struggles to stay committed. Baring a late season Montreal surge led by Subban's magic stick, it will be tough for the Canadiens' best defenseman to earn his second Norris Trophy. And if you believe the Canadiens will turn it around this season, I have some timeshares in Florida I'd like to sell you.
2. John Klingberg – Dallas Stars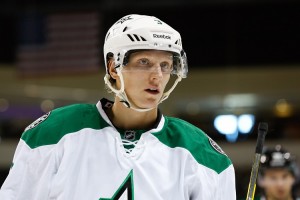 Every contest needs a sleeper, and this year's Norris Trophy race has a serious dose of young blood in it. John Klingberg was drafted in the fifth round by the Dallas Stars, who thought they were getting a solid organizational contributor with some NHL potential. Lo and behold, Klingberg ended up being an absolute stud. 48 points, a net plus all season, and four game winning goals. Four. In his second year in the league, on one of the NHL's most prolific offenses in recent memory. Klingberg has everything you want in a young playmaking defenseman, from the silky hands to the blistering, yet accurate shot. He's also got tremendous footwork, as evident in this example:
The Stars are such a fun team this year, like the NHL's And-1 Mixtape Tour counterpart (all that was missing was somebody yelling "expose him!" when Klingberg started dancing on that forward).
I firmly believe that at this point in the season, John Klingberg should be a Norris Trophy finalist. However, I can't rank him ahead of Doughty or the final defenseman on this list. Offensively Klingberg can hold his own with either, but there is some work to do defensively. One of the reasons why Doughty is so valuable this season is that his commitment and leadership on the penalty kill is just as important to the Kings as his power play time. Could you say the same thing about Klingberg? I take nothing away from his ability to kill penalties, but he's not quite in the "all-worldly stopper" league yet. That's also evident by his ice time, which is a "modest" 23 minutes a game. Sure, me or any other normal human would need a ventalater playing that many minutes against NHL caliber forwards, but we're comparing him to the game's elite, who play over five minutes more each evening.
Klingberg will get there one day, and might be the fastest rising star on any NHL blue line. It's good to see Stars' fans remaining calm:
I still have no idea what I just watched.
1. Erik Karsslon – Ottawa Senators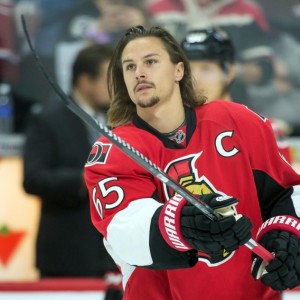 Drew Doughty sits at the O.K. Corral, when the old western bar's double doors swing open. "Karlsson. We meet again."
"It's good to see you Doughty. But this town still aint big enough for the two of us."
You knew it would come down to these two iron-men, each of whom has redefined what it means to be an elite NHL defenseman in more ways than one. I've covered this comparison before, but let me be abundantly clear: Erik Karlsson is well on his way to becoming the second greatest offensive defenseman that has ever lived (see Orr, first name Bobby). He's 25 years old, and has a shot that is as lethal as they come. Through 60 games this season, Karlsson has 65 points. A point per game player? On the blue line? In 2016? Utterly ridiculous.
I've been one of the staunchest critics of this award (and by default, two-time winner Erik Karlsson), because it over-values the offensive impact of a defenseman, while belittling the defensive components that are not evident on a scoresheet. Karlsson has never been known as a true lockdown defenseman, but he is showing considerably more effort in that area of his game. Case in point, would he make a play like this two years ago?
Squared shoulders, perfect timing, and flawless execution. The Karlsson of old would have just swung his stick like a gopher and lived to fight another shift. But perhaps the most impressive aspect of his growth has been his willingness to do more, despite being at the apex of his profession. Karlsson leads the NHL in ice time at a whopping 29:08 a game, playing nearly half of his team's regularly scheduled contests. He was always on the power play unit, so it's worth noting that the two-minute bump in playing time has come on other shifts. Important defensive zone face-offs, penalty kills, and other instances where the Senators just need his presence. Karlsson is evolving, and the results have been terrifying to other NHL franchises.
Choosing between Karlsson and Doughty is liking picking between your own children. There is no wrong answer, and one party (or fan base) will end up enraged at being passed over. I still prefer the well-rounded play of Doughty to Karlsson's offensive artistry, but this year Karlsson has picked up considerable slack in his weaker areas. At this point in the season, based on how this award has been decided in the past, Karlsson has a slight advantage. His offensive stats blow everyone else's out of the water, and his defensive habits are steadily on the rise. He's bringing it more often, more consistently, and it's showing. Should the Kings go on a tear with Doughty leading the engine (a great possibility), the elusive Norris trophy could finally be his. But it won't be easy to overtake Karlsson.
Two months remain in the NHL's race to crown their best defenseman. Drew Doughty is very much in the heart of the discussion, but many challengers remain. Some are familiar faces, while others are new to the blue line scene. One night in Vegas this coming June, the perplexing Norris Trophy question will be answered. But there's plenty of defense to be played between now and then.
Just a hockey loving American. I grew up in Cleveland, Ohio, and attended Saint Louis University where I skated for the Billikens. From 2013-14 I covered the St. Louis Blues for ESPN Radio St. Louis. I currently work in sports video production in Los Angeles, and will always show solidarity for stay-at-home defenseman.