Roughly a month ago, I wrote about the Leafs current situation with James Reimer, and why they needed to be patient in coming to a decision regarding his future.
[Leafs Must be Smart with James Reimer]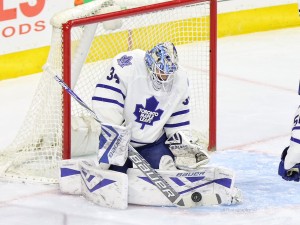 Because he had enjoyed such incredible success throughout the year to January, albeit in a low amount of games played, it was truly difficult to determine whether Reimer's presence in-goal, or the return he would garner in a potential trade, would be more important to the Leafs long-term plans.
As of January 22nd, Reimer's individual goaltending statistics were superb, as he boasted a .937% Save Percentage which led the entire NHL, as well as a second best Goals Against Average of 1.98, a mark which trailed only John Gibson of the Anaheim Ducks. However, these impressive totals were produced over a mere 22 games played, an incredibly small sample size in relation to other full-time starting goaltenders throughout the NHL.
A month later, Reimer's individual statistics have endured considerable change, as his GAA has risen to 2.47, while his SVP has dropped to .919% over 31 games played. However, so too had the Leafs lineup, as not only did Tyler Bozak, James van Riemsdyk and Joffrey Lupul miss considerable time due to injuries, but a number of players were also traded as the Leafs firesale began. In particular, these are Roman Polak, Shawn Matthias and Nick Spaling, while a further amount of players remain which will surely be dealt before the February 29th Trade Deadline.
As a result, the quality of the Leafs' on-ice product has substantially decreased, and as a result so too has their ability to not only win games, but simply compete at the NHL level. As such, Reimer's play, which was simply unsustainable on a team lacking considerable skill, has started to fall.
Currently in a tie with the Edmonton Oilers for last in the NHL, while holding a 13.5% chance of selecting first overall at the upcoming NHL Draft, it is time for the Leafs to trade Reimer.
Why Reimer Must Go
There are a number of reasons why trading Reimer has become the best option moving forward for the Toronto Maple Leafs, the most significant of which is his current trade value.
Decreasing Trade Value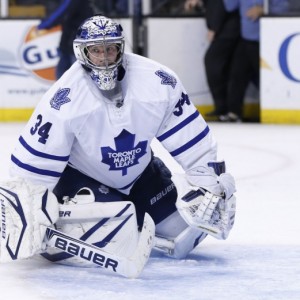 Reimer has over-performed this season, of this there is no doubt, a fact which is more spectacular considering the incredibly poor team for which he finds himself in goal. With the Leafs trading the majority of their players as definitive sellers, the team as a whole will only become worse, and as the team approaches the deadline, Reimer's individual statistics and play will also, in all likelihood, continue to decrease.
At the moment, Reimer still ranks respectably league-wide in GAA and SVP, yet this will continue to change as the season progresses, and so too will his trade value. In January, his value was arguably at its highest, where the Leafs could have marketed him as a valuable goaltending upgrade to the numerous teams slotted in playoffs positions. However, the standings in the 2015-16 season have been remarkably close, meaning teams had likely yet to decide which areas of need to address depending on whether they would in fact be contenders come the Deadline.
Now only a week away, there are a number of teams in need of a goaltender such as Reimer as an upgrade to their backup position.
The St. Louis Blues, who just recently lost Brian Elliott for the next month, or possibly longer, are thin in net behind Jake Allen; the San Jose Sharks, who are also thin behind rookie net-minder Martin Jones who has logged considerable time this season, would be wise to shore up the position; while the Pittsburgh Penguins could look to Reimer as an upgrade to Jeff Zatkoff, who has been inconsistent at times this season.
Looming Contract Situation
As most are well aware, Reimer is slated to become an unrestricted Free Agent come the end of the season, providing him the opportunity to sign elsewhere if not extended by the Leafs.
Although he has indicated his desire to remain in Toronto, Reimer will likely be looking for a long-term deal in the four to five-year range, alongside a considerable raise from his previous cap hit of $2.3 Million. While the Leafs could certainly extend Reimer, they will likely be looking for a contract of shorter term, and may be unwilling to pay the $5 Million plus yearly salary which NHL executives reportedly believe Reimer could demand.
Given the Leafs' goal of deconstructing their current team in exchange for draft picks, trading Reimer would follow this plan to a tee, providing them with a substantial return and quite possibly a first round pick from a desperate suitor.
Further, with Jonathan Bernier signed through the 2016-17 season, the Leafs would still retain a starting goaltender next season, who given his play of late, could be re-signed to a contract of lesser term and salary than that of Reimer come the end of the 2016-17 season. With the Leafs likely still five years away for icing a competitive team, there is simply no reason to pay top-end money to a goaltender who will be roughly 32 years old by the time Toronto regains relevance in the NHL.
Stick with the Plan!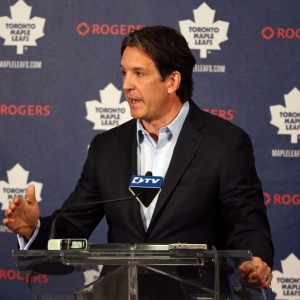 The Leafs are in a full-fledged rebuild, the basis of which, as has already been stated, is a focus on trading established NHL players in exchange for draft picks with which to build a successful team in the future.
As such, when it comes to James Reimer, this plan should be no different.
Sure, 'Optimus Reim' as he is affectionately known, is a fan-favorite of Leafs Nation and is well liked for his competitiveness and willingness to battle in the crease, however, these qualities should not interfere with the Leafs' willingness to trade him. At the end of the day, other than possibly Nazem Kadri and Tyler Bozak, Reimer retains the highest trade value of any Leaf on the current roster, and would certainly fetch a beneficial return if traded.
So, if the Leafs want to maximize their rebuild, they must focus on trading their best players, no matter how difficult a situation the Leafs roster finds itself in. As one of the stronger drafts in recent history, the Leafs would be smart to load up on 2016 draft picks in order to amplify the skill set of their prospect pool, as in the long-run, it will be these players, not those on the current roster, who will be asked to lead the Leafs back to post-season glory.
Brett Slawson is a four-year veteran of The Hockey Writers who covers the Toronto Maple Leafs, NHL prospects, and the OHL's Mississauga Steelheads.
Contact Brett on Twitter @brettslawson92, or by email at brett_slawson@hotmail.com.