One superstar on a line has shown to be difficult to match up against. Sidney Crosby has proven that very often as he has continued to rack up points no matter who is on his line. Then there are teams that stack two superstars on a line and the results are incredible. We all saw the effect that Patrick Kane and Jonathan Toews had when they were put together late in the Western Conference Finals. Having a strong duo on the ice at once puts a ton of pressure on opponents. They either match up man-on-man and risk getting burned or they swarm one and hope the other doesn't beat them. It is time to take a closer look at my five best duos in the NHL.
A quick note, all statistics below were calculated at even strength only.
#5 – Henrik and Daniel Sedin – Vancouver Canucks
They've still got it. After a down season with John Tortorella behind the bench, the Sedin's were rejuvenated when Willie Desjardins came to town. Not surprisingly, the Sedin's were on the ice together more than anyone else in this article. They spent a total of 1032 even strength minutes together and produced quite well. The Vancouver Canucks gave up 34 goals at even strength while the Sedin's were out there together but they offset that by scoring 38 of their own. Their corsi-for-% together came in at 55.1 which was higher than all of the top duos in the league.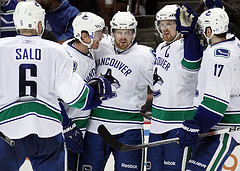 Their overall production at even strength is what cost them a higher spot in these rankings. They scored a combined 69 points, the lowest out of all the duos on the list. A lot of their success came on the powerplay, where they were deadly. They were also by far the least physical duo out of the five as their combined 39 hits were significantly lower than everyone else on this list. They are still one of the best duos in the league but unfortunately no longer stand up to the rest of the players on the list.
#4 – Ryan Getzlaf and Corey Perry – Anaheim Ducks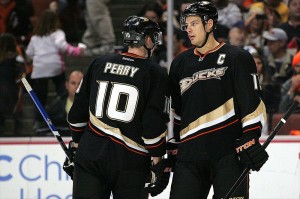 Although I wouldn't consider them to be the best duo in the league, they may be the toughest to play against thanks to Getzlaf's defensive ability and Perry's knack for annoying the life out of people. Perry and Getzlaf both took steps down offensively this season (in part due to some injuries they endured. Getzlaf missed five total games while Perry was missing for 15 contests in the regular season. According to puckalytics.com, Getzlaf and Perry were on the ice together for just over 750 even-strength minutes this season. That is lowest total spent together of anyone on this list, but once again injuries had something to do with that. Although their overall production was down, the team did well when the two stars were on the ice together. Anaheim scored 39 even-strength goals when Perry and Getzlaf were out there while only giving up 31 to the opposition. Their corsi-for-% when on the ice together was 51.5 which comes in as the lowest of the five duos on this list, although they also saw more defensive minutes than the other duos. Their offensive zone start % was 53.4, the lowest of anyone on this list.
As far as individual statistics are considered, Perry and Getzlaf had a great year when looking at stats while at even strength. Perry had the most even-strength goals (22) of anyone on this list despite playing fewer games than everyone else. Getzlaf came in with 18 even-strength tallies which was good for 5th out of the 10 players here. Although their possession numbers were not as good as the other duo's, their production was still very comparable.
#3 – Claude Giroux and Jakub Voracek – Philadelphia Flyers
The more they keep playing together, the better they seem to get. Voracek had a career season with 81 points and Giroux wasn't far behind with 73. They played just over 943 even-strength minutes together this season and they were rarely bested by the opposition. The Flyers gave up just 29 goals with these two on the ice together and scored 39, which is tied for the best goals for/against ratio on this list. Their possession numbers were better than everyone but the Sedin's, as their corsi-for-% finished the season at 54.8. One thing to knock them on is their offensive-zone-start-%, which was at 60.5. That suggests slightly easier minutes than the rest of the players listed here. Overall, their numbers together were incredible and the Flyers will likely continue to grow that dynamic duo by playing them together.
https://www.youtube.com/watch?v=MV1SwTeRb3k
Their overall statistics tell a slightly different story. While Voracek came in at fourth of the ten players here in terms of points, Giroux was last. Voracek scored 41 points at even terms on the ice while Giroux managed 31. At the same time, Giroux and Voracek were the main reasons that the Flyers were competitive at all this past season. Voracek and Giroux's scoring-chances-for-% (relative to the rest of the team) ended the year at 7.38 and 5.09, respectively. They were responsible for a lot of Philadelphia's offense as there is over a 20 point drop off to the third highest scorer on the Flyers. The sheer talent that this duo possesses will make them one of hockey's best for years to come.
#2 – Nicklas Backstrom and Alex Ovechkin – Washington Capitals
While Ovechkin is getting his yearly accolades, Backstrom will continue to quietly go about his business. Backstrom may be the most underrated player in the NHL as he produces at almost a point-per-game pace every single season. They have formed quite the formidable pair and they were rarely separated during Washington's first year with Barry Trotz at the helm. They were on the ice for 1014 minutes together, the second highest total of the five duos here. The Capitals amassed 45 even-strength goals with the dynamic duo on the ice together, unfortunately they gave up 40 goals as well. Their corsi-for-% together was solid, ended the regular season at 54.4. They were the most physical duo on this list (thanks to Ovechkin) and it wasn't even close. Ovechkin himself had more hits than any of the duos combined. Ovechkin and Backstrom's offensive-zone-start-% together was 58.2, the second highest of the five duos listed here. Their defensive games improved under Trotz but it will always be the offense that they are known for.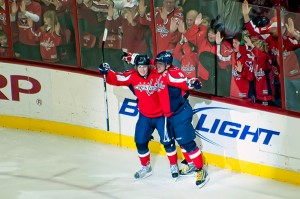 While Ovechkin has always been a huge weapon on the powerplay, these two did a ton of damage at even strength as well this season. Their combined 34 even-strength tallies comes in ranking second on this list, while their 77 combined points comes in at third. However, they saw more sheltered minutes than all of the players on this list aside from Voracek and played against the weakest competition out of all ten players. The top-three duos are very tightly ranked and will likely continue to battle each other to be the best for many years in the future. Although Ovechkin and Backstrom are probably the best duo from a pure talent standpoint, the pair that beat them were better statistically and have more room to grow.
#1 – Tyler Seguin and Jamie Benn – Dallas Stars
As a Stars contributor for this site, I wanted to remain as objective as possible. I looked for reasons to not put them as the best duo on this list. In the end, the statistics just don't lie. The two played 868 minutes together, a total that would have been much higher had Seguin not missed significant time with a knee injury. While on the ice together, the Stars did give up 41 goals which was the highest total on this list. However, they also scored 51, tying the duo with Giroux and Voracek for the best overall goal differential. Together, their corsi-for-% finished at 54.6, stuck right in the middle of the rest of the duos. Their usage is what surprised me the most, as only the Getlzaf/Perry combo had less offensive zone starts together than Benn and Seguin. Even with that, they produced more than anyone else on this list.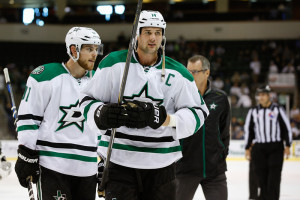 It isn't too far-fetched to think that Seguin and Benn could have finished #1 and #2 in NHL scoring had Seguin not gone out. As many of you know, Benn won the Art Ross this season with less than 9 seconds remaining in it. Seguin ended up 7th in NHL scoring despite missing 11 games. They did a ton of their damage at even strength. Combined, they totaled 98 even-strength points. Getzlaf and Perry are the only duo here that finished close to that total with their combined 84 points. Seguin and Benn's combined 42 even-strength goals also could not be bested by the rest of the duos with Getzlaf and Perry once again following them. Benn and Seguin's overall penalty differential was the best of the five. Their overall scoring-chance differential was the highest here. They amassed more takeaways than any duo in these rankings. And yet after all of these rankings and statistics, perhaps the most impressive is that they are doing all of this while being the youngest of the best duos in the league. Their combined age is just 47, only Giroux and Voracek come close with a combined age of 51. Those four will certainly be battling it out for the top duo for another decade and it is going to be fun to watch.
What About Next Season?
All of the duos on this list are incredibly difficult to match up against and will continue to form unstoppable pairings if they remain together. One quick honorable mention to the Jonathan Toews and Marian Hossa duo, who just missed the cut due to a bit less production and less time together despite missing just one game between them. Aside from the Sedin's, all of these duos are still under the age of 30, giving their fans a lot to look forward to. Will Benn and Seguin retain their crown next season? Will Giroux and Voracek continue their rapid improvement and catch them? Or maybe a new duo will emerge and take the NHL by storm. No matter what, these 10 players will continue to shine as some of the best players in the league for a very long time.
Jordan has been covering the Stars for The Hockey Writers since February 2015. He is originally from Iowa City, Iowa. You can follow Jordan on twitter @jordan_dix