Over the last number years, it has almost become an annual tradition for fans of the Edmonton Oilers to concoct a list of potential restricted free agents for the organization to target by going the route of the always popular offer sheet.  During each and every one of those occasions, there has always been a so-called primary target and this year that appears to be Boston Bruins blueliner Dougie Hamilton.
While the Oilers did manage to successfully pry away Dustin Penner from the Anaheim Ducks during the summer of 2007, no team has been able to pull it off since. In fact, there has been a grand total of five players who have signed offer sheets over the past seven years and to think that trend will change anytime soon is frankly nothing more than wishful thinking.
Nothing Since Dustin Penner
One can certainly make the argument it is a "tool" which is underutilized by general managers across the league but perhaps there is a good reason for that. Unless you have not been paying attention, organizations have made a habit of trying to sign their young players to long-term deals. Finding high-impact players via the trade market or unrestricted free agency is next to impossible, so it would only make perfect sense for any competent front-office team to zone in on their "own" as priority one.
Unless a team were to offer a somewhat absurd total and/or term to a complimentary type of player, which is exactly what Lowe did when inking Penner to a 5 year/ $21.5 million deal on July 26, 2007, there would no reason for any organization being targeted to not match the offer. To be perfectly honest, from an Oilers standpoint, the cost of a first, second and third round pick in the 2008 Entry Draft made it a risk worth taking but from the Ducks perspective, it made the decision to walk away from a promising talent a rather easy one.
Preds Had Little Choice But To Match
With the likes of Ryan Getzlaf, Corey Perry and Jean-Sebastien Giguere already in place and veterans Scott Niedermayer and Chris Pronger still near the peak of their powers, giving the undrafted power forward that sort of deal was simply a non-starter. Ironically enough, Edmonton had agreed to terms with former Buffalo Sabres sniper Tomas Vanek on a 7 year/$50 million pact all of three weeks earlier but unlike Brian Burke,  Sabres GM Darcy Regier decided to match the Oilers offer and keep his star winger. Again, there is a big difference between saying no thanks to a guy with 32 career goals and what at the time was a perennial 30-40 goal guy.
That line of thinking also explains the reason why the Nashville Predators ultimately decided to match the Philadelphia Flyers 14 year/ $110 million offer to defenceman Shea Weber in the summer of 2012. Yes, it included a ridiculous amount of money to be paid to Weber over the first couple of years of the deal but as we all know, players like the two-time Olympic Gold Medallist are few and far between. The Preds hands were essentially tied and David Poile did what he had to do in order to keep the face of his franchise in place.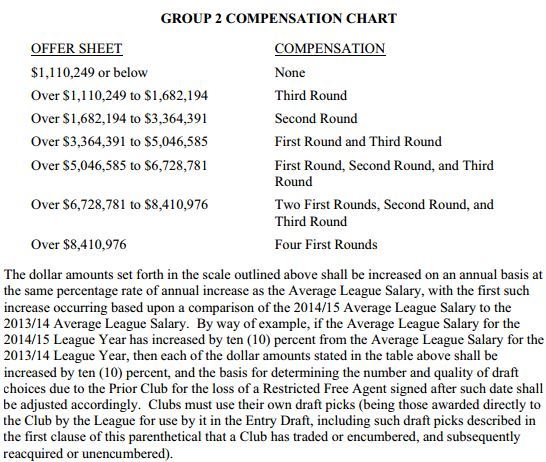 A Potentially Costly Endeavour
Above you can see the compensation chart and rules that apply to signing a Restricted Free Agent in the current Collective Bargaining Agreement between the National Hockey League and its Players Association. In order for the Bruins to even consider not instantly matching any offer for Hamilton, we would have to be talking about a long-term extension at an annual cap hit of at least $8.5 million and that would likely be on the low-end of things. Now could he be worth that sort of money over the life of a seven-year term? Possibly but for a franchise to not only eat up that much of their cap space on one player but also have to cough up four additional first round picks to boot, does seem like quite a bit.
While there is very little to not like about the game and overall upside of the former Niagara IceDogs star rearguard, does giving him an absurd contract at the age of 21 make any sense whatsoever? No, it does not and for a team like the Edmonton Oilers, who already have some rather hefty contracts on their books and are likely just three years away from having to make Connor McDavid the highest paid player in the game, it would make even less sense. Not to mention paint a rather large target on their back.
**Correction Notice – I t has been brought to my attention that the compensation chart for signing Restricted Free Agents has in fact just recently been revised. While this was brought to light by Sportsnet's Elliotte Friedman in his weekly 30 Thoughts feature back on May 19, it was missed by yours truly. With that said, the new list doesn't change my point of view in any way shape or form  when it comes to the Edmonton Oilers signing Dougie Hamilton to an offer sheet but ensuring our readers are given the proper information to come to their conclusions remains priority one.**
Rob Soria is the Author of Connor McDavid: Hockey's Next Great One. He has chronicled the Orange and Blue since creating his Oil Drop blog in 2011 and has also had his writings featured over at HometownHockey.ca and Vavel USA, where he has covered the NHL, MLB and ATP Tour. Rob was born, raised and still resides in Edmonton, Alberta and can be reached via twitter @Oil_Drop.