In Monday's gold medal game, Canada survived a nail-biter to win their first gold since 2009. The 2015 tournament ended up being a very low-scoring, tight defensive one compared to recent years. Only 176 goals were scored this year, compared to 202 and 220 the past two years.
There were a number of players or teams that were a pleasant surprise over the course of the tournament. In each case, very little was known or expected of them coming into the tournament. But by the time the games were finished, they were some of the biggest storylines and most talked about players.
5. Dylan Larkin, Forward, USA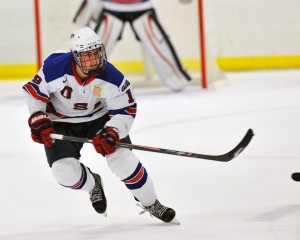 In selection camp, Larkin was penciled in as the center of the third line for the US. The likes of Jack Eichel, Sonny Milano, and Auston Matthews were expected to carry the load offensively, and Larkin's line would be relied upon to provide solid two-way play and some secondary scoring.
While the top two US lines struggled to generate consistent offense, Larkin picked up the slack. He was strong in transition, and when he and Fasching began cycling in the opponent's zone, it was impossible to take the puck from them.
Larkin is one of the few American players that could say he had a strong tournament. He finished with five goals and two assists, the most on team USA with second place providing just four points.
4. Oskar Lindblom, Forward, Sweden
A 5th round pick in 2014, Lindblom was originally thought to be an early round selection. However, his below average skating scared away a number of teams. Lindblom has decent hands, is a big body, and is willing to get to the dirty areas to score goals. His season started off slow in the SHL, but he picked it up right as the World Juniors approached, finishing with 9 points in 17 games before the tournament.
He was placed on a line with William Nylander, Sweden's star center. Contrary to popular belief, it's not a piece of cake playing on a line with a star. You have to be a very smart player, do the little things well, and have strong positioning.
Lindblom has all of those things, and has thrived this tournament as a result. His four goals and five assists was good for 6th in the entire tournament in scoring. That includes a natural hat trick in Sweden's 5-1 win over the Swiss.
3. Gustav Forsling, Defenseman, Sweden
Taken 126th overall by the Canucks last year, the book on Forsling was that he had some offensive skill, but would need to round out his overall game. At 6'0″, 181 lbs, Forsling would need to make an impact on the offensive side of the puck to be effective. He's had plenty of success internationally in the past, leading the 2014 U18 World Juniors in goals by a defenseman with four.
This tournament, he has been the quarterback on the deadly Swedish power play that clicked at a 40% success rate, where his point shot has been a menace to opposing goalies.
With two games left to play, VAN's Gustav Forsling is t-24th all-time in WJC points by a defenseman pic.twitter.com/a7gG5lJqPH

— Corey Pronman (@coreypronman) January 3, 2015
His 8 points (6 on the PP) was double the amount of the next highest scoring defenseman, and was the 9th most of any player in the tournament. That point total puts him in great company all-time, matching or outscoring the likes of Slava Fetisov, Kimmo Timonen, and Ryan Suter.
2. Team Denmark
With just two players drafted to the NHL (the fewest of any country) it's safe to say expectations were low for the Danes. It was their first tournament in the top division since 2012, and you would be hard pressed to find anyone that thought the relegation games this year would not be Germany vs. Denmark.
In the first game of the entire tournament, the Danes came out and showed that they meant business. They jumped out to a 2-0 lead on Russia, taking the game to a shootout where they lost 3-2. Three games later, the Danes got their first win in WJC history when they defeated the Swiss by a score of 4-3. The win sent the Swiss to the relegation round, and Denmark to the quarterfinals, where they were ousted by Canada.
A true Cinderella story, the Danes did it with a potent power play that operated at over 31%, and a blue collar work ethic. They were resilient, and refused to ever give up in a game. They were led by Oliver Bjorkstrand (5 points) and Nikolaj Ehlers (4 points), who both have bright futures in the NHL ahead of them.
Their goaltenders performed admirably considering they faced 45 shots a game. Excluding the blowout loss to Canada, they posted a respectable combined .915 save percentage.
1. Denis Godla, Goalie, Slovakia
Coming into the tournament, there was nothing remarkable or outstanding about Denis Godla. In last year's U18 World Juniors, he struggled mightily en route to posting a 4.78 GAA and .838 save percentage. This season, playing for the Slovak U20 team in the Slovak Extraliga, he has a GAA of 3.19 and .915 save percentage.
Something must have clicked for Godla because he has been a God amongst men in this tournament. His numbers look great (.926 save percentage & 2.76 GAA), but he was even better than they indicate. He (along with Martin Reway) single-handedly willed the Slovaks to a bronze medal.
You'd have no idea looking at the boxscore just how great Denis Godla has been in this game.

— Sunaya Sapurji (@sunayas) January 5, 2015
He's faced more shots (242) than anyone in the tournament, and made countless spectacular saves against Canada in the semifinals, and Sweden in the bronze medal game. Not owned by any NHL team, he certainly made a name for himself this tournament and may be hearing from an NHL GM soon. He was named to the tournament all-star team, Best Goaltender of the tournament, and MVP of the tournament.
Also, Denis Godla has about been as good as McDavid has, which is holy-crap good

— Bruce Arthur (@bruce_arthur) January 5, 2015
Bill Schoeninger is a Philadelphia Flyers writer and current Boston University student studying business. Coming to THW from Hometown Hockey, Bill follows and writes about the Flyers, Boston University Terriers, and NHL Draft prospects. Follow him on twitter @BSchoeninger17