The Tampa Bay Lightning helped bring the opening round of the 2015 Stanley Cup Playoffs to a close on Wednesday night by beating the Detroit Red Wings 2-0 in Game 7. They advance to the second round and a postseason date with the Montreal Canadiens for the second year in a row.
Here are the 6 best stats from the Tampa Bay Lightning's opening round series.
SECOND ROUND, HERE WE COME! #GoBolts ⚡️ pic.twitter.com/H94U2hSFxC

— X – @TBLightning (@TBLightning) April 30, 2015
1. Coburn Notice
Just four minutes into the third period Wednesday night, Braydon Coburn broke the 0-0 tie and scored what would stand as the game-winner. That was only his third career playoff goal, but his second goal in a Game 7.
Coburn's goal is also the first time since May 18, 1995 that a player's first goal with a franchise is a game-winning Game 7 goal. That's loosely how I saw that phrased when I first heard that stat. I think it should be phrased more like, What? This isn't the first time that guy scored his first goal for a team in a Game 7 and it was the game-winner?!
The other player to do it was Norm Maciver for the Pittsburgh Penguins in 1995.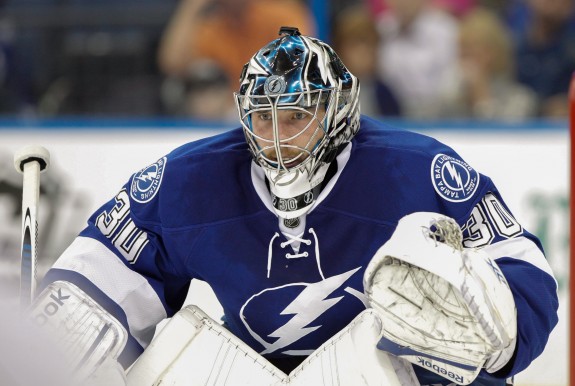 2. Check Mate
Ben Bishop grabbed a shutout win in Game 7, stopping 31 shots to grab the first playoff shutout of his career.
This series also Bishop play his first playoff game and grab his first playoff win.
.@Benbishop30 made 31 saves (and added 1 assist) to record his 1st career playoff shutout in @TBLightning's #Game7 W. pic.twitter.com/eVGAY5wDME

— NHL Public Relations (@PR_NHL) April 30, 2015
Notably, Bishop is the first goaltender since Ilya Bryzgalov in 2006 to have his first career playoff shutout be a Game 7 shutout.
3. Johnson Lighting It Up
In this series Tyler Johnson became the first player in Lightning history to record three multi-goal games in a single playoff series. One of which was the incredible late-game surge where he grabbed two goals and an assist to lead the Lightning to an overtime win. (In no small part due to an injury to Luke Glendening, who had done a great job controlling Johnson's impact up to that point.)
He also becomes just the third player in Tampa franchise history to record three multi-goal games in a single postseason. Both Vincent Lecavalier and Brad Richards did it in 2004, according to the Elias Sports Bureau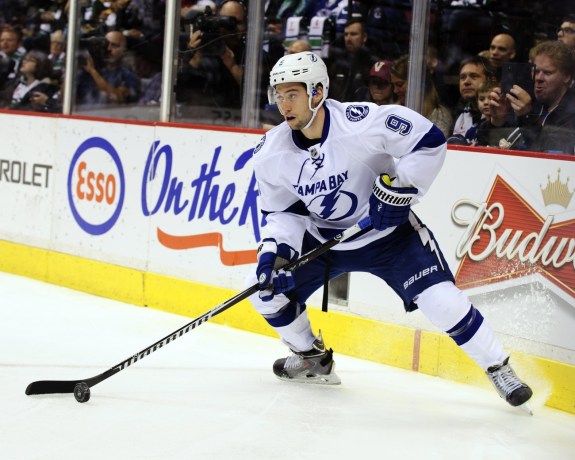 4. Ruslan Up a Record
Johnson also set a single series franchise record in goals by scoring six. That ties a record set by Ruslan Fedotenko in 2004.
Johnson emerged as a leader in this series. We knew he was good, but he carried the team while captain Steven Stamkos was unable to score a goal through the first seven games of the postseason.
5. Lightning Strikes Twice
I mentioned Johnson's late-game heroics above. That game was the first time in franchise history that the Lightning rallied from a multi-goal deficit in the playoffs in the final six minutes of regulation to win a game.
This series actually marked the first time in franchise history that the team rallied from a two-goal deficit in the third period at all.
The @TBLightning scored two goals in 77 seconds in the final 6 minutes of regulation to force OT for the first time in the #TBLvsDET series.

— NHL Public Relations (@PR_NHL) April 24, 2015
6. How's Your Bracket?
73% of entries for the #NHLBracketChallenge powered by Samsung picked TBL to win #TBLvsDET – just 12.5% selected them to win in seven games.

— NHL Public Relations (@PR_NHL) April 30, 2015
.@TBLightning & @CanadiensMTL will meet in the playoffs for the second straight year. Complete Second Round schedule: http://t.co/mz1Y6283RH

— NHL Public Relations (@PR_NHL) April 30, 2015
More From This Series


Thanks to the NHL and team PR Twitter accounts, as well as Elias Sports Bureau for some of the statistics.
Dustin Nelson writes about news and the Minnesota Wild for The Hockey Writers.