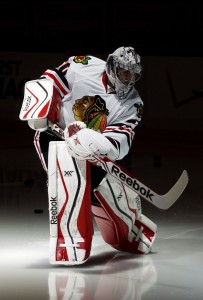 Earlier this week it was revealed that Corey Crawford will start in net for the Chicago Blackhawks when they open up their second round playoff series with the Minnesota Wild on Friday night. There are some who feel that the decision to start Crawford is a knock on backup Scott Darling after his less than stellar performance in the final game with the Nashville Predators. That couldn't be further from the truth. Hawks head coach Joel Quenneville is known for going with the hot hand between the pipes and changing his lineups when necessary.
It's because of his coaching style that Darling is always ready and will not be completely cast aside for any reason. Here are the other reasons why Darling still has a chance to continue his Stanley Cup Playoff journey…..
Crawford Isn't Perfect
As good as Crawford is nine times out of ten, he does have his bad nights. Take games one and two of the Nashville series for example. He allowed three goals in the first period of game one before being benched in favor of Darling. Crawford got the nod again in game two, but then allowed six goals including a hat trick to Preds' forward Filip Forsberg. Another bad night for Crawford gives Darling his next chance.
Darling Already Has Postseason Success
Despite his short comings on the night the Hawks eliminated Nashville, Darling has shown he can perform in these Stanley Cup Playoffs. He cleaned up Crawford's mess in game one and pushed the Hawks to victory. And after Crawford's miserable game two, Darling held down the fort games three and four. So at this point I think it's fair to say that Darling can handle the spotlight.
Antti Raanta
It's been a while since we've heard from the Finnish goaltender…. But he was added to the playoff roster to provide depth which is always key this time of year. Raanta spent a good part of the second half of the season at AHL-Rockford, but he's had his own success in a Blackhawks sweater in the past. He's been a healthy scratch for every playoff game thus far, but he -just like Darling- is always ready to go if he's called upon. At the same time, Raanta hasn't played a game for the Hawks since February so there's bound to be some rust.
Knowing that there's a third net minder on the roster should be enough to motivate Darling to always be on his A-game. Add all of these reasons together and it's plain to see that Darling is bound to get another chance sooner rather than later. Follow me on Twitter @GabeSalgado82
Gabe has worked in sports media for over decade and has been heard on the radio, and seen on television in addition to writing.