The New Jersey Devils have had some very successful teams over the existence of their franchise (see: three Stanley Cups, five Eastern Conference titles). Although there were Hall of Famers and legends of the game on those championship teams, as well as other successful teams they had: there were also unsung heroes, underrated players…however you want to describe them, they were important players that often never got recognized enough for their contributions that often went beyond the stat sheet.
Everyone has and will have their own opinions on this (and everything else) so if you have a suggestion feel free to submit your choices in the comments section below, we'd love to hear from you.
Goalie: Sean Burke
Let's be honest, there aren't a lot of successful goalies in Devils franchise history not name Martin Brodeur but Sean Burke's play during the team's first-ever postseason run was a huge bonus to that squad. We picked Burke because his time in New Jersey is often forgotten after he played with seven other franchises (eight teams, including two stints in Philadelphia). He played only eleven games prior to the 1988 playoffs but the rookie sensation backstopped New Jersey to upsets over the New York Islanders (6 games) and the Washington Capitals (7 games) before bowing out to the Boston Bruins in seven games.
Despite making the All-Star team the following season as a rookie, he never won more than 22 games in a season for the Devils, and his tenure there ending quite dicey with a season-long holdout (1991-92 season) over a contract. The good news that came out of that debacle and the other reason why we selected him was that Burke's trade to the Hartford Whalers on August 28, 1992 brought in two crucial pieces of future championship teams; Bobby Holik and a second round pick in the 1993 NHL Draft, which turned out to be Jay Pandolfo.
Defense: Brian Rafalski
When people refer to the championship teams it's always about Brodeur and the defense, namely Scott Stevens, Scott Niedermayer and Ken Daneyko; and rightly so because they are all legends in their own ways. But Brian Rafalski was a huge contributor to two of the three teams (2000 as a rookie, and 2003) and the 2001 team (which may have been the best Devils team ever) that lost in Game 7 of the Stanley Cup Final.
In fact some may argue that Rafalski's best season came with the 2000-2001 team when he put up 52 points in 78 games and an additional 18 points in 25 playoff games. He registered at least 40 points in five of his seven seasons in New Jersey; not bad for a guy that couldn't get an NHL job after college. The Devils found him playing in Finland while scouting another player and on May 7, 1999 they signed him as a 26-year-old free agent. The guy was a winner and was definitely an unheralded player throughout his tenure; and lest we forget he played in the playoffs every season he played in the NHL.
Highlights from the Devils Game 7 win in the 2003 Stanley Cup Final:
Defense: Tommy Albelin
Like Rafalski, Tommy Albelin was a member of two Stanley Cup teams (1995, 2003). He was generally a 6th or 7th defenseman but he was a player that the coaches always had full confidence in to play in any situation that arose throughout a game or series. He played ten seasons with the Devils over multiple stints, and even came out of a brief retirement to join them again in Deeember of 2005. His first season with New Jersey (1988-89) he recorded a career high 31 points in just 46 games (including six points in 14 games with the Quebec Nordiques), followed up by 29 points the next season.
He was an certainly an underrated part of the 1995 team alongside names like Stevens, Niedermayer, Daneyko, Bruce Driver and Shawn Chambers — chipping in 15 points in 48 regular season games and eight points in 20 playoff contests. Following his final retirement he has been an assistant at both the AHL and NHL level within the Devils franchise.
Forward: Sergei Brylin
Sarge, as he is called by teammates, coaches and fans, is the least known member of the five players that were a part of all three Stanley Cup championship teams (Brodeur, Stevens, Niedermayer, Daneyko) in New Jersey; but his importance was just as vital. Over the course of his 13 NHL seasons (all with the Devils) he was one of the most versatile players in team history. He was able to play all three forward positions at any time and was a frequent contributor on the PK unit and sometimes got ice-time on the second PP unit.
Sergei Brylin scores a PP goal in Game 5 of the 2001 Stanley Cup Final:
He played in 109 playoff games and as we mentioned with Rafalski, he had his best season with the 2000-01 team, setting a career-high with 52 points and 23 goals over 75 games. He was the good soldier, always willing to do whatever the team needed him to do to be successful that night, series or season — and over his final four seasons he never missed one game. He'll never have his number retired to the rafters in New Jersey but there should be some way to honor his contributions to the Devils franchise.
Forward: Jay Pandolfo
Mentioned earlier under Sean Burke, Pandolfo was selected with the second round pick acquired from the Whalers in the Burke-Holik trade. After three seasons of 40+ points during four years of college hockey at Boston University (he scored 38 goals in 40 games as a senior) he never recorded a 30-point season in any of his 15 NHL seasons. It was more because of his defensive prowess rather than offensive talents that he was a two-time Stanley Cup champion. He played alongside the bulldog John Madden nightly against the opposition's top line and on most nights, the Devils defensive dynamic duo got the job done.
Who says Pando can't score??? What a blast!
The two defensive dynamos were also a piece of the first wave of penalty killers in New Jersey for 10+ years in which the team was a regular occupant among the top-ten PK units in the league. Pandolfo was a key cog on the 2003 Cup team, not only on the defensive side, but he also potted 12 points (6g-6a) in the 24 postseason games.
Forward: Grant Marshall
A late-season, trade deadline acquisition in 2003 from the Columbus Blue Jackets, Grant Marshall added grit, jokes, leadership and an important goal or assist here and there to the Devils once he joined the team. Already a champion with the 1999 Dallas Stars, he helped New Jersey on and off the ice in their pursuit (and eventual capture) of the 2003 Cup. The Stars traded Marshall to Columbus for a draft pick and after two solid years with a bunch of misfits and castoffs with the expansion Blue Jackets he was just what the Devils needed and he chipped in six goals/eight points over the four rounds.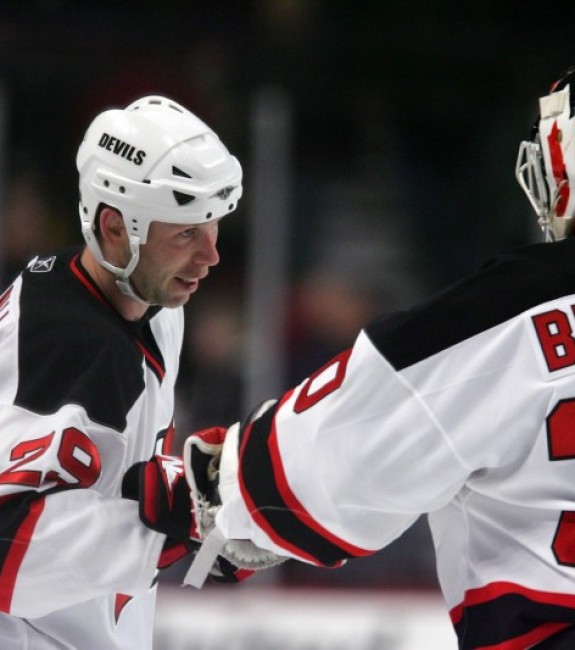 He's definitely the shortest tenured Devil on this list (two seasons + ten games), but his value to the organization was evident when they offered him a job within the franchise immediately upon his retirement from the NHL. He is currently an active member of the Devils Alumni Association, which does a lot of great things in the community as well as introducing kids to the game of hockey throughout the state of New Jersey.
Honorable Mentions (players who just missed the cut): Randy McKay, Valeri Zelepukin, Aaron Broten, Alexei Kasatonov, Peter Stastny and Eric Weinrich.
Dan Rice can be reached via Twitter: @DRdiabloTHW or via Email: drdiablo321@yahoo.com