Even if you have plenty to keep you busy, it's human nature to only want more. The same is true for fans of the NHL video game franchise from EA Sports.
With NHL 16's release quickly coming up, fans have been wondering when more leagues were going to be added for the game to enjoy. Currently, the NHL series includes the NHL, AHL, Liiga (Finland), SHL (Sweden), DEL (Germany), Czech Extraliga (Czech Republic), NLA (Switzerland) and the three leagues of the CHL (OHL, QMJHL and WHL). But what about the USHL or ECHL, among other leagues?
Sean Ramjagsingh, the lead producer of the NHL series, said that the developers have looked into adding more leagues to the game for the past few years. That being said, he admitted it needs to make sense for the game.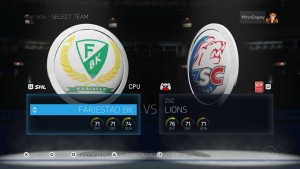 "Every time you add a league, there's usually costs associated with doing it, and there's a lot of work in terms of league structure, uniforms, logos and rosters," Ramjagsingh said. "It's not a small amount of work to add a league. With that said, we do want to represent the fans from around the world of hockey, not just North America."
When it comes to leagues that have been requested by fans for inclusion in the series, Ramjagsingh confirmed that the ECHL has been one of the most requested. However, there were some surprising requests from fans over the last few months.
[RELATED: Update on Women in NHL Video Games]
"We're also looking at some of the European leagues, we've had requests for some second divisions as well," he said. "It's really assessing the leagues that we have and where we can go, but we're absolutely looking at expanding the leagues we have for future iterations."
It was admitted that the developers are looking for the right way to add the ECHL as the next league to the game due to the growing popularity of it. Whether it would be just thrown in or utilized in modes like Be-A-GM or Be-A-Pro wasn't confirmed, but it is something that is being discussed.
For more on NHL 16, stick with The Hockey Writers for everything you need to know. NHL 16 releases on Xbox One and PS4 on September 15th in North America.