The biggest criticism against the Avalanche is that they are top heavy on forwards and goaltending but severely lacking on defensemen. That may be true, for now, but there is an exciting crop of defensive prospects for the team developing in the AHL, CHL, and NCAA.
If only a couple of these players could pan out for the club, the current state of the blue line will be a long forgotten memory.
Here are the top three defensive prospects for the team.
Chris Bigras
Chris Bigras was drafted in the second round in the 2013 draft, the same draft that the Avalanche used their first overall pick to select star forward Nathan MacKinnon.
There was a lot of talk amongst scouts that Bigras could see himself drafted in the middle to late first round but he fell to the Avalanche at the beginning of the second round.
Right off the bat, in his first NHL training camp, Bigras made a big impression and saw a lot of time paired with Erik Johnson. Johnson plays the right side and Bigras plays on the left. This lone fact had fans drooling with what could be the future first pairing for the team.
Despite his good first impression, Bigras was sent back to the Owen Sound Attack of the OHL. Armed with one training camp as well as a new NHL contract, Bigras and the Attack found themselves playing well below expectations. His points total slightly decreased from his previous year but his defensive game was still as sharp as ever. In fact, he was voted as the league's best defensive defensemen by OHL coaches.
An invigorated Bigras returned to his fourth season with the Attack a changed man. Not only had he gotten stronger in the off-season, but he kicked his offensive game up another gear. He was now a deadly weapon on both ends of the ice and playing around 25 minutes a game.
In 53 games, Bigras has 61 points.
Mason Geertsen
It can be argued that Mason Geertsen is one of the most underrated defensive prospects, not just for the Avalanche, but for all the other 29 teams as well.
When drafted in the fourth round in 2013, the same draft that the Avalanche used to select MacKinnon and Bigras, he was thought of as a purely defensive player with not a lot of offensive upside.
Over the course of the next two seasons, Geertsen would prove everybody wrong.
In the 2013-14 season for the Vancouver Giants of the WHL, Geertsen tallied 23 points in 66 games and played on the second pairing. He racked up 126 penalty minutes with 9 fights.
This season, he has 35 points in 58 games and will look to make some noise in the playoffs with the Giants as they try to improve from their disappointing first round loss last year in the WHL playoffs.
Will Butcher
Will Butcher was once held in very high esteem when he played for the U.S. NTDP in Ann Arbor. However, his lack of improvement to his offensive game led to him dropping to the fifth round in his draft.
There is a lot of misconceptions about Butcher's game and size. A lot of people believe he is a purely offensive-defenseman who can only play  in the other team's end. That couldn't be further from the truth.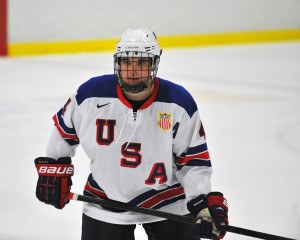 Even though Butcher stands at only 5'10, he plays as if he were a much bigger player and his 200-pound frame is one built from pure muscle. He is difficult to knock off the puck and has exceptional skating abilities to go along with an impeccable ability to get the first pass out of the zone.
These are the qualities that allowed him to be a contributing member of the Denver Pioneers team as a true-freshman. In his first season, he contributed 16 points in 38 games and is following up on that performance with 13 in 28 this season.
Next year, he will be an upperclassman and be counted on as not only a top player but as a leader as well.
The others
There are several other players who should not be counted out.
At the NHL level, Stefan Elliott is taking advantage of the injury to Erik Johnson to try and re-establish himself as a top prospect for the team. He has appeared in five games, primarily on the powerplay. Before being called up, he was second in scoring by a defenseman for the Lake Erie Monsters with 26 points in 40 games.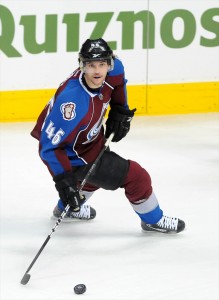 Duncan Siemens was selected 11th overall in 2011 with a pick the Avalanche acquired from the St. Louis Blues.
Despite his offensive contributions for the Saskatoon Blades, Siemens was drafted because he is a smooth skating defenseman with a nasty mean streak. A lot of his points in junior hockey could be traced back to his partner, Elliott so it was not unexpected that his points total dropped when Elliott made the transition to professional hockey.
Siemens' first season as a pro was marred with injuries and it seems as if his second season is not going much better as he is currently sidelined.
He is still only 21 years of age and has a lot of time to develop into the player he was drafted to be.