Selling Makes Sense for Sharks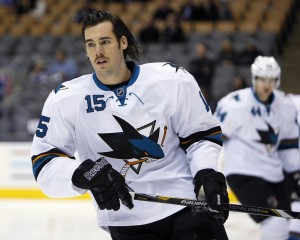 The San Jose Sharks currently sit 10th in the Western Conference with five days remaining until the March 2nd trade deadline. While management continues to send mixed messages on what they think their club is capable of, it seems at this point they are far more likely to be sellers. There is little to suggest that Doug Wilson is lying in the weeds to pull off a big deadline deal that helps the Sharks immediately. That said, Wilson's big trades are rarely forecast at all beforehand. Still, it seems highly unlikely they would trade for a rental even if it makes logical sense. After all they are only a few points out of a playoff spot and feature a core group of skill guys as good as any in the league. While it is very possible for Wilson to say one thing and do another, the Sharks GM has been steadfast about not moving future for a short term fix.
Therefore, if the Sharks aren't buyers, than they ought to be sellers. Standing pat and hoping the current manifestation of their club to turn things around would be incredibly folly. There really is no reason to expect a team that has been amongst the bottom in even strength scoring all season with a below average penalty kill to all of a sudden turn it around. The teams they are competing with for final playoff spots are white hot. Los Angeles has won eight straight while Minnesota is 7-2-1 in their last 10 games. The Sharks meanwhile have lost eight of their past 11. They will certainly be better than they have been but hard to vision them being good enough to catch the teams that are absolutely on fire.
Sharks Shouldn't Risk Losing UFAs
The Sharks, as currently constructed do not have the goods to win the Stanley Cup. You could make the case that they need help in all three areas, goaltending, defense and forwards. The only logical reason to stand pat and do nothing at the trade deadline would be if the GM feels he will lose his job if the team doesn't make the playoffs. However, Wilson choosing not to sell just to get into the playoffs to save his job doesn't seem likely. Even if mystery owner Hasso Plattner made making the playoffs a requirement to keep his job, Wilson won't be out of work long if fired. After what he has built, he will have no trouble finding work. Therefore, the goal for Wilson should be to make the Sharks better for the future. Standing pat just for a small extra chance at job security would be an incredible glass half empty approach. And who knows, moving out pending unrestricted free agents like Antti Niemi and James Sheppard might even give the Sharks a better chance at making the playoffs. Backup netminder Alex Stalock has struggled in sporadic playing time lately but has shown flashes, and so has rookie center Chris Tierney who would be in line to pick up most of Sheppard's vacated minutes.
Riding things out the way they are and risking Niemi and Sheppard walking at the end of the season as free agents for nothing would be a poor strategy. Even if the Sharks find a way to get into the postseason, they are a significantly worse team from the one that got bounced in the first round last year. They are not going very far, even if they get a matchup with Anaheim in the first round. Yes they have the Ducks' number but that is just the lone team they have ownage over this regular season. Sheppard is a valuable piece and it makes too much sense to move him.
Sheppard Miscast in San Jose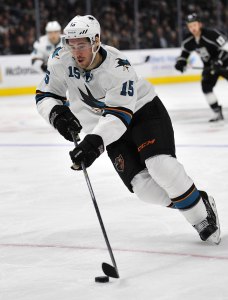 The 26-year-old veteran center is only making a little over a million and would be a terrific fit or any team looking for a complementary third liner or a terrific fourth liner. With the Sharks this year Sheppard has simply been asked to do to much. San Jose has played him frequently as their third line center mostly with similar level players. Unfortunately Sheppard simply doesn't produce enough to lead a third line. He has however shown to be dynamite when playing with Andrew Desjardins on a fourth line and he's been terrific as a third line winger next to Joe Pavelski. Sheppard's finishing ability is rather underwhelming but he has above average speed and size (6'1″ 215) and is solid along the boards. For those who haven't seen him play much, he's sort of a younger version of Daniel Winnik. He is incredibly versatile, can play center or wing on either the third or fourth lines or a second line in an absolute pinch as the weaker player on a top-6 line.
Recently, Sheppard's name has been tossed around in the rumor mill and considering he just hasn't provided enough for the Sharks, it is highly probable he gets moved. Strong bottom six groups make a difference in the playoffs and any team looking for play- making and speed help on their lower lines should be interested. He won't cost a whole lot, probably only a third round draft choice which is a very reasonable rental price for a third liner. After all, sometimes certain depth players fetch much more. Remember Nashville giving up a first round pick for Paul Guastad a few years back? Or Douglas Murray fetching two second round picks (WHAT?!?). Certainly the Sharks will try to push teams for a second rounder in return for Sheppard, but there are a number of lower tier forwards available. The negotiation power would lie within the teams looking to acquire Sheppard, not the Sharks.
With only five goals and 16 points on the season with a minus-4 rating, Sheppard clearly isn't filling the role the Sharks envisioned for him. Not to mention his face-off percentage has fallen below 50% after reaching 54-55% around December. Again, it is highly questionable why the Sharks envisioned him taking on such a large role. In a lesser, more complementary role he has the skillset to be incredibly valuable. Given every playoff team could use a boost to their bottom six group, Sheppard is the most likely candidate on the Sharks to move out by Monday's deadline.
Andrew has been credentialed to cover the Sharks since 2010 and the 49ers since 2012. He graduated with his BA in Broadcast Electronic Communication Arts in 2013 from San Francisco State University.