In his 12th season of calling the action for the Binghamton Senators, the AHL affiliate of the Ottawa Senators, Grady Whittenburg has seen a thing or two. The 2011 recipient of the James H. Ellery Award was gracious enough to take time with THW to talk about his path to the AHL, the Calder Cup, and a few other things.
Q & A with Grady Whittenburg
THW: Grady, thanks for taking the time to speak with us. You're in your 12th season with Binghamton Senators, and your 26th in hockey broadcasting. That's quite the experience. What pulled you in the direction of broadcasting?
GW: I think the belief that growing up playing youth sports and then with school teams later on, I wanted a way to continue to be involved in athletics as a potential career path. The realization that my skill set would only allow me to compete through my final baseball game in high school playing for a small country school had me accessing what more might be out there to allow me to continue in the world of sports.
Out of high school, it wasn't quite clear to me what avenue might be available, or applicable for what I was looking for, so I had a few real jobs while dabbling in community college. I did some freelance work on the side with a small AM station in Owego, calling high school football games and the light finally came on while watching a high school basketball game; and I found myself calling that in my head (well, actually out loud according to my cousin sitting next to me…) and that was my "aha" moment that this was not only a way to be involved in sports, but to get paid doing it.
The next week, I purchased some used radio gear (but did have to invest in a brand new headset) and began doing mock basketball broadcasts and eventually was able to land a semi-permanent seat in the auxiliary press box at the hockey arena in Binghamton to do mock broadcasts of Binghamton Whalers games.
Hockey was my real passion ever since my dad took me to my first Broome Dusters game in Binghamton on St. Patrick's Night. It was great to begin laying the foundation for a career in a sport I was instantly attracted to.
THW: Your experience in broadcasting goes beyond the game of hockey. In the past you've called football, basketball, and even lacrosse. How does the game of hockey differ from those other sports, especially at the AHL level?
GW: The speed of the game and the transition aspect really stands out. Basketball is probably the closest comparison to hockey in that regard, but my on-air basketball announcing has been fairly minimal to make an accurate side-by-side analysis. Football and lacrosse can be done in a conversational manner, with periodic bursts of speed on big plays, but hockey is constant motion that requires focus on the call to give the listeners an accurate picture of what's taking place.

THW: Before landing in Binghamton as the voice of the B-Sens, you broadcasted games for the ECHL's Elmira Jackals. What are some of the differences on your end between the ECHL and the AHL?
GW: I was actually in Binghamton for five seasons between 2002 and 2007, before taking the position for what turned out to be one season with Elmira for personal reasons.
Again, the most noticeable difference seemed to be the speed of the game (slower), along with the overall skill level (lower) of the players. But the passion is comparable, if not more so, as players in the ECHL are not typically thought of as highly touted prospects. They know that to get noticed, they have to work harder and produce more consistently in order to get a shot in the AHL.
THW: 2011 was a pretty special year for not only the B-Sens, but for yourself as well. The team captured its first Calder Cup, while you were awarded the James H. Ellery Award – an honor given to the AHL's most outstanding members in newspaper, radio, and television. Can you tell us what that memorable experience was like?
GW: Wow, that's hard to sum up that season and calendar year from my perspective. Personally, it was rewarding, yet something was missing in what turned out to be the best season Binghamton hockey fans ever experienced.
#BSens Broadcaster Grady Whittenburg received his Ellery Award from #AHL VP of Communications @JChaimo tonight. Congrats, @BSensRadio!

— Joy Lindsay (@PuckJoy) January 8, 2012
My dad introduced me to the game of hockey when I was 14, not in a playing manner, but as a spectator, and I immediately fell in love with the game. He had season tickets for the first team in town – the Broome Dusters – and continued to have them for the Binghamton Whalers and Binghamton Rangers.
When the Senators were born in 2002, he was on board with season tickets then. As mentioned previously, he suffered a massive stroke in October of 2004 in which he wasn't expected to live through the night. He made to the next morning, and nearly an additional four years before passing away in 2008.
So to not have him around to enjoy the championship run, not that he was a huge hockey fan, but he was my biggest fan of seeing his son do something that I loved so much, it was a bit empty. But I'd like to think that he was watching over me and the team during that magical spring and that I had done him proud with my work on the air, courtesy of the great play by the team on the ice.
Team-wise, the Sens just slipped into the playoffs that year to break a five-year drought of missing the post-season. It didn't look like it would be a long stay as Manchester grabbed a 3-1 lead in the best-of-7 first round. Improbable as it sounds, the Sens won the last three games of that series, including the last two in Manchester, with all four of their wins coming in overtime to advance. And while it wasn't exactly in cruise control from that point forward, it certainly seemed like the B-Sens were destined to win the Calder Cup.
Off the ice, the lasting memory will be that of the fans. Hockey playoffs bring intensity on the ice and it transfers to the fans in the stands and Binghamton was no different. The old barn was rocking every home game culminating with two of the loudest crowds I've heard anywhere in Games 4 and 5 of the finals against Houston.
Regardless, the energy was off the charts after the 3-0, and 4-2 wins over the Aeros in our last home games of the season.  It seemed like a formality that the team would go to Houston and win one of the final two games to capture the Cup.
As if there was not enough incentive already to close it out in Game 6, the team hit the ice determined to get it done with assistant coach Steve Stirling back home in a Binghamton hospital after having triple bypass heart surgery the day after the Game 5 win.
The Sens trailed 2-1 going into the third, but tied it up on a Bobby Butler power play goal. Then fittingly, captain Ryan Keller, after getting the Sens to the final round with his Game 4 OT winner versus Charlotte in the semis, went top shelf on a beautiful rush down the right wing for what turned out to be the clinching goal in a 3-2 win.
And going back to the personal side of things, winning the Ellery Award was very humbling because the talent in AHL radio booths is exceptionally high and to be singled out amongst my peers is a career highlight. And in September of that year, I became a grandfather for the first time – all rolled into what I now refer to as my best year ever!
https://twitter.com/KateKrenzer/status/141233349527212032
THW: In your 12th season with the B-Sens, you've been around the organization long enough to see some pretty notorious names come through Binghamton. From Erik Karlsson, to more recently, Mike Hoffman. Who are some of the players that stood out to throughout your time with the B-Sens?
GW: Well, Jason Spezza was the first really big name to play a somewhat extended time in Binghamton before earning his full time stripes with the Ottawa Senators. Ray Emery is another. Spezza, the playmaker, and Emery, the puck stopper with a dash of pugilistic skills that he frequently (for a goaltender) liked to display, really stand out in my memory and that's going back to to the early years.
THW: Do you ever catch yourself following these guys in the NHL?
GW: For sure, partly just as a function of my job in following graduates from our club down here, but more so for the pride of knowing a player began his pursuit of his NHL dreams in our little city and now they're doing what they love on the sport's biggest stage.
THW: With the number of changes up top in Ottawa, causing a rebuild predicated on youth, what effect has that had on the B-Sens this season?
GW: Fortunately, injuries have been minimal up top in Ottawa this season, so the impact of constantly shuttling players up and down has been nearly non-existent. It's given the top end prospects in Binghamton the opportunity to take advantage of maximum minutes in all game situations and really add to their development so when that call does come from Ottawa, they're more ready for that jump in NHL game speed and skill level.
THW: Working in a professional sport, you're exposed to a lot of things the average fan doesn't see. Is there an experience or story that stands out the most to you?
GW: Fans may not be exposed to it, but they know of it and it's the travel in the minor leagues. I'm amazed at the way the players are able to play a good number of games in a compressed amount of time that will involve travel of varying degrees.
Being centrally located within a good number of teams in the AHL, our travel schedule has us doing a large number of day trips. For any game in a city more than three hours away, we'll leave the day before and spend the night in a hotel before playing. Even with day trips, teams in our league are subjected to weekends of 3-in-3's – three games in three nights, with travel inevitably involved.
The Sens recently completed a seven-game in 11-nights stretch, and that will end up being our second busiest block of games this season as we finish up the year with six in nine. To perform at a high level over the course of a 76-game schedule takes a lot of physical and mental fortitude, and when you throw in what is sometimes less than desirable scheduling, and the accompanying travel, I'm amazed at what these players are able to do night in and night out.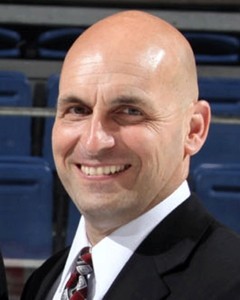 THW: Most fans may be surprised to learn that the path to the NHL in your vocation is very much similar to that of the players. Do you have any aspirations of one day calling the action in the NHL?
GW: Most definitely… no matter the position with a minor league club, from players to coaches, athletic trainer and equipment managers, for the most part, we're all looking to advance and to be able to do what we do in the best league in the world.
I've been fortunate to have built up a good rapport with the staff of the Ottawa Senators management team, particularly with assistant general manager Randy Lee, along with the staff of their flagship radio station TSN 1200. Randy has always been supportive of what I do with the B-Sens, along with his assessment that I'll be in the NHL someday. It's a fairly specialized field with only 30 positions currently in the NHL, so it's a long shot. Especially given all of the quality of competition all looking to attain one of those coveted 30 spots.
As far as TSN 1200 is concerned, I cannot thank them enough for the exposure they've given me on their airwaves. Whether it be as a frequent guest on a number of their locally produced shows, or in carrying B-Sens hockey on their station whenever their schedule allows. They've probably aired close to 200 of our games over the last five seasons and through them, I feel like I've gained a small slice of name recognition amongst the Ottawa fan base. All of that can only enhance my pursuit of eventually calling games in the NHL and more specifically, with the Ottawa Senators.
THW: What advice would you give to a youngster who's either thinking about, or wants to one day follow your path?
GW: Start early. Watch and listen to a lot of different announcers and gleen from them the attributes which you think are important as a listener. Begin to integrate those into your broadcasts, be it mock/practice or live on-air broadcasts. And with that, be careful as you observe other broadcasters.
As there many good/great ones out there, there are some that can put bad habits on display, which can be just as easily picked up as good ones. So listen with discernment as you develop your style. But in developing a style, the best thing I can tell you is just be yourself. There's only one Doc Emerick, Rick Jennaret, Mike Lange, or Marv Albert. It's fine to adapt some of what they do, but be yourself.
My best description of myself is that the only difference between me and a fan at the game is that I get the headset and the privilege to bring the game to those that cannot make it to the rink. My style is calling games the way I used to watch them with my dad – with passion and excitement. Some have commented that I need a catch phrase or some other schtick in my call.
The world needs to know- Grady Whittenburg is the best play by play man in the business. #BSens

— SensChirp (@SensChirp) December 23, 2012
For those that want to do that and their fans enjoy, go for it.  That's not me… my "schtick" is to bring the game to life for you in the manner in which I always enjoyed as a spectator and hopefully comes across well.
Once you decide that want to pursue this career path, get reps behind the mic any way that you can. The more games you do, no matter the sport, the more comfortable, confident, and proficient you'll become over time. Then, begin to network with those in the field to deepen your contact base for potential references once you reach a level of competence for the level of the broadcast job you are pursuing.
That started for me back in the 80's. When visiting broadcasters would come to Binghamton, I would introduce myself and explain what I was looking to do and inquire if I could hang with them for the night, watching/listening to them do their thing.  Most of those guys were happy to let me sit and observe them, and a good number of them now call games in the NHL. I'll never forget them for those opportunities, and hope to be able to thank them personally someday if I am ever fortunate enough to reach the NHL.
Andy is a contributor for The Hockey Writers, covering the Philadelphia Flyers. He holds a Bachelor's Degree in Communications from Walsh University. He enjoys spending time with his family, golfing, and reading. He is married with a daughter. You can follow Andy on Twitter @ADudones.