Here is what happened Tuesday night in Boston:
The Vancouver Canucks beat the Boston Bruins, 2-1, even though Boston outshot Vancouver, 41-28. The Bruins couldn't solve Canucks' goaltender Eddie Lack, who played quite well, despite giving up what seemed to be a ton of rebounds. Bruins' head coach Claude Julien spoke after the game about the team's lack of finish, but didn't seem too concerned about the team's overall effort. The Bruins' players tried to take positives away from the loss, though their grip on the final Wild Card spot in the East is beginning to loosen.
And that's it. That's basically all that happened. Seriously – that was the game. If you're looking for more than that from a game recap, it's probably best to stop reading here.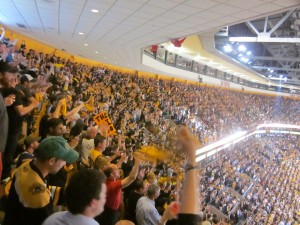 Instead, let's talk about parallels. And tradition. And maybe about how we got here.
On June 15, 2011, the Boston Bruins won the Stanley Cup against the same team that they played on Tuesday night, the Vancouver Canucks. Where were you? I was at home in Rhode Island, watching Game 7 with my dad and brother. I've written about this before here.
On Tuesday, my dad and brother were at the TD Garden for another Bruins/Canucks game. Technically speaking, it was the first time we've been together to watch these two teams play each other since the Stanley Cup Final.
The teams are different now – much less elite, painfully mortal, if you will. The rosters have changed, as have the starting goaltenders. There's very little about either of these two teams or scenarios that can be compared to what happened during the 2011 postseason. Four years ago is a memory – though a pleasant one, at that. It's one where I'll look back as years go on and remember less and less about the specific details of the game but rather, who I was with and where I was. It's why, at least for me, Tuesday night's game deserved more than just the regular, trite game recap, even if the on-ice product called for just that.
My dad got me into hockey at a young age, both playing and watching it. By the time I was 5 years-old, my favorite book was the 1991-92 Boston Bruins Media Guide with Ray Bourque on the cover – I'm pretty sure my parents still have it at their house. My younger brother had a similar upbringing. While my first, vivid memories of hockey revolve around Cam Neely as a player, his are probably Patrice Bergeron's rookie season as a Bruin. Anytime the three of us are able to watch a game together, even if it means in different parts of a building when they make the trip to Boston as fans, it's special. I hope this isn't an uncommon theme for most.
Sometimes you're just born into something. I've always felt that way about hockey and I'm pretty sure my brother feels the same way about the sport. When that happens, you get to create these magnificent moments of tradition and bonds that last longer than any detail about a game would with those who feel it, too. You'll hold onto those. If you're lucky, they'll be what makes midwinter games in February between two meddling teams worthwhile.
I'm not going to remember much about Tuesday night's Bruins game in a few months. You probably won't, either. In fact, I'll go deeper and say that there's going to less of a chance about remembering much from this season, just like years' past. But those moments? Nah. You don't forget those.
The theory is that fans root for the teams, while media root for storylines, or for certain players to succeed and reach personal achievements. And that's all. No in between. I think that after covering the Bruins professionally for six years and being a fan of the team for years prior to that, I've figured out the middle ground. I think you root for moments – at least, that's where I'm at.
I root for games that I can experience with my dad and brother, the two people who are just as crazy about hockey as I am. I root for the times where we'll sit together in my parents' living room in late Spring/early Summer, not knowing which Bruins team will show up when something important is on the line. I root for times like 2011, 2013, and even 2015, when the Bruins kind of suck because it's something to talk about. It pieces these moments together for a storyline way more important than any media member can string together.
And this can happen with anyone. Maybe you watch hockey with a bunch of friends, your significant other, your spouse, your kids, your grandkids, your grandparents – it doesn't really matter whom because everything else becomes secondary.
I guess what I'm saying is that I root for hockey at its purest form: experiencing the game with people who matter, no matter the situation.
The Bruins lost on Tuesday night, but it wasn't going to spoil my dad and brother's (likely) only trip to the Garden this season. After the game, I texted my brother (who earlier said that he can't remember the last time he saw the Bruins win at a game he's been at), apologizing that he didn't catch a better game. His response? "I don't care. I was just happy to be there."
See? Hockey at its purest form.
The Bruins are a frustrating team to watch this season, whether you're cheering for them or writing about them. Stepping back and realizing that it's not about the results of a game or stats of a certain player, but instead enjoying the greatest sport on earth for what all that it's worth is anything but frustrating.
How can you not root for that?
Follow Mike on Twitter for more Bruins updates, news, and commentary.