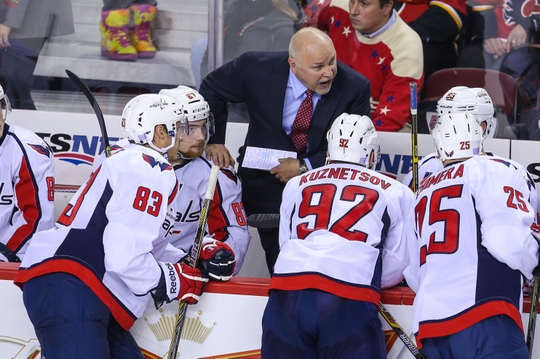 Before this season whenever opposing NHL teams faced off against the Nashville Predators they had a pretty good idea of what to expect.
Stifling defense, stout goaltending, and opportunistic offense were the consistent calling cards of the Predators. These systems were put into place, refined and perfected under the tutelage of head coach Barry Trotz, who was the very first bench boss that the Preds ever hired, way back in 1998, and who stayed with the team all the way up until the summer of 2014 when the two sides went their separate ways.
Despite never managing to win their division and failing to make it past the second round of the playoffs, it was hard to not be impressed by what Trotz was able to do in Nashville. Year after year, the Predators were a consistently good team, finishing with over 100 points on four occasions (2006, 2007, 2010, 2012) and making the playoffs seven times in the nine seasons from 2004 to 2014.
Most impressively, Trotz was able to achieve these results in spite of coaching for a franchise that not only rarely had the financial leniency to throw big money at big-name players, but also struggled in the entry draft to bring in game-breaking talent. Many Predators fans were left wondering what could have been in Nashville if Trotz had ever had a star-studded roster with which to work.
Luckily for Washington Capitals fans, however, they are starting to see this exact possibility quickly turn into a reality.
Hired by the Capitals this summer to be their new head coach, the impact that Trotz is having with his new team is both immediate and pronounced. The Caps are currently 6th in the NHL in terms of goals against, at an average of 2.43, which is a tremendous leap from last season when they finished 21st at 2.79. Most importantly, however, the Caps are firmly entrenched in a playoff spot, right now sitting in 7th place in the Eastern Conference with room to move up, after finishing 9th last year and missing out on the postseason.
When examining the resemblances between Trotz's time in Nashville and his time so far in Washington from the perspective of individual players, the results are also rather interesting.
Most of those Trotz-era Predators teams were anchored by two main individuals: defenseman Shea Weber and goaltender Pekka Rinne. While it's always difficult to compare players from different teams, what's happening now with John Carlson and Braden Holtby in Washington is worth talking about.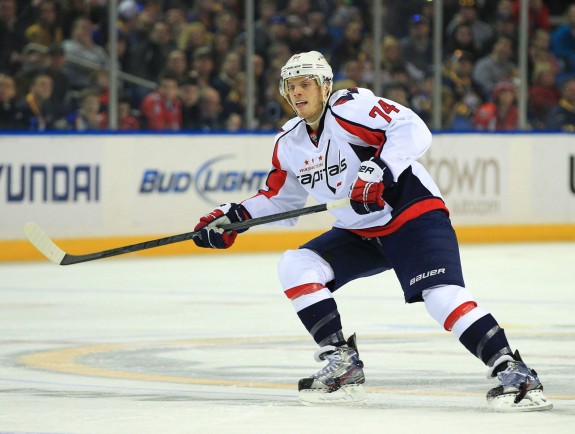 Carlson, 25, is just now entering the prime years of his hockey playing life and is enjoying a career season under Trotz. He's rapidly developing into a force at both ends of the ice, with 41 points on the season (already a career high in only 61 games), and, according to Stats.HockeyAnalysis.com, an increase in both his CorsiFor percentage (50.3% up from 47%) and his defensive zone start percentage (31.2% over 30.7%). While comparing Carlson to Weber is a lofty thing to do, Carlson is now Trotz's go-to, all-situation defender, much like Weber was in Nashville.
Holtby, also 25, has been the Caps' number one goaltender for the past two seasons but is now enjoying a career season as well, currently sporting a sparkling .924 save percentage. Holtby has been a good goalie for a while, but has found a newfound level of high-end consistency that makes him all the more formidable. When Rinne was between the pipes in Nashville opposing teams always knew that they were going to have an uphill climb to put the puck in the net, and the same is quickly becoming the case for Holtby in Washington.
Now, one can't write an article like this without talking about Alex Ovechkin.
The only negative reputation that followed Trotz's time with the Predators was their inability to score goals, although whether that reputation was actually justified is a topic of debate. The Preds were always a middling team in terms of goals scored, but they never really had much raw offensive talent on their roster. Still, Trotz was able to squeeze 70-point seasons out of Paul Kariya, Jason Arnott and J.P. Dumont.
When Trotz was hired in Washington there was some concern that Ovechkin, the three-time NHL MVP and one of the league's most explosive offensive talents, would be muzzled offensively under his new coach. Those concerns, however, appear to be unwarranted. Ovechkin was a point-per-game player last season, registering 79 points in 78 games, and is on a similar pace this year, with 61 points in 61 games so far.
If anything, actually, Trotz has improved Ovechkin's overall game. Ovechkin is an impressive 54.1% CorsiFor player this season, compared to only 49.3% last year. His plus-minus has also swung incredibly, from a -35 all the way up to a +12.
Ovechkin's longtime linemate, Nicklas Backstrom, has experienced an identical turnaround. His point totals are a little up (64 in 61 games currently compared to 79 in 82 last year), but his possession numbers are way up (53.9% versus 49.3%). His play has been so solid for Washington that he, not Ovechkin, is now starting to generate some Hart Trophy buzz.
While the relationship between Trotz and the Capitals is still young, the early returns are overwhelmingly promising. Opposing teams will still know what to expect when they go up against a team coached by Trotz, but with so much more talent to work with actually stopping those teams will soon become another story entirely.