This is part 2 of a 4 part series looking at the best players in Stars franchise history by jersey number. Who was the best #20?  Before you fast forward ahead, let's review #'s 11-19.

Best #11-14 In Dallas Stars Franchise History
#11 Jean-Paul Parise:  J.P. played parts of 10 seasons with the Minnesota North Stars. A hardworking left winger like his son Zach, J.P. scored 238 goals and 356 assists in 890 NHL games. J.P. represented Team Canada in the famed "Summit Series" in 1972. In retirement J.P. coached and was hockey director for national prep school power Shattuck-Saint Mary's.  At Shattuck, J.P. coached Sidney Crosby and Jonathan Toews along with his son Zach.  Sadly, J.P. died last month after a yearlong battle with lung cancer.
#12 Keith Acton:  Acton played center for 15 years in the NHL. He spent 5 seasons with the Minnesota North Stars. Acton was a diminutive (5'8, 170), yet gritty and responsible two-way player. He played 1023 games and had 1172 pims to go along with 584 points. Acton retired in 1995 and since then has worked as an NHL assistant coach for 5 different organizations.
#13 Bill Guerin:  Guerin played right-wing for 17 years in 8 different NHL cities. He played for Dallas from 2002-06. Guerin's 429 career goals are good for 71st best in NHL history and 5th all time among American born hockey players. Guerin represented Team USA in 3 different Olympics and was a key member of Team USA's World Cup of Hockey Championship squad in 1996. Guerin was inducted in the US Hockey Hall of Fame in 2013. He is a two-time Stanley Cup winner ('95 NJD and '09 PITT).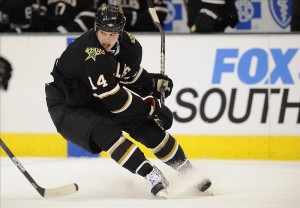 #14 Jamie Benn:  The NHL recognized Benn as the best left-wing in the league last year when he was selected as a 1st team NHL all-star.  The Stars captain helped Team Canada win gold in the 2014 Olympics. He scored the winning goal in Canada's opening game vs. Norway, and went on to score the only goal in a 1-0 semi-final win over Team USA. Benn played in the 2012 NHL All Star game. At 25 years old, he is the quintessential NHL power forward.  Benn has 3 career Gordie Howe hat tricks.
Best #15-19 In Dallas Stars Franchise History
#15 Dave Gagner:  Gagner played forward for the Minnesota North Stars from 1987 to 1993.  He also played 2 and half seasons with the Dallas Stars. Gagner scored 30+ goals 6 seasons in row from 1988-94. He reached the 40 goal plateau twice (1989-90 and 1990-91). Gagner's playoff performance in 1991 (12 goals and 15 assists in 23 games) helped push the North Stars all the way to the Cup finals.  Gagner's son Sam plays forward for the Arizona Coyotes.
Feb. 8, 1997: Pat Verbeek scores with 2:39 left and the OT winner, as the Dallas Stars rally from 4 down to beat the Coyotes, 5-4.

— DFWSportsPast (@dfwsportspast) February 9, 2015
#16 Pat Verbeek:  Verbeek edges out Jude Drouin for my #16 spot. Verbeek's 522 career NHL goals are good for 34th all time. Known as "The Little Ball of Hate", Verbeek could mix it up as well as score goals. In his best season with the Stars (1997-98) he scored 31 goals and 26 assists to go with a whopping 170 pims in 82 games. Verbeek was a member of the 1998-99 Stanley Cup Champions' Stars team. Today Verbeek is the Assistant General Manager of the Tampa Bay Lightning.
#17 Tim Young:  Young is a former captain of the Minnesota North Stars. He played 10 seasons in the NHL mostly with the North Stars. He scored 23 or more goals 5 seasons in row from 1976-81. Young's 66 assists in 1976-77 still rank as the 4th best single season total in franchise history. Young helped to lead the North Stars to the Cup finals in 1981.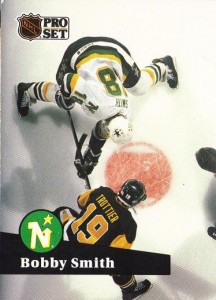 #18 Bobby Smith:  Smith was drafted 1st overall by Minnesota in 1979. He had two stints with the North Stars sandwiched around 7 seasons with Montreal.  Smith played 1077 NHL games scoring 1036 points. His 114 point season with the North Stars in 1981-82 remains the single season franchise record. Smith was a member of both North Stars Cup finals teams and won a Cup with Montreal in 1986.  After hanging up the skates, Smith moved behind the desk, as General Manager for the Phoenix Coyotes from 1996-00. Currently he owns the Halifax Mooseheads of the Quebec Major Junior Hockey League.
#19 Bill Masterson:  Masterson's #19 was retired by the Minnesota North Stars in 1987. Masterson was a 29-year-old rookie forward for the North Stars in 1967-68.  He died from internal brain injuries when his head hit the ice following a collision with two opposing players.  He is the only player in NHL history to die from injuries sustained on the ice.  The Bill Masterson Memorial Trophy was created in 1968 under the trusteeship of the Professional Hockey Writers Association and is presented annually to the "National Hockey League player who best exemplifies the qualities of perseverance, sportsmanship and dedication to hockey".
Best #20-25 In Dallas Stars Franchise History
#20 Ed Belfour and Dino Ciccarelli:  Push.  Both players are members of The Hockey Hall of Fame. Eddie "The Eagle" backstopped the Stars to the only Stanley Cup Championship in franchise history in 1998-99.  The following season Eddie came 1 win shy of back-to-back Cups.  He played 18 NHL seasons winning 484 games.  Belfour played 5 seasons with Dallas.  Ciccarelli is 17th all time in NHL goals with 608 in 19 seasons. He played parts of 10 seasons with Minnesota scoring more than 50 goals twice. He had a ridiculous 14 goals in 19 playoff games during the North Stars Cup finals run in 1980-81.
#21 Danny Grant:  Grant edges out Loui Eriksson and Guy Carbonneau for top honors. Grant made his NHL debut in 1968 with the Montreal Canadiens. He had 3 assists in 10 playoff games as Montreal won the Cup. The following season he was acquired by Minnesota and would go on to win the Calder Memorial Trophy as the league's most outstanding rookie. Grant is 1 of only 4 players in NHL history to win the Stanley Cup prior to winning the Calder Trophy. He would spend the next 6 seasons as a right-wing for the North Stars averaging nearly 30 goals per season.
#22 Brett Hull:  Hull put the Dallas Stars on the map when he scored the Stanley Cup clincher in 1998-99. Hull played only 3 seasons with the Stars. He wore #22 the first two seasons because Pat Verbeek had #16 (He transitioned to #16 his final Stars season).  Hull and Mike Modano formed one of the most dynamic duos in modern NHL history.  He is 3rd all time in NHL goals with 741.  His father Bobby is 16th all time with 610 NHL goals.  From 2006-09 Hull was the Assistant General Manager of the Stars. He is now an Executive Vice President with the St. Louis Blues.
#23 Brian Bellows:  A former #2 overall pick of the Minnesota North Stars in 1982, Bellows, an offensive forward, would go on to play 18 NHL seasons scoring 485 goals in 1188 career games.  Bellows spent the majority of his career with Minnesota. His 55 goals in 1989-90 tied him with Ciccarelli for the most single season goals in franchise history. Bellows made it to the Cup finals with the North Stars in 1990-91 scoring 10 goals and 19 assists in 23 playoff games that year.
#24 Mark Tinordi:  A defenseman with a nasty physical presence to go along with some decent offensive skills. Tinordi, 6'4 and 213lbs, was captain of the North Stars-Dallas Stars from 1991-95. He was a member of the North Stars 1990-91 Cup finals team. His best statistical season was 1992-93 when he scored 15 goals and 27 assists to go along with 157 pims. Tinordi played for Team Canada in the 1991 Canada Cup. His son Jarred plays in the Montreal Canadiens system.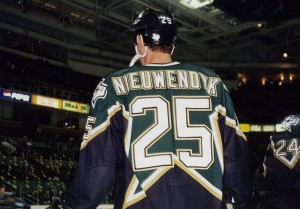 #25 Joe Nieuwendyk:  He is 1 of only 10 players in NHL history to win the Stanley Cup with 3 different teams ('89 CGY, '99 DAL and '03 NJD). He played 20 seasons in the NHL including 7 seasons with the Stars. He won Olympic gold with Team Canada in 2002. The former Stars center played 1,257 games and scored 564 goals and 562 assists for 1,126 points. He was inducted into the Hockey Hall of Fame in 2011.  He was General Manager of the Stars from 2009-2013.
I have a Bachelor of Arts Degree is Sociology from Bridgewater State College. I have covered amateur hockey prospects with Texas roots for the scoutingreport.org, and I am a Dallas Stars writer for The Hockey Writers. I can be reached via Twitter @EdTexmass09.