If past is prologue, the New York Rangers are in a precarious position. Sure, they are virtually assured a Playoff spot in the Eastern Conference but making a substantial run in the postseason is another story. With goaltender Henrik Lundqvist sidelined for potentially four to six weeks, Cam Talbot will have to carry the load. A load that not only entails carrying the Blueshirts to the finish line but also involves taking the reigns from a perennial Vezina Trophy contender.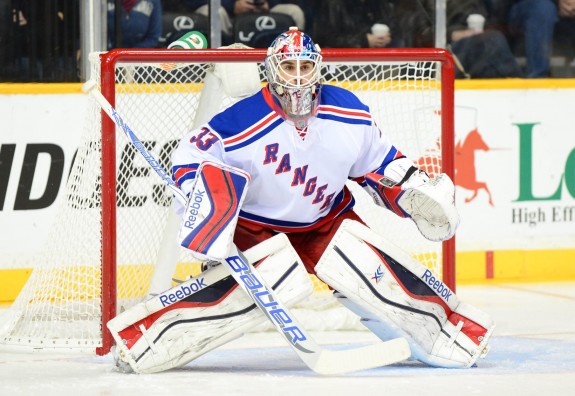 Rangers fans will remember that bridging the gap from Mike Richter to Lundqvist, wasn't an easy one. That was especially true when Richter was befallen by various injuries, which eventually prematurely ended his splendid career. Even before their seven year postseason drought, New York had to find ways to improvise in net.
Back in the 1995-96 campaign, Richter missed two and a half months, with a serious groin injury. That year, the Rangers turned to veteran backup Glenn Healy. On the season Healy went a commendable 17-14-11, with two shutouts and a 2.90 goals against average. Yet, in Richter's absence, the club went 10-12-6, a far departure from his 24-13-3 ledger and 2.68 GAA.
Richter would rebound for the stretch run and was there for the Stanley Cup Playoffs. New York was able to rally and defeat the Montreal Canadiens in six games, during the first round. Although they would bow out in the Eastern Conference Semi-Finals, falling to the Pittsburgh Penguins in five games.
If only the injury had happened earlier or the Playoffs had been pushed back, perhaps Richter's brilliance in the 1996 World Cup, would've carried the Rangers to Lord Stanley.
During the 1999-00 campaign, a spell of bad luck led to Richter missing a decent amount of action. A sprained knee in the NHL All-Star competition, took the workhorse Richter and his 2.61 GAA, out of action. So, while the Blueshirts had veteran netmineder Kirk McLean between the pipes, that squad wasn't nearly talented enough to hang in the race, finishing up with 73 points and missing the postseason.
In 2000-01, a team which saw defenceman Brian Leetch as its leading point getter at 79, only had Richter for 45 contests, after he sustained a knee injury. That squad totaled 72 points and missed the Playoffs.
The next season, Richter would play 55 games, with the other 31 going to Dan Blackburn. Though it seemed his luck and health was taking a positive turn, another fluke injury would strike. After being hit in the mask by a Chris Tamer shot, against the Atlanta Thrashers, Richter suffered a fractured skull and concussion, causing him to miss the final nine games of that year. New York would again miss the Playoffs, falling seven points shy with 80 overall.
That injury would be one that Richter could not shake off and ultimately ended his career. On November 5, 2002, Richter was kneed in the head inadvertently by Todd Marchant of the Edmonton Oilers, giving him a career ending concussion. New York attempted to groom the young Blackburn but knew they had to swing a deal, acquiring veteran backstop Mike Dunham. Across 43 games, Dunham went a very representative 19-17-5 with a GAA of 2.29, a save percentage of .924 and five shutouts. However, it was too little too late and the Rangers wound up on the outside looking in, with 78 points.
It wasn't until after the lockout with Lundqvist in the fold, that the team took off and qualified for the Playoffs in eight of the next nine seasons.
Now it is up to Talbot to reverse the trend. Talbot shined as the backup last season, winning 12 of 21 games, posting a microscopic GAA of 1.64, along with three shutouts. While he has already matched that shutout total from a season ago, his GAA and save percentage have risen this season. As for postseason experience, Talbot appeared in a pair of games last year for the Rangers and has ten games under his belt from the AHL.
This New York squad is much more equipped to sustain itself from such a blow. However, for a team with deep Playoff aspirations, it certainly sets up a new challenge, in an uncharted territory, life without Lundqvist.