As if the news could not get worse for the Arizona Coyotes, center, and alternate captain, Martin Hanzal is likely done for the season.
With recurring back spams and protracted pain dating back to last season, Hanzal will undergo back surgery, and that will put the 28-year-old native of Pisek, Czech Republic out of the line-up for likely the rest of the season.
In 37 games for Arizona this season, the 6-6 Hanzal scored eight goals, assisted on 16 others for 24 points and 31 penalty minutes.
Regarded as a strong two-way player, Hanzal was one of the more efficient and versatile players and recorded a minus-one, the best of those considered front-line players on the team.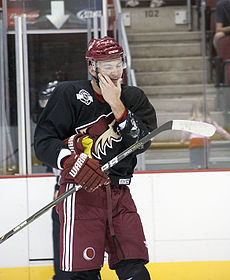 "Marty is going to have a procedure on his back next week, which will put him week-to-week and in all likelihood finish his season," General Manager Don Maloney told the Coyotes web site. "The good thing is he'll have time to recover and we'll get him back as soon as possible. The likelihood of him returning this season is remote but we do anticipate a full recovery."
Hanzal last played Jan. 29 in Toronto, where he scored for the first time since recording a four-point game (one goal, three assists) at home against Columbus on Jan. 3.
more injured than not
In and out of the line-up for most of the season, Hanzal played a series of games but also missed several in row on three different occasions.
After playing in the opening four games, he missed the next three and then played in the next 11 games. After his back began to flair again, Hanzal sat out three games on Nov. 18, 22 and 23 before returning for playing in 16 straight games.
Then, another bout with his injured back took Hanzal out of the line-up and he then missed four from Jan. 6 to the 13. Back in the line-up for five games, he subsequently sat contests with the Sens, Montreal, Columbus, Carolina Detroit, Chicago and St. Louis before ending his season with surgery.
His likely replacement at center will be the diminutive Marc Arcobello, whom the Coyotes acquired earlier this week on waivers from Pittsburgh. Arizona will be the 5-8, 172 pound Arcobello's fourth team this season and previously with the Oilers, Preds and Penguins, he scored eight goals, assisted on seven others for 15 points in 50 games.
With Hanzal out, the Coyotes recalled forward Jordan Martinook, a 6-1, 203 pound native of Leduc, Alberta, from their AHL Portland Pirates. This is Martinook's second "cup of coffee' with the Coyotes and earlier this season, he appeared in two games for Arizona against the Bruins and Preds.