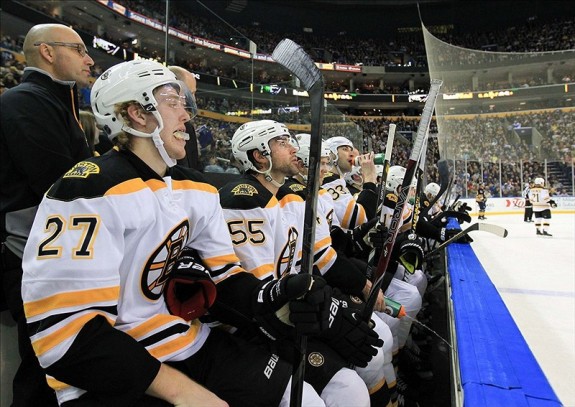 Do you miss Dennis Seidenberg yet, Bruins fans? If you didn't before Game 3 in Montreal, you definitely should now.
Thanks to some boneheaded plays by the young (and not so young) defensemen of the Boston Bruins, the Bruins find themselves in a vulnerable spot, down 2-1 with another game at Montreal before heading home. The main culprits of Dougie Hamilton, the Moe of these Three Stooges, Andrej Meszaros, and Kevan Miller really let down the Boston Bruins in this one.
Dougie Hamilton is absolutely to blame for PK Subban's goal in the first to put the Habs up 2-0. Subban hopped out of the penalty box and was wide open to easily put one past Rask. Why was he so open? Hamilton didn't cover his side of the ice. That's right, something so basic yet Hamilton fails to do. There was no need for Hamilton to be where he was on the ice.
Here he is playing the puck, yet completely disregarding Subban leaving the box. Hamilton left Tuukka Rask out to dry on that play as there was absolutely no way for him to do anything with that one. It's this kind of decision making that will kill the Bruins in the series. It already has.
Andrej Meszaros was dreadful, although he scored a goal that Jarome Iginla should have gotten credit for. Meszaros let Dale Weise (yeah, Dale Weise) skate right past him and score on a breakaway, again, nothing Rask could have done on that one.
Meszaros played that one so sleepily and the speed of the Canadiens absolutely exposed that. You better believe that Dennis Seidenberg wouldn't have let that happen. He's about the only defenseman on this Bruins team that could counter the speed of the Canadiens. He is sorely missed by the Boston Bruins at this point.
On the Canadiens first goal of the game, a goal by Tomas Plekanec in the first period, defenseman Kevan Miller was out of position throughout that first shift and it cost the Bruins dearly.
While not as blatant a mistake as Hamilton and Meszaros', Miller was out of position and let Plekanec score on a wide open net. You could argue that Thomas Vanek made a nice play with a beauty of a slap pass to Plekanec, but you can't deny the fact that Miller was out of sorts throughout that shift.
I know I'm stating the obvious here, but the Bruins cannot afford to make this stupid mistakes, especially against a dangerous team like the Montreal Canadiens. Boston did mount another comeback in the third, but if the team played smarter and eliminated the mistakes pointed out, this game, nay, series would be a different story.
If the Bruins don't play smarter, the Bruins won't need to return to Montreal after Thursday night. It'll be over in a couple games.
What do you think of the Boston Bruins' shoddy defense thus far? Comment below or send me a Tweet, @MarkWGraham