Flyers fans will once again watch another team lift the Stanley Cup in June. Really, it's nothing new; 39 years to be exact. With Philadelphia's Stanley Cup drought a year away from turning four decades old, the organization is facing pivotal decisions. But who are these Flyers, and what do they need to put them over the top?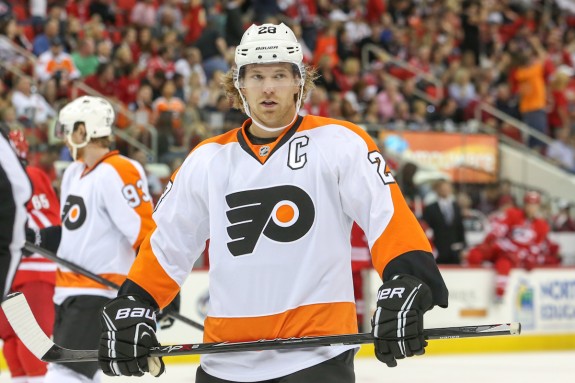 Speed Kills
Make no mistake about it, speed is the name of the game in today's NHL. Long gone are the days where teams could bulk up a roster with size and intimidation and experience sterling success. This is not to say that GM's will rush out to sign Apolo Ohno, though, since skill is required to play the game. But when it comes to puck possession and consistently throwing pucks at the net, overall team speed can turn an average team into a playoff contender.
The Flyers may have scored 12 more goals than the New York Rangers throughout the regular season, but New York's stiff defense and (here it is) team speed was too much when it came to the playoffs.
"The Rangers and many other clubs have a superior individual collection of skaters and tend to be more consistent in the skating department on a teamwide basis as well. Therein lies the root cause of Philly's inconsistency in five-on-five play; they have to work MUCH harder on a teamwide level to compensate because there aren't many Flyers players who can just turn on the afterburners." — Bill Meltzer
While it's a crapshoot to predict what GM Paul Holmgren will do, the likelihood of Steve Downie returning is grim. Holmgren will also be faced with whether or not to bring Brayden Schenn back, who is a restricted free agent. And then there's the youngsters – Scott Laughton, Tye McGinn, and Jason Akeson. If the Flyers feel McGinn and or Akeson are ready to assume any role with the big club, they will both have to be re-signed since they are both now restricted free agent.
Jason Akeson finished with more goals than Hartnell, BSchenn, Couturier, Lecavalier and Read — combined.

— Ryan Bright (@philabright) May 1, 2014
Akeson looks to be the most likely bet to be with the Flyers come October, but even he isn't a lock. The Adirondack Phantoms' all-time leading scorer scored twice in Philadelphia's seven playoff games, and showcased the type of speed the team will need moving forward. But even though he's a quick skater, he was seen having a hard time staying on his skates throughout the series. When philly.com graded each player, here's what they had to say about Akeson:
"Scoop: Found a spot in Craigt Berube's lineup with Steve Downie injured. His speed was a revelation in the playoffs. One of the few Flyers consistently generating shots and scoring chances. Knocked off the puck easily. Needs a big summer to solidify spot on the roster."
The Flyers will enter next season with the second to least amount of projected cap space, according to capgeek.com. And with the team still in desperate need of finding the perfect piece to their defensive unit, all signs and logic point to Holmgren holding off on a forward in the free agent market. Should some extra space be freed up in one way or another, Toronto's Mason Raymond would be a terrific fit for the orange and black. The 28-year-old left winger is coming off of a one-year deal with the Maple Leafs, where he recorded 19 goals and 26 assists.
Mason Raymond's deal with the #leafs is worth $1M — a pretty good bargain given his last contract paid $2.275M.

— Chris Johnston (@reporterchris) September 23, 2013
Raymond, who made $1 million this past season with Toronto, was considered by some to be the steal of the offseason last year. His 45 points and excellent skating ability proved just that; and although he'll likely receive a generous raise, Brayden Scheen likely stands to earn more than Raymond, should it be with the Flyers or with another team.
"The cap is expected to climb from $64.3 million to around $69 million next season, which means the Flyers will be right around the limit if they re-sign free agents Brayden Schenn for about $1.75 million, Ray Emery for $1.5 million, Kimmo Timonen for $4.75 million, and Erik Gustafsson for $1 million. And that $69 million includes the $4.9 million in cap relief the Flyers get when Chris Pronger is placed on the long-term injured reserve list.

"In other words, someone will have to be traded to open cap room if Holmgren wants to sign a speedy free-agent left winger like Matt Moulson, Mason Raymond, or Benoit Pouliot." — Sam Carchidi
Defense, the New Achilles Heel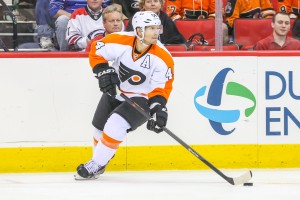 With Steve Mason establishing himself in net, the new curse that now taunts the Flyers and their fans as their Cup drought continues is their defense. With over $21 million wrapped up in Mark Streit, Braydon Coburn, Luke Schenn, Nick Grossmann, and Andrew MacDonald, any hopes of making a splash in the free agent pool of defenseman is highly unlikely. While names like Matt Niskanen, P.K. Subban, Erik Gudbranson, Dmitry Kulikov, and Jake Gardiner are available for the right price, it'll take a trade or two for Holmgren to even have a snow ball's chance at landing just one of these blue liners.
Finding the missing piece on the blue line will also depend on Kimmo Timonen's decision on whether or not to retire. After finishing out a one-year, $6 million contract, Timonen's ruling is expected to be declared in the next few weeks. Early indications, however, point to the veteran defenseman returning for another chance at ending Philly's Cup drought.
"I talked to Homer yesterday and I asked him if he wants me back, and the same with Chief, and they feel like I should get back and that's always a good sign," Timonen recently said.
Another $6 million to an already cap-strapped roster would make it virtually impossible for Holmgren to improve the roster without drastic changes. Luckily for the Flyers, though, Timonen's desire to ride out on top trumps the potential dollar figure it'll take to bring back the assistant captain.
"Let's put it this way: if I won the Stanley Cup earlier, I probably wouldn't be here and talk to you guys," said Timonen." I would say 'OK, that's it.' But I haven't won it. That's the only thing that keeps the hopes up. It's not money. It's not anything else. It's the Stanley Cup."
Despite recording only an assist in Philly's seven-game series against the Rangers, Timonen's presence on the blue line, as well as the dressing room, is a commodity the Flyers would still like to have. In 77 regular season games, Timonen registered 35 points with a plus-five rating. In the playoffs, Timonen's point production can be misleading since only Jakub Voracek and Claude Giroux had a higher time on ice percentage, measured by quality of competition. Timonen also blocked seven shots in the series, while recording a Corsi-Fenwick of 17-10.
Erik Gustafsson, who is a restricted free agent will likely be re-signed, especially after his positive play in his two appearances against New York. Gustafsson is more than serviceable, particularly if he's used on the third pairing. Even if he doesn't crack the future lineup, the price tag to keep him in a depth role will presumably be around or under $1 million. That would leave the Flyers defensive core in tact with nothing lost and nothing gained. That simply hasn't worked, though. With young prospects like Robert Hagg and Shayne Gostisbehere in the system, the Flyers don't appear to have the instant fix.
"I like some of our young guys, but is it a stretch to say they're going to be ready for the NHL?" asked Holmgren. "It's probably a stretch, but there are also guys that have done it over the past couple of years with other teams. I'm not sure I would say our guys are not in the same boat as those guys."
I am scared that the Flyers are going to trade their young defensemen for an old scorer and an old defenseman.

— scrapple sports (@scrappleSports) May 1, 2014
And there you have it. As their Cup drought grows older, the questions still remain. How can Paul Holmgren manipulate a salary cap that's been an enemy longer than a friend? One thing is certain, however. The status quo isn't cutting it.
"I think we need tweaks. Several tweaks. We want to always upgrade. We can't stand pat," said Flyers chairman Ed Snider. "Obviously if we stand pat, we have no reason to expect that we get out of the first round next year."
This offseason will certainly be entertaining, so we have that going for us.