After a disappointing end to last year, the New York Islanders had one of the more productive off-seasons in the team's recent history. While they were unable pick up a top-4 defensemen through free agency, the Islanders loaded up on offense with Russians and former Maple Leafs teammates Nikolai Kulemin and Mikael Grabovski as well as the pint-sized Cory Conacher.
This could bring a boost in offense to a team that averaged just 2.6 GPG during the 2013-14 season and struggled mightily after Captain John Tavares went down with a season-ending knee injury during the Sochi Winter Olympics in February. It especially brings promise to a team that hadn't had a notable free agent acquisition in years.
With that in mind, the offense will have a remarkably different look going into this season compared to the lineup they featured at the end of last season. Many of the players who made an impact last season will have to fight for their roster spots in training camp once again with the arrival of those few high-caliber newcomers.
That brings us to Anders Lee. Two years ago, many fans and the media considered the left-handed forward as an afterthought with the likes of prospects Ryan Strome, Brock Nelson, and Calvin de Haan on the bubble. Although he was a standout player at Notre Dame, and even served as their Captain during his Junior year, there are always doubts about a player's transitioning from the college atmosphere to the pro game.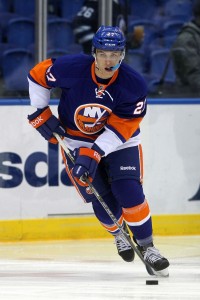 Transition To The Pros
After waiving his last year of college eligibility, Lee was called up to the Isles and produced some excitement, putting up a goal on his first NHL shot while also adding an assist in two games. Given the summer to work on developing his pro game, Lee started the season at Bridgeport playing for the AHL's Sound Tigers and notched respectable 41 points in 54 AHL games.
With the Islanders injury woes mounting towards the end of last year, Anders Lee was called up and seemingly never looked back.  While some thought his brief stint the year before could be a fluke, Lee did everything he could to prove the doubters wrong as he inched himself up the Islanders depth chart as last season came to a close.
Given top-line minutes by Coach Jack Capuano, including time on the top power play unit, Lee put up an encouraging 9 goals and 15 points in 22 games with Islanders last season. He quickly displayed the stick skills and strength down low around the goal line that is needed to be successful in the pro ranks. Although some scouts have mentioned his skating as a weakness to his game, it hasn't deterred him thus far as he easily compensates for that with his size, strength, and great hockey instincts.
With all the progress Anders Lee has made over the past two years, I find it hard to think that he won't have a guaranteed roster spot for the upcoming season. However, with the influx of free agents that have a wealth of NHL experience, it could become a reality. Lee, along with many of the other forwards, will still need to earn their ice time as they compete at the NHL training camp.
Playing the numbers game, the New York Islanders currently have 16 forwards who played at least 20 NHL games last season. Included in those are players such as Mike Halmo and Harry Zolnierczyk who will likely be pushed to the AHL. In any case, with only a certain number of spots to be won, the competition among the forwards group will be tough.
Still, Anders Lee seems to be sporting the right attitude when it comes to his chances as to make the team. In an a brief interview recently with Arthur Staple at Newsday, the forward expressed his feelings about the level of competition heading into camp and what he will need to do to make the team this year:
"I really feel I can help the team and if I can make the team better, then I'm in the right spot. I'm going to come in and play my game and hopefully things will fall into place. The end of last year was good, but that's last year. I showed them what I can do, even in a small sample, but I believe I can do that over a longer stretch of a whole season. Just come in, play my game and not think too much about it, I guess."
In my opinion, Anders Lee should be a very important player for the Islanders in the upcoming season. He's progressed as best as you could've asked for a 6th round pick and has continued to put up points in every league he's played in while on his way to the National Hockey League. Given his size, strength, and mobility, Anders Lee has the potential to be one of the next great Power Forwards all NHL teams covet and the New York Islanders so desperately need.