One look in the Blue Jackets' locker room after their 3-2 win Sunday in Washington said everything you need to know about the current state of the team.
This team is oozing confidence.
One Look Inside The Locker Room
The scene was lively. John Tortorella just concluded a speech congratulating them on the victory. The team broke out in a mini cheer. No more than five seconds later, it was business as usual for the Blue Jackets. They began packing their gear so they could get ready to catch their plan home. After all, they have a game Monday night.
But while all this was going on, I couldn't help but notice just how different this locker room was now compared to last season. It's a complete 180 from the same, old, repetitive clichés we got wondering if they'd ever figure things out. They didn't want to talk and who could blame them? The season was hard on everyone involved.
#CBJ win 3-2. First four-game winning streak under Tortorella.

— Aaron Portzline (@Aportzline) November 20, 2016
Yes, winning is a major reason in the turnaround. Winning gives your team confidence. But these Blue Jackets have other things going for them as well. They have a plan. They also have a coach who won't let this team get too high or too low about themselves within games.
This is the story from Washington with these Blue Jackets. Their win was an excellent demonstration of applying their coach's message to an individual game.
Recapping Sunday's Roller Coaster Ride
The game was a roller coaster ride. Nobody was sure what would happen given a 12:30pm start. The Blue Jackets started well, but then got in their own way.
Jack Johnson, who's been fantastic to start this season, tried to clear a puck out. It got held in. But then to compound the problem, he deflects the subsequent shot past his own goaltender. This definitely was not the start the team had in mind. Just over three minutes in, the Capitals were up 1-0.
Was this how the afternoon would go? How would the Blue Jackets respond to early adversity? At first, it didn't look so good. Giveaways and turnovers were in abundance throughout the middle of the first period. After the 10-minute mark, the Blue Jackets started to settle into their game. They got out of the period down 1-0.
The second started much like the end of the first. Then opportunity presented itself. The Blue Jackets got a power play. It took just 13 seconds after the penalty to tie the game. Nick Foligno got a fortunate bounce trying to pass the puck to Cam Atkinson. Instead, it hits John Carlson's skate and goes in. Everyone needs a little luck once in a while. I jokingly asked Foligno if he called bank. He laughed and said "absolutely."
Foligno was passing backhand across the slot to Atkinson on doorstep, but puck was deflected in off Carlson's skate.

— Aaron Portzline (@Aportzline) November 20, 2016
So now things were back to even. Brandon Saad then takes a penalty while the Blue Jackets were on the power play. Eventually the Capitals got their chance with the man advantage. They capitalized.
Niklas Backstrom to Alex Ovechkin. How many times have we seen this movie? The Capitals regained the lead and momentum for the time being.
Here is where the best part of the day for the Blue Jackets began.
Instead of panicking or opening up their game, they stayed within themselves. The Capitals were held to just four shots in the second period. They had 13 total after two periods. The Blue Jackets did an outstanding job of limiting scoring chances. Now they needed to tie the game. Thanks to Brandon Dubinsky, they did just that, 14 seconds into the third period.
"I liked our patience. I liked our demeanor on the bench."

Torts on #CBJ's comeback win in D.C.: pic.twitter.com/ChqJS3IYD8

— Columbus Blue Jackets (@BlueJacketsNHL) November 20, 2016
Before many fans got back to their seats for the third, it was 2-2. What a response on the road. Once the Capitals have a lead after two periods, they normally close the deal. However today belonged to the Columbus Blue Jackets.
After a back-and-forth third period, Backstrom gets called for high-sticking Foligno. After an outstanding play by Cam Atkinson on the wall, the puck was kept in. Sam Gagner found Foligno who found Alexander Wennberg. With under a minute left, the Blue Jackets took their first lead of the game.
Columbus holds on and secures a very important two points against a division opponent on the road. In earlier seasons, I'm not sure the Blue Jackets win a game like this. They trail early. They respond only to lose the lead again. In the past, two or three goals against usually follow. Not this year. Not this team.
Postgame Remarks
These young Blue Jackets have shown the ability to respond to all adversity thrown at them. Never during Sunday's game did I feel the Blue Jackets were ever out of the game. This is a sign of their confidence about themselves and the plan they have for this season.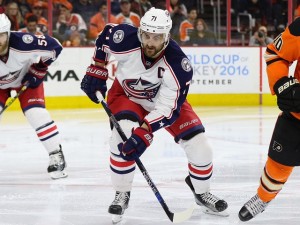 Foligno expressed this after the game. "We're a confident group when we play the right way. As the game went on, we started playing the right way."
Zach Werenski also shared the same feelings. "We've been pretty hot lately. I don't think we've gotten too high when we're winning. We kept our focus, played our game. Today especially, when they were taking it to us, we stayed with the right attitude."
In regards to this game, Foligno and Werenski both agreed how important these particular two points were.
"These are huge points for us to move up in the standings, to get where we want to be," Foligno said. "We're not where we want to be yet."
"That's one of our bigger wins of late, especially on the road.", Werenski said.
Theme of #CBJ postgame: the importance of divisional wins in playoff race. They're currently 3-0-0 against Metro teams this season.

— Kristyn Repke👩🏼‍💻 (@kristynrepke) November 20, 2016
The Road Ahead
The Blue Jackets don't have time to celebrate their victory in Washington for too long. They host Colorado Monday night and host Calgary Wednesday night. After celebrating Thanksgiving, they play in Florida Friday and Saturday.
This team has the right attitude. They don't panic when things are bad. They don't get too high when things are good. All that matters to them is the next game. In this case, that's Colorado. Their maturity is further along than many of us anticipated. That's the result of a good coaching staff developing a plan and executing it with these players.
Columbus is for real. They are the confident Blue Jackets.