Like most hockey-crazed markets, Edmonton has its fair share of armchair general managers when it comes to their beloved Oilers. Win or lose, much of this fan base lives, breathes and thinks about ways to improve their team on daily basis.
As sports fans, we have all been guilty of it at some point and many of our "solutions" are concocted in the heat of the moment. While most are off base and often unrealistic, there are some that make you take a step back and think long and hard about what you just heard or read.
42-97-98
27-93-14
19-29-15
67-36-44

Thoughts?

— NateInVegas (@NateInVegas) November 20, 2016
Well, the tweet pictured above from @NateInVegas made me do exactly that on Sunday morning. After watching Edmonton end their five-game losing skid the previous night, courtesy Connor McDavid and his first career NHL hat-trick, reading too much into what we just saw seemed a little premature. With that said, the Oilers line combinations have been an issue for much of the season and we are almost a quarter of the way through the 2016-17 campaign.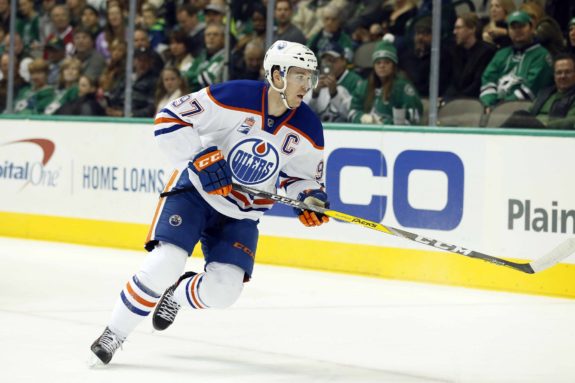 Scoring Depth Remains an Issue
Heading into the season, most were hoping Todd McLellan would run with the trio of McDavid, Ryan Nugent-Hopkins and Leon Draisaitl down the middle and put together three potential scoring lines. In my mind, the Oilers inability to replace Taylor Hall as this club's secondary offensive driver made that an unrealistic option and early returns have solidified those fears. While the fourth line has managed to chip in all season the long, the same cannot be said for lines two or three.
Outside of the first week or two of the year, it seems as though almost all of the Oilers scoring chances are coming courtesy of the 2015 first overall pick and that is simply not sustainable over the course of an 82-game campaign. To his credit, McLellan seemed quite content starting the season with Draisaitl and Nugent-Hopkins on the same line but Drake Caggiula's injured hip forced him into a different direction but the time to change course has finally arrived.
Draisaitl skating with RNH and Pouliot. McLellan will try it. Also a potential good sign for Caggiula to make squad as 3rd line centre. #Oil

— Jason Gregor (@JasonGregor) October 4, 2016
While the idea of loading the top-six with some combination of Draisaitl, Jordan Eberle, Milan Lucic, Patrick Maroon, McDavid, Nugent-Hopkins or possibly Jesse Puljujarvi, that may no longer be the best course of action for the club in the here and now. Outside of Maroon, Tyler Pitlick and No. 97, the Oilers have had a tough time finding anyone capable of consistently putting pucks into the back of the net and the blender has been in use for some time now.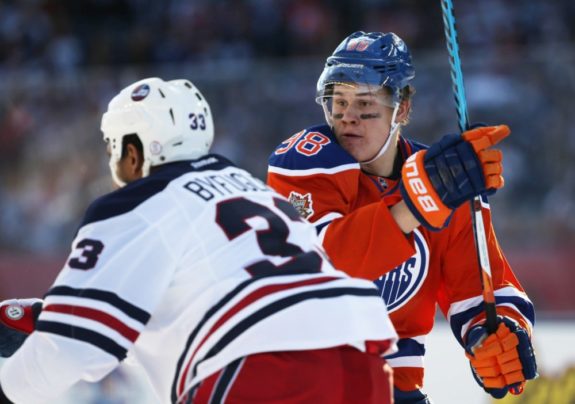 Still Searching for McDavid's Triggerman
The fact Eberle and Lucic have struggled to find their game playing with McDavid has put this staff in a tough spot, as has the club's lack of depth on the right-side. With that being the case, it should surprise no one that McLellan wasted little time in taking a look-see at Puljujarvi on the top line — a spot most saw him claiming on a full-time basis in 2017-18.  While the results have not always been great, the kid has been better than most playing alongside McDavid and hasn't looked the least bit out-of-place.
https://twitter.com/DKingBH/status/800179633995980800
However, what was a tad surprising is that the head coach decided to use the two on a line with Anton Slepyshev during stretches of Saturday's tilt with the Dallas Stars. One could easily make the argument that Slepyshev has been one of the Oilers better forwards of late and McLellan was clearly throwing the kid a bone for his efforts. Funny thing is, that move may have changed the look of his lineup for the foreseeable future.
While McDavid has created scoring chances with every winger thrown his way, few have looked as good as the two youngsters did against the Stars. Granted, we are talking about an extremely small sample size but what we saw certainly warrants another viewing and likely an extended one at that. It may not be the sexiest of moves but it could be one that makes this club much tougher to play against.
https://twitter.com/MikeKellyNHL/status/800374225810968576
How different would the Edmonton Oilers depth chart look with No. 42 and No. 98 on the top line? Scroll back up to the top of the page and look over the initial tweet from @NateInVegas and the notion of running with three scoring lines no longer looks a pipe dream. Is it an ideal situation? Not in the least but with how this roster is currently constructed, it might be exactly what this group needs.