While the hockey world is focused on Toronto and the start of the reinvented World Cup of Hockey, that isn't the case in Edmonton. Keeping tabs on the trio of Leon Draisaitl, Ryan Nugent-Hopkins, and Connor McDavid on the "world stage" is all well and good but fans in this neck of the woods are just as curious to see how this year's batch of Oilers kids do in Penticton at the 2016 Young Stars Tournament.
https://twitter.com/HockeyWebCast/status/777073342864093184
As nice as watching Ethan Bear, Matt Benning, Drake Caggiula, Caleb Jones and the like skate around in Oilers silks might be, Jesse Puljujarvi is the one player fans were dying to see in Orange and Blue. To his credit, the fourth- overall pick of the 2016 NHL Entry Draft did not disappoint in his debut, scoring a pair of goals and picking up three points in Edmonton's 4-1 over the Vancouver Canucks on Friday evening. While the so-called cherry on top was undoubtedly his eye-popping  snipe midway through the third to give Edmonton a two-goal cushion, the kid was simply on another level.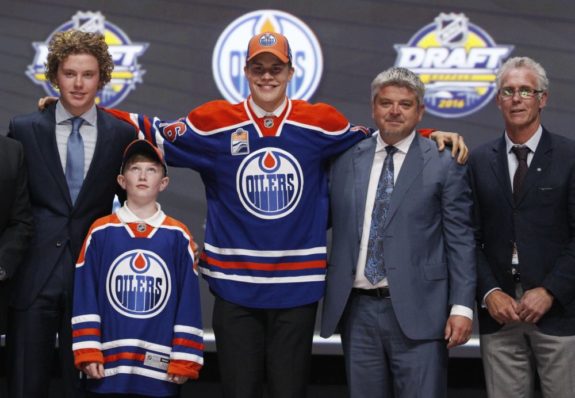 Oilers Were Handed Ultimate Gift in Puljujarvi
Puljujarvi looked like a man among boys against the Canucks but considering he spent the last season and a bit playing against men in the Ligga in Finland, this was always going to be the case. As impressive as his debut performance was, it did come against a bunch of kids, many of which will never see the light of day in the NHL. Reading too much into what we saw can be dangerous, however, simply dismissing how dominant Puljujarvi was would not be the wisest move either. The sky is the limit for this kid and Edmonton is the perfect fit.
[Related Article: Oilers Get Their Man in Jesse Puljujarvi]
Despite adding a legitimate top-six forward in Milan Lucic over summer, the need for a skilled young power forward is something this franchise has been without since the departure of  Jason Arnott. In case you forgot, the Oilers traded Arnott to the New Jersey Devils for Bill Guerin in 1998. That's right folks…it has been 18 long years since Edmonton brought in a kid with the skill-set Puljujarvi possesses and they can thank the Columbus Blue Jackets for allowing them the opportunity to get their hands on him.
"Both [Laine and Puljujarvi] are great players," a scout said. "Both can skate and shoot and score and there isn't a lot to choose there, but Laine maybe is more of a pure goal scorer, a game-breaker with a little higher offensive ceiling."

One scout offered an interesting comparison, using Teemu Selanne and Jari Kurri. The scout wasn't comparing Laine to Selanne or Puljujarvi to Kurri, but was he was comparing the difference between this year's generational Finns to the difference between yesteryear's Finnish superstars.

"Laine is flashier; Puljujarvi is more complete," the scout said. "They're both great players; they're both going to get their goals, though they may go about it a little differently."

Courtesy TSN Mid-Season Draft Rankings
While the duo of Auston Matthews and Patrik Laine stole all the headlines heading into this summer's draft, people tend to forget Puljujarvi was in the running for that second spot for much of the year. Thanks in large part to his MVP-winning playoff performance in the Liiga and standout showing at the 2016 IIHF World Championships, Laine ultimately became the clear-cut choice at No. 2. However, it was Puljujarvi who outclassed all at the 2016 World Junior Championship, in leading Finland to gold with an MVP performance of his own. He may not be the sexy pick but, from an Oilers standpoint, he is exactly what the doctor ordered and could have an immediate impact.
Puljujarvi Could Win a Job in 2016-17
Even with the recent addition of Kris Versteeg on a PTO, one can argue that Puljujarvi would be no worse than the third-best option at right-wing for Todd McLellan come opening night against the Calgary Flames. Now, could Draisaitl shifting over to the right side from the middle or Nail Yakupov finally finding an actual home in this lineup play a part in how things unfold? Most certainly, but if I were a betting man, my money would be on this kid earning a spot prior to Yakupov. As we all know, the talented Russian has been an enigma during his time in the Alberta capital and he may have used up all his chances.
[Related Article: Oilers Need Backend to Help Offence]
While the Oilers made the mistake of not surrounding their previous core of Jordan Eberle, Taylor Hall and Nugent-Hopkins with anything resembling impactful veterans, they have corrected that mistake this time around. With Lucic, Patrick Maroon, Benoit Pouliot and possibly Versteeg all in the mix upfront, there is experience aplenty on this roster…not to mention the fact Nugent-Hopkins and Eberle will be entering their sixth and seventh years in the league. At this stage of a game, no one will be handed a job and it could very well come down to an either-or situation between Puljujarvi and Yakupov.
https://twitter.com/NateInVegas/status/777155034437918720
In a perfect world, adding another centre into the equation would go a long way towards creating better balance throughout the forward ranks but, as currently constructed, there are enough pieces in place to allow the hulking winger an opportunity to start the 2016-17 season as a member of the Edmonton Oilers.
Obviously, he has to earn it but his ability, handedness, size, speed, and versatility make him a natural for this lineup. Who knows, if all goes well, perhaps we even see him skating alongside No. 97 before the year is out and claim the spot many seem to think he is destined to mand in.
Rob Soria is the Author of Connor McDavid: Hockey's Next Great One. He has chronicled the Orange and Blue since creating his Oil Drop blog in 2011 and has also had his writings featured over at HometownHockey.ca and Vavel USA, where he has covered the NHL, MLB and ATP Tour. Rob was born, raised and still resides in Edmonton, Alberta and can be reached via twitter @Oil_Drop.